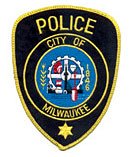 Last week I reported that the Detroit Police Department converted to the Smith and Wesson M&P40 for their officers.  This week S&W announced that Milwaukee PD is switching to the M&P40 also.  Like Detroit, Milwaukee is converting from a non-S&W handgun to the M&P40.
Smith has delivered the first batch of pistols to Milwaukee, which have been issued, and more shipments will follow as Milwaukee converts its entire force of 2,000 officers to the M&P40.
Milwaukee began issuing the Smith and Wesson M&P15, Smith's AR-15 clone, last year.
Smith and Wesson's press release:
Milwaukee Police Department Converts to Smith & Wesson M&P40 Pistols

Smith & Wesson Holding Corporation (Nasdaq: SWHC), parent company of Smith & Wesson Corp., the legendary 157-year old company in the global business of safety, security, protection and sport, announced today that the Milwaukee Police Department will equip its entire 2,000-officer force with Smith & Wesson Military & Police (M&P) Series pistols. The conversion commences this week and comes on the heels of the Department's announcement in the fall of 2008 that it selected the M&P Series tactical rifles to equip its patrol vehicles. The Milwaukee Police Department joins a growing list of law enforcement agencies that have converted to the M&P Series of firearms, a line of products that was designed specifically for professional use.

M&P40 Polymer Pistols

The Milwaukee Police Department plans to purchase 2,000 Smith & Wesson M&P40 polymer pistols, chambered in .40 S&W. The pistols will be issued to each officer of the Department and will replace currently issued, non-Smith & Wesson firearms supplied by a European-based manufacturer. During the selection process for a new duty sidearm, the M&P pistol was compared with the Milwaukee Police Department's then-current sidearm. The M&P40 was selected for its reliability and durability. Department officials indicated that the pistol was especially noted for its ambidextrous controls and the ability to customize the grip size of the pistol to each officer's preference.

The conversion to M&P40 pistols is set to begin immediately with plans to convert the entire police force by September. Smith & Wesson's first shipment of 60 pistols has been delivered and will be deployed to the Milwaukee Police Department's current class of recruits. In addition, the Department's armourers have commenced training on maintenance of the pistol from Smith & Wesson field staff. The balance of the Department's officers will receive training and will be issued new M&P40′s over the course of the summer.

M&P15 Tactical Rifles

In fall 2008, the Milwaukee Police Department announced its intent to begin transitioning from patrol shotguns to Smith & Wesson M&P15 tactical rifles. The first order of 100 rifles has been made available to officers upon the completion of a certification course. While reviewing new patrol rifles, the Milwaukee Police Department compared the M&P15 against a range of competitive semi-automatic rifles. The M&P15 was acknowledged for the high quality of its components and the fact that it is produced in the United States.

Sergeant Joseph Seitz, Sergeant in Charge of Firearms Training, said, "A key factor in our decision to convert to Smith & Wesson was not only the superior quality and performance of the M&P products, but also the company's responsiveness in addressing our needs. Smith & Wesson shipped products quickly and delivered immediate, on-site armourers training and officer safety training during our conversion to the M&P15 tactical rifles. When we made the decision to convert to Smith & Wesson's M&P40 pistols, Smith & Wesson again rapidly commenced the delivery of product and immediately dispatched personnel to begin on-site armourers training. This approach to service and support saves us time and money and makes the conversion process much more efficient and effective."

Milwaukee Chief of Police, Edward Flynn, said, "Converting a department to a completely new brand of firearms is a significant decision that requires careful evaluation by our armourers and officers. We reviewed the Smith & Wesson M&P firearms based upon their reputation for reliability and durability, as well as their recent selection by a number of other police departments throughout the United States. Both firearms were thoroughly tested and were found to meet all of our requirements. The M&P40 pistols have been designed especially for professional use and incorporate a number of unique features. Particularly, they allow each officer to customize the fit and feel of the sidearm. That flexibility means we can provide a safer and more efficient environment while on the job."

Leland Nichols, Senior Vice President of Sales and Marketing for Smith & Wesson, said, "We are pleased to add the Milwaukee Police Department to the growing list of agencies that have chosen to equip their officers with our M&P Series of firearms. This series of products has been designed especially to address the needs of global law enforcement and military personnel, and it is successfully fueling our stated strategy to expand our professional law enforcement customer base. M&P products are manufactured in America and have earned the respect of police agencies both in the United States and abroad."