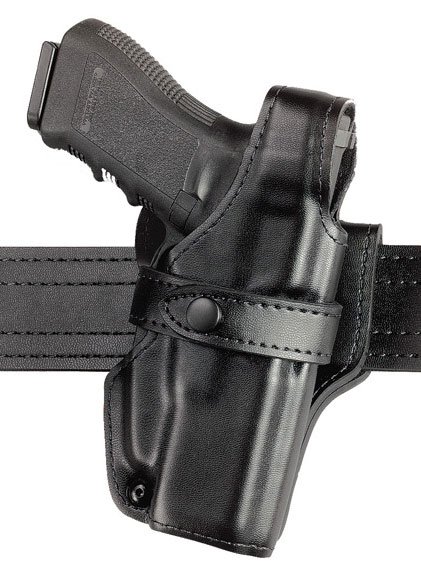 Another police officer was shot yesterday during a struggle with a suspect.  The officer was shot with his partner's weapon.
Cobb County (GA) police officers responded to a suspicious person call at a closed business. (Ed. note: The original news report is no longer available for me to link to – sorry!) When the back-up officer arrived, the first officer was already struggling with a 23-year-old woman, who was attempting to disarm him.  The woman was able to get the Glock pistol partially out of the holster, and discharge it.  The round struck the back-up officer in the leg.
The woman was subsequently subdued, and taken into custody.
Security holsters have been a great benefit to reducing the number of police officers shot with their own firearms during the past few decades.  In fact, the Safariland 070 SSIII holster probably deserves a place right next to the bullet-resistant vest for keeping cops safe.
However, security holsters are not a magic talisman to keep the officers from being killed with their own duty gun.  Rather, they are only one part of the whole response to the danger.
Think of the answer to the problem of a "gun snatch" as a puzzle.  The security type duty holster is only one piece of that puzzle.  Without the other pieces, you don't have the complete answer.  Only one piece may be enough to get you through some gun grab attempts, but certainly not all.
Other pieces of the disarming defense include weapon retention training, maintaining a reactionary gap, proper use of contact and cover, physical fitness and vigilance.  Without these parts to the puzzle, you cannot offer a complete defense to the gun grab attempt.
The unfortunate reality is many departments don't teach weapon retention tactics.  Don't rely on your agency to provide this life-saving skill to you.  Go out and find an instructor who will train you the techniques.  The techniques are relatively simple to learn, and with practice can become second nature.
Don't take anything in this article as a dig at the officers with Cobb County PD.  It is quite the opposite.  I've worked with quite a few CCPD officers in the past: wrestling with drunks in a ditch after midnight to chasing bank robbers on day shift.  Cobb County is a professional agency with highly trained officers, and issue their officers some top equipment.  My point is simply this:  if it can happen there, it surely can happen at your department.
Stay safe!
The following two tabs change content below.
Richard was a police officer and trainer with experience as a patrol officer, field training officer, court officer, corporal, sergeant, lieutenant, watch commander and commander of a field training and evaluation program. Currently, Richard spends much of his time testing and writing about guns and shooting products.