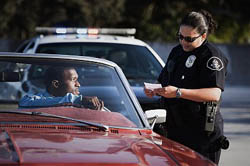 Officer written red-light tickets are unconstitutional according to a Florida judge.  The ruling issued by a Broward County judge stated that the penalties for officer written tickets were overly harsh when compared to tickets issued automatically by red-light cameras for the exact same offense.
In Florida, the camera-issued tickets have a small fine, whereas the officer-issued tickets have a much higher fine, plus points on the driver's license.
According to the judge, "This violates the Equal Protection Clause of the United States Constitution, as well as the Florida Constitution."
This ruling is not binding on other traffic courts, but it will certainly be used by many a defense attorney as a (very) persuasive argument for their clients'.  I expect this case to be appealed by the
Personally, I have never liked the red-light cameras.  I've always felt they remove officer discretion, which can make a huge difference.  For example, I'm a lot less likely that the automated camera to issue a ticket to a husband trying to get his pregnant wife to the hospital.
When they first started popping up, I thought the cameras may have some positive impact on decreasing fatality accidents, but I have long since determined that local government merely sees them as another revenue stream.
The following two tabs change content below.
Richard was a police officer and trainer with experience as a patrol officer, field training officer, court officer, corporal, sergeant, lieutenant, watch commander and commander of a field training and evaluation program. Currently, Richard spends much of his time testing and writing about guns and shooting products.