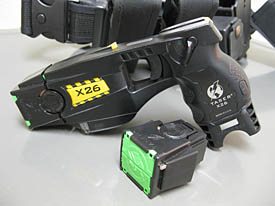 Are police officers overly-dependent on the Taser?
For readers of the BlueSheepdog newsletter, you will remember where I highlighted in the May issue a tragic case of a Taser failure leading to a police officer's death.  In that case, a Taser failed to stop a violent subject from pulling out a gun and shooting the officer.
Right now, ITS Tactical is running an article I wrote called Taser Trouble: Is EID Technology a Crutch for Law Enforcement? I take a look at the problem of law enforcement using the Taser when higher levels of force are clearly justified.
Take a few minutes to read the article and join the discussion.  This is a serious issue that we in police work need to address.
(Note: I also discussed Tasers and deadly force in the article Recognize A Deadly Force Situation: Tasers Are Not Appropriate.  Make sure you sign up for the free newsletter to get additional content not available publicly on the site.)
The following two tabs change content below.
Richard was a police officer and trainer with experience as a patrol officer, field training officer, court officer, corporal, sergeant, lieutenant, watch commander and commander of a field training and evaluation program. Currently, Richard spends much of his time testing and writing about guns and shooting products.