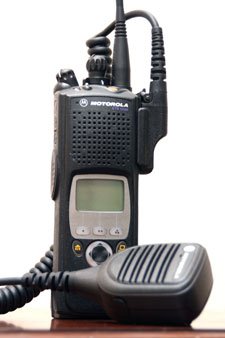 Key breaks are a momentary open mic typically caused by an officer bumping the transmit button on the radio getting into a car or reaching for gear.  To the rest of the officers on the channel, it frequently sounds like just a burst of static.
The vast majority of the time, key breaks are accidents.  Before departments had the fancy radio systems that identified which unit was keying up, some officers would intentionally key break to express an old-school "LOL" when someone made a gaffe.  Now that dispatchers (and supervisors) can see who is key breaking, such things have disappeared.
However, key breaks can be much more serious.  There have been numerous incidents when a police officer has been attacked and the only "communication" they had was a key break.  Some incidents have been officers who keyed the mic, but were injured and unable to speak.  Plenty of other incidents have occurred when officers were fighting with a suspect and the mic got bumped – intentionally or accidentally.