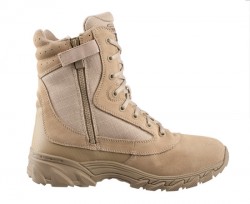 Original S.W.A.T. announced they will introduce a new line of boots and shoes at the 2012 SHOT Show next week.  The new line, the Chase series, is supposed to utilize upgraded materials and construction methods to enhance wearer comfort and protection.
The boots have a MSRP of $84.99 for the low cut and $109.99 for the 9″ model.  Shipping is expected to start in March 2012.  The waterproof model will retail for $119.99, and it will be available in the Fall of 2012.
I've never worn a pair of Original S.W.A.T. boots.  Anyone want to share their experiences with their footwear?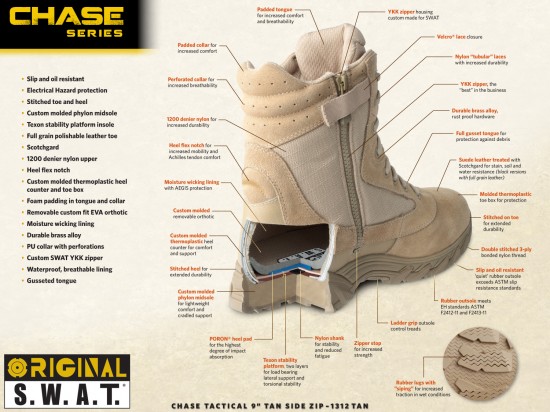 From Original S.W.A.T.:
The product launch will be at the 2012 Shot Show held in Las Vegas, NV from January 17-20th. The Chase line of tactical footwear features the latest in tactical technology: an outsole that is more durable, more slip-resistant and more comfortable than other tactical footwear in the industry. The Chase series has been designed, engineered and tested for Law Enforcement, Military and EMT's.

Ty Fitzgerald, Director of Marketing at Original S.W.A.T.® stated "We are very excited to launch the Chase series after many years of research, development and testing in the field. We utilized upgraded materials, construction and engineering which place the Chase series as our top of the line in tactical footwear."

The Chase line is available in a 9″ Side Zip, in both black and tan versions, a Low black version, and a 9″ Waterproof black version. All styles feature Electrical Hazard Protection, an airport friendly Texon stability platform insole, and a quiet rubber outsole that features improved slip resistance with "siping" which delivers increased traction in wet conditions. Every boot in the Chase series incorporates industry leading PORON® cushioning pads for all day comfort. In addition, the 9″ Tan version features Scotchgard™ protection. The Chase series from Original S.W.A.T.® also features our legendary fit and comfort to create a new series of athletic products so advanced that you may never take them off.

The Chase series begins shipping on March 1st, 2012. The MSRP of the Chase series is $84.99 for the Low version, $109.99 for the 9″ Black or Tan version, and $119.99 for the Waterproof black version. It is offered in sizes from 4-16, and 7-16 Wide. The Chase series ranges in weight from 32oz in the Low version to 44oz in the 9″ Waterproof version, making the Chase series some of the lightest boots available in the market.
The following two tabs change content below.
Richard was a police officer and trainer with experience as a patrol officer, field training officer, court officer, corporal, sergeant, lieutenant, watch commander and commander of a field training and evaluation program. Currently, Richard spends much of his time testing and writing about guns and shooting products.