In this Springfield XDS review, I take a look at the most recent version (and the smallest yet) of the XD pistols which is imported from Croatia by Springfield, with final assembly done in the U.S.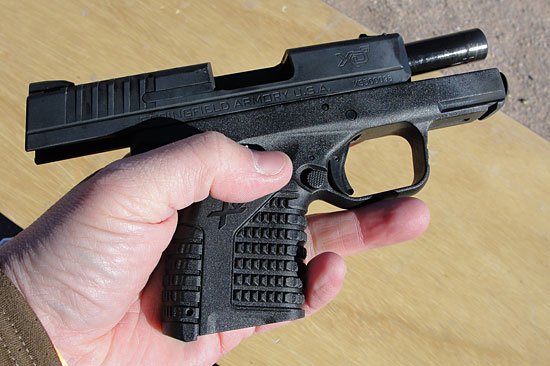 The history of the XD pistol begins with IM Metal, Croatia, which, in 1991, began manufacturing a 9mm pistol (and a subsequent version in 1995) for the Croatian military and police. In 1998, based on this successful design, IM Metal then created the polymer and steel HS2000 which also received favorable reviews, but, for whatever reason, when imported into the USA, its distribution wasn't widespread and the guns didn't have a chance to catch on with U.S. gun owners. Springfield then took over the U.S. marketing and backed the gun with its excellent reputation and a lifetime guarantee for the pistol which was renamed the XD (Extreme Duty) and often referred to as the XD Extreme. The rest is history.
Looks Like…
In appearance, the Springfield XDS borrows a bit from other handgun designs. For example, in overall design, the shape of the frame follows that of the Walther 99, the original DA/SA SIG SAUER, and GLOCK handguns. The XDS, like the XD, shares features such as being striker-fired; having a trigger mounted drop safety; and having a firing pin safety which Springfield labels the USA (Ultra Safety Assurance) Action Trigger SystemTM.
The new XDS maintains features of the XD Extreme line with some modifications. Right off, the XD-S uses a single – not double – column steel magazine which has a removable polymer base plate. Two magazines are supplied. An optional seven round extended magazine is also available (more on this later).
Features
Other XD features carried over to the XD-S are a left side mounted slide catch and takedown lever, a manual grip safety and an ambidextrous magazine release. Also, a safety lever is centered in the wide, grooved, metal trigger. The trigger moves about .50″ in take-up before encountering a measured resistance of seven to 7.25 pounds. When pressure is applied to the trigger, the trigger bar moves the sear down and away from the firing pin which had been previously captured by the sear when the slide was retracted.
While the Springfield XDS is technically single-action, Springfield and its Croatian partner use innovative spring selection which controls trigger movement and trigger pull weight to the extent that the result is a trigger which feels as though it is a very smooth, but short, double-action. Thissample's trigger reset is relatively short, audible and easily felt.
The XD-S weighs 21.5 ounces, has an overall length of 6.3″ and stands 4.4″ tall. It has a barrel length of 3.3″ and is one inch thick.