The government has increasingly been accepting technology as a way to improve performance, deliver better service, and connect with citizens more often and more efficiently. Law enforcement is no different, and mobile technology is the latest wave in technology adoption that police are incorporating innovation into their everyday operations.
Fighting Crime
Law enforcement has embraced the trend of connecting with citizens on their terms, even when that means Facebook and Twitter.  Mobile apps are now helping citizens be more engaged in crime fighting, with applications such as Coplogic where users can report thefts and criminal mischief information direction from their phones. The big improvement in doing this electronically is that the submitter receives a PDF copy by email more quickly than the standard one-month turnaround for paper filing.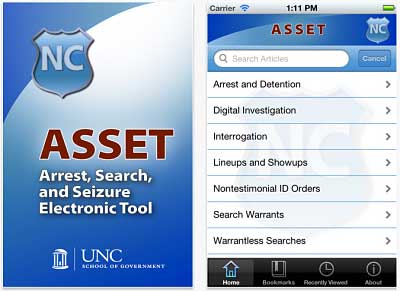 Promoting Accuracy
One of the critical things to remember when deploying technology is that law enforcement officers still must be in compliance with proper procedures and ethics while on the go. A new technology tool is helping officers complete their tasks more efficiently while ensuring accuracy on all levels. An app known as ASSET (which stands for Arrest, Search and Seizure Electronic Tool) was created by a professor at the UNC School of Government. The app is an easy reference for law enforcement on the go to verify information and get answers in real time. Perhaps the most exciting part of the application is that it can be used with or without an Internet connection, so officers can literally use it anywhere and at anytime.
Must Have Information
The PoliceOne application for the iPhone has capabilities for photo reports, archives of expert articles, and breaking police news information. The Spanish for police app helps officers with 200 terms and questions to assist when there's a language barrier. Finally, Police Logger Plus is perfect for officers tired of hunting for pen and paper to record information and events, as it records whatever they need directly onto the phone for review later.
Reaching Citizens
Since most social media is used to engage others and share information, it's no surprise that social media sites are becoming a hotbed for law enforcement to connect with citizens. Each social media site has different purposes and ways that it is used, so law enforcement agencies will benefit from using only those programs that most suit their interests. A blog, for example, is a great way to provide content, but if the department is looking for immediate responses or ability to share information quickly, Twitter would be a better platform for short messages.  The best way to connect with an audience on social media, regardless of the size, is to determine which information belongs on which sites; and to plan in advance the guidelines under which each would be used. Each message or share should be targeted to a specific audience.  For example, the Kansas City Police Department provides up to the minute crime alerts on their Twitter account, but uses Pinterest to put a personal face on the department. When used properly, these social media sites can help improve relationships and engage more users.
This is an ideal time to begin syncing departments up with the technology tools that help them do their jobs and relate with citizens on an immediate basis. New developments are making it easier than ever to integrate these strategies into any department.
—
About the Author:
Logan Harper is the community relations for UNC-Chapel Hill's [email protected], a highly ranked Masters of Public Administration program delivered online. In addition to public service and higher education, he is also passionate about travel, cooking, and international politics. Connect with Logan on Twitter @harperlogan.