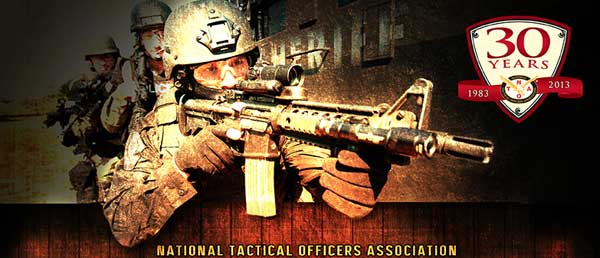 The National Tactical Officers Association (NTOA) has been in existence since 1983 with the purpose of providing advanced tactical training and the latest in tactical operations information sharing to tactical officers from around the country and internationally.  This is the NTOA's 30th anniversary of the NTOA, and from September 22-27 the NTOA will be hosting their annual Conference and Vendor Show in Kansas City, Missouri.
The Conference is an opportunity for tactical or SWAT officers from around the country to come together, learn from each other, train together, and see the latest equipment designed to enhance the service tactical officers provide their communities.  Instruction is provided by a cadre of NTOA approved instructors that include some of the most notable  In the end, the purpose is for attendees to return to their home agencies and share the gained information to determine if new techniques or equipment can be incorporated for better service.
This year the NTOA is expecting their largest show in their history with between 700-800 attendees, and room for over 800 vendors.  Being located in the middle of the country, Kansas City offers tactical officers an easily accessible central location for meeting, and some of the best BBQ in the country.  Classes are divided in short "break-out" classes of 4-8 hours, to the longer courses of 16, 24 and 32 hours.
Here is a partial list of the courses available to the attendees of the Conference:
32-Hour Courses
Advanced Tactical Carbine
High Risk Warrant Service
Hostage Rescue
Less-lethal, FSDD & Chemical Agent Instructor
Manual Breaching
Resolution of Barricaded Suspects
Specialized Tactics for Operational Rescue & Medicine (STORM)
Tactical Precision Long Rifle
SWAT Team Leader Development
24-Hour Courses
Shoothouse Instructor
Tactical Pistol
Use of Tactical Shields
4-Hour Seminars
Combining CNT and Tactical Functions
K9 SWAT Deployment and Tactical Functions
Lessons Learned
Patrol Functions in Critical Incidents
SWAT Selection and Training
Vendors range from large to small and include most of the well known names in the firearms, and law enforcement equipment industries.  An idea of how important and big this law enforcement conference is can be gleaned from this partial list of big hitters in the companies serving law enforcement nationwide and internationally:
| | | | |
| --- | --- | --- | --- |
| United Shield Intl. | US Armor | Voodoo Tactical | Whelen |
| AMTEC Less Lethal | Archangel Armor | Armor Express | Armored Mobility |
| Atlantic Signal | Avon | Benchmade | Beretta USA |
| Black Rain Ordnance | BLACKHAWK! | Camelbak | CIA |
| Colt Defense | CTS | Condor Outdoor | Danner |
| Doublestar Corp. | Edge Tactical | EOTech | ESS |
| Falcon Industries | FNH USA | Fox Outdoor | GA Precision |
| Gander Mountain | Gerber | Glock | Heckler & Koch |
| Hornady | INFORCE | IRobot | J&N Tactical |
| Kimber Mfg. | Lenco | Leupold & Stevens | LMT |
| LRAD Corp. | LWRC International | Mace | Mag Tech |
| Mossberg | North American Rescue | NTOA | Oakley |
| OMB Guns | Original SWAT | Patriot 3 | POF-USA |
| Point Blank | PoliceOne | Propper Intl. | Remington |
| Rescue Essentials | Ruag | Ruger Firearms | Safariland |
| SAGE Ordnance | Savage Arms | Sig Sauer | Simmons LE |
| Simunition | Smith & Wesson | SOG Specialty Knives | Streamlight |
| Surefire | Survival Armor | Tactical Command Ind. | Tactical Medical Solut. |
| Tactical Tailor | TrackingPoint | Trijicon | Tru-Spec |
| TSSi | U.S. GSA | Uncle Mike's LE | Under Armor |
Bluesheepdog staff will be in attendance for portions of this conference and will bring you updated information as the Conference progresses.  If there is something from one of the courses or vendors that you would like more information on send us a comment and we'll do the best we can to answer you.
Over 90% of the courses are already FULL and our coverage may be limited for those portions, but we should have access to a few courses.
Unfortunately we will not be able to share the wonderful KC BBQ with you!
The following two tabs change content below.
Aaron is a sergeant with a midwestern police department, where he serves as a trainer, supervisor and SWAT sniper. In addition to his broad tactical knowledge, Aaron has experience in DUI, DRE and undercover narcotics investigations.