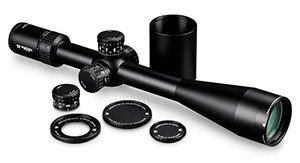 In just over 13 years Vortex Optics has risen from a small sporting goods company in Wisconsin, to a well very respected optics manufacturer. This year at SHOT Show Vortex announced the addition of the Golden Eagle HD 15-60x52mm rifle scope. The Golden Eagle has been specifically designed to deliver accuracy and clarity for long distance shooting. Though many urban or even suburban law enforcement agencies would find the power settings prohibitive and unnecessary, there are  more rural agencies, especially in the western States, that could benefit greatly from a precision scope like this.
Specifically designed around the increasingly popular F-class shooting competitions, the Vortex Golden Eagle HD rifle scope provides long distance clarity and accuracy to compete at the highest levels. Competitors in F-Class shooting competitions are required to engage targets at various distances from 300 to 1200 yards, using rifle calibers up to .338 Lapua. At distances of over a half mile, the Vortex Golden Eagle HD is designed to excel. This type of scope would be ideal in the Great Plains or even high mountain areas that cover a great part of the United States.
Vortex Golden Eagle HD Specifications
Magnification: 15-60x52mm
Overall Length: 16.1 inches
Weight: 29.7 ounces
Tube Diameter: 30mm
Objective Lens: 52mm
Reticle Options: ECR-1 MOA or SCR-1 MOA
Field of View (FOV): 6.3 feet (15x) to 1.7 feet (60x)
Eye Relief: 3.9 inches
Turret Style: Exposed markings
Adjustment Graduation: 1/8 MOA (0.125) per click
Travel Per Rotation: 10 MOA
Maximum Elevation Adjustment: 55 MOA
Maximum Windage Adjustment: 45 MOA
Parallax Adjustment: 15 to infinity
MSRP: $1,899.00.
Urban vs. Rural Law Enforcement Snipers
Though I prefer a 1/4 MOA adjustment on my Leupold Mark IV sniper scope, I work for a suburban medium-sized agency in a major metropolitan area. My city does have stretches of vast open areas, where farming or ranching is still performed, but for the most part it is typical business and residential areas. As such, I do not need the super fine adjustment graduations that the Vortex Golden Eagle HD provides. In addition, my 3-10x40mm magnification range is perfect for almost any situation I may be faced with.
However, law enforcement officers that are called upon to answer dangerous calls in the vast wilderness or open terrain benefit greatly from having a scope that reaches far into the distance with the clarity needed to identify and properly engage a target. On the same token, those officers could very much benefit from a scope that offers finer adjustment graduations, like the Vortex Golden Eagle's 1/8 MOA adjustments.
Officers in the great outdoor areas of our country are often called upon to investigate animal attacks. The use of a precision rifle and a powerful scope does not necessary always fall into the human target arena. In situations where a bear, mountain lion, or other large animal must be put down for public safety, it is very wise for the officer to engage the animal from as much distance as possible. The Vortex Golden Eagle HD allows that with confidence.
Vortex Golden Eagle HD Optical Features
APO System: Apochromatic objective lens system uses index-matched lenses to correct color across the entire visual spectrum.
Optically Indexed Lenses: Optimize image sharpness and brightness from edge to edge.
HD Lens Elements: Premium HD (High Density) extra-low dispersion glass giving High Definition images.
XRPlus Fully Multi-Coated: Premium proprietary and multiple anti-reflective coatings provide the highest level of light transmission to maximize brightness.
Plasma Tech: Cutting edge application process for unparalleled coating durability and performance.
Second Focal Plane Reticle: Scale of reticle maintains the same ideally-sized appearance. Listed reticle sub-tensions are accurate at 40x magnification.
The following two tabs change content below.
Aaron is a sergeant with a midwestern police department, where he serves as a trainer, supervisor and SWAT sniper. In addition to his broad tactical knowledge, Aaron has experience in DUI, DRE and undercover narcotics investigations.