The Sig Sauer P320 is becoming one of the most popular striker fired pistols on the market. Sig Sauer has established one the highest reputations in the industry for superior quality handguns, and the P320 is quickly taking its place among the company's elite selections. Sig has completed a full line of P320 options, from full size to sub-compact. In this article I'm going to focus on the P320 Compact and its great potential as a detective, back-up, or off-duty pistol.
A few months ago we posted an article on how the FBI RFP for a new duty pistol appeared to be, at least, tailor-made to select the Sig P320 as their new duty pistol. That article garnered a lot of discussion and debate about the FBI process, but what that article did not do was debate the outstanding qualities and features of the Sig P320.
Sig Sauer P320 Compact
The Sig Sauer P320 Compact is one of four options in the P320 series of striker fired handguns. The P320 Compact combines the compact slide with the compact frame to create an ideal medium-sized pistol. The P320 Compact is still large enough to properly grip with most hand sizes, and still large enough to maintain a reputable capacity. However, the smaller slide and frame give the shooter a greater potential for conceal-ability, benefiting off-duty officers, detectives, and civilian CCW carriers alike.
In addition, the P320 Compact could be an acceptable alternative for on-duty uniformed officers who have smaller body structures. The P320 Compact maintains all of the features of the full size P320, just in a smaller overall pistol. Instead of trying to get every officer  into the larger full size P320, the P320 Compact could be an ideal fit for those with smaller bodies or hand sizes.
Detectives often prefer carrying a smaller handgun because of the needs to keep their firearms concealed in their civilian clothing. Full size handguns are also much more difficult to carry when you don't wear duty belts to work. The P320 Compact could be a perfect fit for detectives, offering same features, reasonable capacity, and yet a smaller overall package.
The P320 Family
The others in the P320 series include the Full Size, Carry, and Sub-Compact P320. The full size P320 is a formidable pistol, 8.0 inches long, and 5.3 inches tall. The full-sized grip and long slide make the full size impractical for almost anything besides on-duty work. The P320 Carry helps with the large size by changing to the compact slide, but the Carry maintains the full size frame, which could still make it very difficult to conceal. The P320 Sub-compact pistol uses the compact slide with a sub-compact frame. The Sub-compact loses an accessory rail, and adds a curved trigger guard. The grip is significantly reduced making it impractical to have a full-handed grip.
P320 Safety Features
Unlike any other pistol in its class, the P320 features a unique 5-point safety system, standard on all models:
3-point Take Down Safety System
Takedown is prohibited without removal of magazine
System prohibits takedown without slide locked to the rear
Rotation of takedown lever allows disassembly without tools or trigger manipulation
Striker Safety
Disconnect Safety.
The unique modular design of the Sig P320 offers the user flexibility to change calibers, sizes, and fit. Small, medium, and large complete polymer grip modules ensure comfortable and optimal fit for the widest range of hand sizes.
Sig Sauer P320 Compact Features
Frame Material: Stainless steel
Slide Material: Stainless steel
Slide Finish: Nitron®
Action: Double-action only (DAO) striker-fired
Sights: SIGLITE® night sights or contrast sights
Grips: Polymer grip modules (small, medium, large).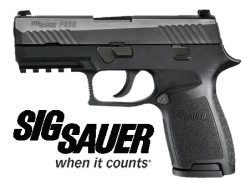 Sig Sauer P320 Compact Specifications
Overall Length: 7.2 inches
Barrel Length: 3.9 inches
Height: 5.3 inches
Width: 1.4 inches
Weight: 26.0 ounces (with magazine)
Sight Radius: 5.8 inches
Trigger Pull: 5.5 to 6.5 pounds
Calibers: 9mm, .357 Sig, .40 S&W, .45 ACP (coming)
Off-Duty and CCW Carry
When officers or civilians look for a handgun to carry off-duty, or in CCW situations, there tend to be several features that stand out in the selection process:
Overall Length
Width
Weight
Grip Size
Capacity
Change in Features.
The Sig Sauer P320 Compact is a viable alternative to the full size P320, without compromising grip size and capacity when you drop down into the sub-compact size. Having a comfortable grip when shooting is critical to performance. This is why so many people who carry sub-compact pistols add magazine extensions – to regain the proper grip lost in the smaller handgun. The Sig P320 is a solid medium-sized pistol combining a smaller overall pistol with adequate grip size and capacity.
Final Thoughts
The Sig Sauer P320 Compact is a very well-built handgun, with incredible features. It definitely matches the smaller size, with adequate capacity. The P320 series of striker-fired handguns have become very popular, and the Compact could become even more popular with civilians or off-duty officers.
When I carry off-duty I prefer mid-size handguns, like the Glock 23 I currently carry. I get the benefits of a smaller, lighter handgun while still maintaining a decent capacity. Since I carry the Glock 22 on duty, the Glock 23 is a perfect match for me. The Sig P320 Compact is slightly larger and heavier than the Glock compact handguns. However, if Sig is to your liking the P320 Compact could be a very nice selection for you. I know I would not have any problem carrying any of the Sig P320 handguns on or off-duty.
The following two tabs change content below.
Aaron is a sergeant with a midwestern police department, where he serves as a trainer, supervisor and SWAT sniper. In addition to his broad tactical knowledge, Aaron has experience in DUI, DRE and undercover narcotics investigations.