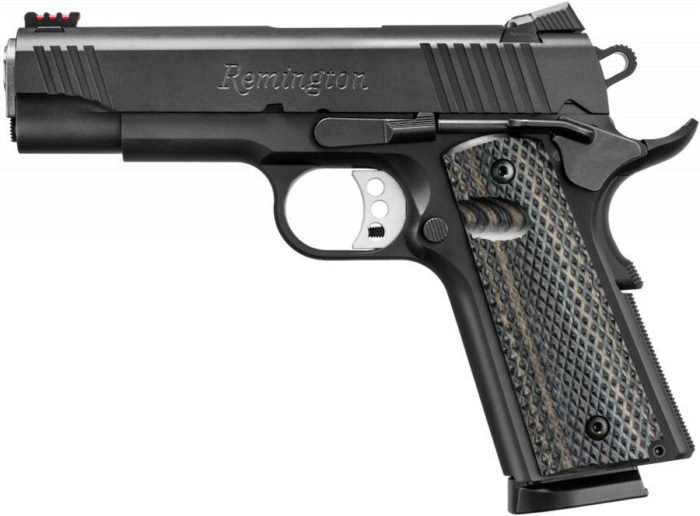 The new Remington 1911 R1 Ultralight Commander is lightweight but packed with features.Remington Arms has announced the release of their new 1911 R1 Ultralight Commander in the weeks leading up to SHOT Show 2018. The new 1911 from Remington boasts a lightweight 7.5 ounce frame, bringing an overall reduction of just under 10-ounces in total weight from standard 1911 pistols. In addition, the Ultralight Commander will boast several very nice upgrade features sure the make 1911 fans interested.
Remington has a long but choppy history with Model 1911 handguns. During WWI Remington received a contract through the U.S. Government to produce 1911 handguns, but this came with only one year remaining in the war so the production was somewhat limited. Remington shut down their 1911 production in 1919 and did not restart until 2010.
Remington 1911 R1 Ultralight Commander
The Model 1911 is one of the world's most iconic handguns, and is still found in use with military and police units around the world over 100 years from its inception. The 1911 was incredibly innovative then and now. The 1911 grip design and angle is arguably the best a grip can be, and has been imitated in numerous pistols that followed.
The new Remington 1911 R1 Ultralight Commander's highlight features is the aluminum frame instead of the standard steel frame. When the 1911 was first made advanced metallurgy was still in its infancy, and steel was king. Those first steel 1911 handguns were a bit heavy, but many brushed their weight aside since it helped reduce recoil of the pistol's .45 ACP round.
Fast-forward to 2017, and Remington is seeing the pistol market swinging heavily to lighter-weight handguns. The selection of aluminum reduces the weight of the Ultralight Commander to just 29.4 ounces (unloaded). This is quite a significant drop in weight compared to the original Model 1911 design that weighed in around 39-ounces.
Remington 1911 R1 Ultralight Commander Features
Lightweight aluminum frame
PVD finish on slide
Adjustable, skeletonized trigger
Skeletonized hammer
Fiber optic front sight
Adjustable 2-dot rear sight
Extended beavertail
Aggressively checkered laminate grips
8+1 capacity.
Remington outfits the Ultralight Commander with a skelotonized, adjustable trigger providing the shooter the option of 3.5 to 5.0 pounds of pull weight. The hammer is skeletonized as well, with slight serrations on top for positive cocking control. The hand grips are aggressively checkered laminate, with the appearance of a 2-tone gray/brown wood.
The Ultralight Commander slide is PVD finished to provide outstanding protection from scratches and weather. There is an extended beavertail on the grip to provide even greater control while firing. Slide serrations are provided on the front and rear of the slide giving the shooter greater options when manipulating the slide for loading, unloading, or chamber checks. Like the original 1911 design, the Ultralight Commander will come with a grip safety, and a manual safety at the rear of the frame.
Sighting with the Ultralight Commander is enhanced with a fiber optic front sight, paired with an adjustable 2-dot rear sight. The mixture of colors for the front and rear sights has shown to be very positive in sight acquisition over standard 3-dot sights with the same color.
Finally, Remington has improved the 1911 standard capacity by designing the Ultralight Commander with an 8-round magazine instead of the original 7-round magazine. One extra round may not seem like much, but one of the few complaints about the Model 1911 has been its lower capacity. Adding an additional round, while keeping the traditional single-stack design is a benefit most shooters will take with a smile.
Remington 1911 R1 Ultralight Commander Specifications
Frame Material: Aluminum, Carbon steel finished
Slide Material: Steel, PVD finished
Overall Length: 7.5 inches
Barrel Length: 4.25 inches
Width: 1.3 inches
Height: 5.5 inches
Weight: 29.4 ounces (unloaded)
Capacity: 8+1
Sights: Fiber optic front, adjustable 2-dot rear
Trigger Pull: Adjustable 3.5 to 5.0 pounds
MSRP: $849.00.

Final Thoughts
The new Remington 1911 R1 Ultralight Commander appears to have the features and design to attract shooters who favor the Model 1911. The fiber optic front sight is a great addition for aiming clarity and some advantage in low-light situations. An adjustable trigger is highly popular with many shooters, and the added capacity should increase popularity as well. The extended beavertail and aggressively checkered laminate grips present an attractive appearance with actual benefit to the Ultralight Commander's shoot-ability.
We hope the new 1911 R1 Ultralight Commander will bring some success to Remington, America's oldest and longest-running firearms manufacturer. Over the last few years Remington has suffered several setbacks in their effort to increase market share in handguns. The new Remington R51 was marketed to spotlight a unique pistol from the past entering the future with modern upgrades and design. Unfortunately, the R51 suffered serious function problems requiring a total recall and very long repair/return times. Their RP9 venture into the striker-fired market was also only so-so, with some reviews finding the pistol to be a good option while others found significant feeding issues.
The following two tabs change content below.
Aaron is a sergeant with a midwestern police department, where he serves as a trainer, supervisor and SWAT sniper. In addition to his broad tactical knowledge, Aaron has experience in DUI, DRE and undercover narcotics investigations.