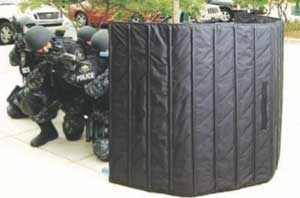 The National Tactical Officer's Association National Conference has concluded in Kansas City.  One of the courses I was able to attend was a 4-hour session covering lessons learned on barricaded subject calls.  Although tailored for tactical officers, the training brings light to difficult situations faced by patrol officers as well.  This will be the first in a series on the class.
What is a Barricaded Subject
A barricaded subject can be defined as a person or persons in a location that provides a means of spatial separation that assists them in avoiding apprehension from law enforcement.  In short, a barricaded subject is in a position that inhibits law enforcement from easily taking them into custody.
Typically a barricaded subject is armed or has the means to cause harm to others before they are classified as a barricaded subject.  Joe Drunk who pissed his neighbors off with noise and profanity would not be a barricaded subject just because he refused to answer his door for responding patrol officers.