This is a long-term review of the Terralux LED replacement for the Streamlight Stinger flashlight.
Over seven months ago, I ordered and received two Terralux LED replacements for my duty-issued Streamlight, Inc. Stinger. The standard Stinger incandescent flashlight puts out 90 lumens of light from a Xenon gas-filled bi-pin bulb for approximately 1.25 hours, according to Streamlight.
I was returning to Midnight Shift after a decade-long hiatus. I wanted a better, brighter flashlight, but as many older cops are inclined, I did not want to spend much (or any) money if I could help it. I have several department-issued Stingers, so I figured they could be a starting point.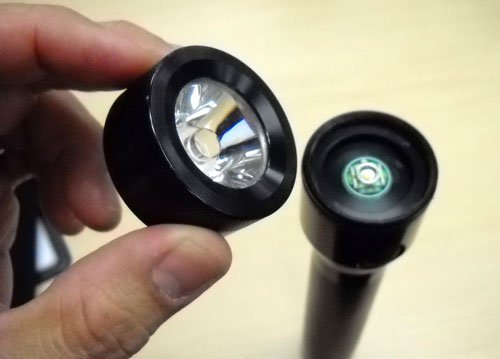 Years ago, I had updated two AA Maglite Mini-Mags with replacement LED's and red lenses for my SWAT gear. Light Emitting Diodes (LED's) are not bulbs and have several key advantages over incandescent bulbs. LED's have an increased light output and longer battery life when compared to their filament-bearing counterparts. Filaments generate heat, an enemy of electronic devices, which LED's do not. LED's draw less power, thus increasing battery life. Last, an LED is virtually unbreakable, where incandescents are more sensitive to impact and therefore more fragile.
I went shopping for LED replacement heads for my Stinger and was pleased to find a $34.00 product (M.S.R.P. $59.99) from a Terralux on-line retailer. The specs for the LED were 220 lumens with a two-hour run time, according to the manufacturer. This was twice the light output and nearly double the battery life over my existing torch.
Installation was accomplished by removing the old bezel, reflector, and bulb, then inserting the new LED and microchip board into the bi-pin bulb holes. Once you screw on the new bezel, you are finished.