The 2018 SHOT Show wrapped up in Las Vegas, Nevada just a few weeks ago. The annual Shooting, Hunting, and Outdoor Trade (SHOT) Show is hosted by the National Shooting Sports Foundation (NSSF) and has been a mainstay event of the firearms and outdoor industry for 40 years. Many consider SHOT Show to be the pinnacle trade show of the firearms industry, and with good cause.
All of the major manufacturers from around the world are on display, and the level of competition, innovation, and excellence really cannot be matched. Though attendance figures have not yet been released for this year's SHOT Show, recent years would strongly indicate over 6000 vendors, and over 70,000 industry attendees.
We're proud to provide you a highlight of the newest products being offered, with more in-depth reviews and articles coming in the weeks and months to follow. Product review pages will focus on the products important to your duty and off-duty work, with pages highlighting focal items, such as "New Firearms." This should allow you to make quick references and comparisons, in a focused format. Let us know what you think!
2018 New Firearms Introduction
For over a decade the firearm industry has been on fire with new and enhanced offerings. Many have considered this time to be a new Firearms Renaissance, with manufacturers not only producing enhancements to existing lines, but stepping further and further outside-the-box to give the market some of the most advanced arms ever produced.
This year is no different as we see a roll out of exciting brand new firearms; as well as, some very impressive improvements and innovations to existing firearms. Sit back and enjoy what true market competition coupled with unprecedented demand can produce. Our review will focus on those firearms with legitimate application or interest to our law enforcement and sheepdog readers. Some firearms have not been included since they are merely color additions, or the same firearm with different accessories or furniture. For a more broad firearms and accessories SHOT Show review, check out our sister site at GunsHolstersandGear.com.
EDITOR'S NOTE: BlueSheepdog does not sell advertising, and we are not in a financial arrangement with any of the manufacturers. This allows us to provide unclouded objective reviews. We do participate in the Amazon Affiliates Program. When you buy a product from one of our embedded Amazon links, Amazon pays us a small finder's fee (typically 2-5% of total sale). The program does not raise price of the product you buy, but the payments we receive literally keep us operational.
2018 Best New Handguns
There are actually several new handguns this year delivering improved manufacturing techniques, while answering shooter demands. As the handgun market continues to expand the competition is making some really hard choices among the outstanding options. All of these advancements improve what officers can field on the streets, and we'll focus on the handguns most suited to law enforcement needs … or wants!
Glock Gen 5 Model 17 & 19
The Gen 5 Glock has been delivered to the civilian market. The new Gen 5 Glock 9mm pistols offers over 2o design modifications from the Gen 4 Glocks, while remaining a very familiar Glock handgun. The Gen 5 Glocks offer a straight grip (no finger grooves) with all new flared magwell. This provides shooters of all hand sizes a better opportunity to achieve master grip then the preset grooved grips, and the flared magwell should assist with faster/surer reloads. In addition, the Gen 5 pistols maintain the moderately aggressive Gen 4 texture.
The Gen 5 pistols arrive with the new Glock Marskman Barrel (GMB), delivering an improved hexagonal rifling. Previous polygonal rifling used by Glock kept the lands and grooves much flatter than traditional sharp-edged lands and groove rifling. The Glock Marksman hexagonal rifling brings the groove into a slightly sharper edge allowing greater gripping of the bullet during travel through the barrel. Theoretically this should create the best of both traditional and polygonal rifling – strong gripping from traditional rifling, while maintaining more barrel contact for superior spin from polygonal rifling.
The Gen 5 Glocks also come with a new nDLC coating. Originally Glock used a highly impressive Tenifer™ finish (a salt-bath nitriding process), but the cyanide byproducts caused extensive regulatory pressures. Glock then when to a non-cyanide Melonite finish (similar Tenifer but without cyanide). The new nDLC (nano Diamond-Like Carbon coating) promises to deliver the same outstanding thicker hard-coat protection, with natural diamond characteristics of low friction, high hardness, and high corrosion resistance.
The new Glock Gen 5 pistols will still feature the famous Glock Safe-Action trigger, with around 5.5 pounds of trigger pull, providing smooth and short travel, with a short and positive reset. There are ambidextrous slide stop levers to assist left-handed shooters. As 9mm ammunition continues to dramatically improve, the straight-grip of the Glock Gen 5 pistols may become America's most preferred law enforcement sidearm.
Glock Gen 5 Specifications
Caliber: 9 x 19m (currently)
Frame Material: Polymer
Barrel Material: Quality steel with nDLC coating
Overall Length: 7.95 inches (17); 7.28 inches (19)
Barrel Length: 4.49 inches (17); 4.02 inches (19)
Height: 5.47 inches (17); 5.04 inches (19)
Width: 1.34 inches (both)
Weight Unloaded: 25.04 ounces (17); 23.99 ounces (19)
Barrel Rifling: Hexagonal, RH
Standard Capacity: 17+1 (17); 15+1 (19)
Safeties: Glock safe action – trigger, firing pin, and drop
Sights: Standard, Glock Night Sights (GNS), and Bold
MSRP: $559.00.
Glock Gen 5 Model 19X
The long-awaited Model 19X "crossover" pistol is finally here. The Glock so many have been hoping for, is finally here. The FBI pistol RFP, and U.S Army pistol competitions.
The first Glock Model 19X will be in the same format as the entrant to the U.S. Army's Modular Handgun System (MHS) competition, including the Coyote tan color – the first factory colored slide. Unlike previous Glocks, the Model 19X will have a nPVD slide coating. The new frame includes a straight grip – minus the finger grooves, ambidextrous slide stop levers, and reversible magazine release lever. Removing the finger grooves provides a straight grip offering the greatest opportunity to fit various sized hands. This grip will also feature the Army MHS flared mag well, and lanyard hole feature at the bottom rear of the grip.
The shorter slide provides a much greater potential for concealed carry, while the full-size frame offers the best potential for superior grip. The barrel is the brand new Glock Match Barrel (GM), featuring the enhanced hexagonal RH rifling. The new rifling still uses a rounded hexagonal edge, but deeper grooves between the rifling. This gives better bullet traction, while keeping the better overall bullet contact than traditional rifling . The barrel will be treated with Glock's new nDLC (nano diamond like carbon) coating. The Glock Model 19X comes with Coyote hard back case, (1) standard G17 magazine (Coyote), and (2) 17+2 extended Coyote magazines.
Glock Model 19X Specifications
Caliber: 9x19mm
Slide Material: Steel, nPVD coating
Frame Material: Polymer, Gen 4 grip texturing
Overall Length: 7.44 inches
Barrel Length: 4.02 inches, GMB barrel with nDLC coating
Height: 5.47 inches
Width: 1.30 inches
Weight: 24.83 ounces (unloaded)
Trigger Pull: 5.8 pounds
Sights: Glock 3-dot night sights
Capacity: 17+1 and 19+1
MSRP: $749.00, Police Blue Label $455.00.
Ruger Security-9
We have already had a lot of interest in our previous article on the Ruger Security-9 hammer-fired pistol. The previously released Ruger American Pistols in 9mm and .45 ACP were very well received and offer serious competition as a very reliable, accurate and inexpensive striker-fired handgun. The Security-9 captures several of the RAP features, but gives shooters the option of a DA/SA hammer-fired pistol with external safety levers.
The Ruger Security-9 offers the highly reliable and successful LCP® hammer-fired trigger action. The glass-filled nylon frame ensures a reduction in weight without surrendering durability. The Security-9 comes through-hardened alloy steel slide and barrel. The slide is blued to improve appearance and corrosion resistance, and offers front and rear slide serrations for optional racking practices.
One of the best features of the Ruger Security-9 is the precision-machined, hard-coated aluminum chassis holding the action. Chassis systems have proven to be superior designs for excellent support, and the Security-9 chassis also offers full-length guide rails as well. There is a manual safety lever at the rear of the frame that blocks the hammer, and an neutrally balanced sear maintaining significant engagement with strong spring tension. In addition, a Glock-like bladed trigger safety bar is matched to a hammer catch to prevent firing without a trigger pull. Field stripping the Security-9 is easily accomplished without special tools or pulling the trigger.
Ruger Security-9 Specifications
Slide Material: Through-hardened alloy steel
Frame Material: High-performance glass-filled nylon
Caliber: 9x19mm
Overall Length: 7.24 inches
Barrel Length: 4.0 inches
Height: 5.0 inches
Slide Width: 1.02 inches
Weight: 23.7 ounces (empty)
Twist Rate: 1:10 RH, 6 groove rifling
Capacity: 15+1 (2 alloy steel magazines included)
Safeties: Trigger bar, neutral sear, manual lever
Sights: Front dot and rear U-notch
MSRP: $379.00.
.44 Magnum AutoMag Returns!
"This is the .44 Magnum, the most powerful handgun in the world, and would blow your head clean off, so you gotta ask yourself one question, do I feel lucky. Well do ya punk?" One of the most famous lines in all movie history, from the iconic hard-core Inspector Harry Callahan, inspired thousands of firearms enthusiasts to own "the most powerful handgun in the world."
A few years later Inspector Callahan would introduce us to the .44 Magnum Automag, a beast of a semi-auto pistol taming the powerful .44 Magnum. According to Inspector Callahan, "Well this is the .44 Magnum Automag and it holds a 300 grain cartridge. If properly used it can remove the fingerprints."
This year a all-new Automag announced they are returning the .44 Magnum Automag to the public. The original .44 Automag was designed by Max Gera in 1966, and then perfected for production by Mark Lovendale and his team. Distribution began in 1971, but the immense power of the Automag (and .44 Magnum in general) and ironically the low selling price considering costs of production led to Automag ceasing production in 1982. For over 30 years the Automag has maintained a cult classic presence, and its mystique has led to prices for original Automags easily capturing $3000-$4000.
The new .44 Automag will be delivered in two variations. The first 77 pistols will be labelled "Founder's Edition," with only 50 going to the public and the remaining 27 Automags going to family, friends and media. The Founder's Edition will sport Hogue hard wood checkered grips. The mass production Automag will be the "Classic Edition," and will be fitted with sculpted Hogue G10 grips. Production plans are for 150 pistols per month, and the first (6) Founder's Edition pistols have already shipped.
.44 Magnum Automag Specifications
Caliber: .44 AMP (Coming .357 AMP, .45 Win Mag)
Frame Material: 410 Stainless steel
Overall Length: 11.5 inches (13.5 inches for 8.5 inch barrel)
Barrel Length: 6.5 inches (initially); 8.5 inches coming later
Weight: 3 pounds 9 ounces
Capacity: 7+1 single-stack box magazine
Sights: Adjustable target
Ammo Availability: SBR Ammunition is contracted to manufacture
Complete Uppers: $1,599.00
MSRP: $3,499.00 (Classic), $3,999.00 (Founder's).
Beretta APX RDO
Beretta has expanded their very popular APX line with the Sig Sauer P320. The new RDO pistols come with slides prepared with cut-outs for modern pistol red dot reflex optics. A striker-fired pistol with an aggressive sculpted slide for enhanced forward and rear slide manipulation, the new Beretta APX RDO offer the modularity demanded of modern shooters.
The APX RDO uses a serialized chassis frame, providing excellent support to the frame during shooting, and much easier replacement or interchanging of grips and frames if desired. The RDO offers an ambidextrous slide stop lever and reversible magazine release button. There are (3) interchangeable grip back straps offering near ideal grip for different shooters.
The new Beretta APX RDO pistols are available in both 9mm and .40 S&W. These are important caliber choices, because they just so happen to be the two most popular law enforcement caliber selections in the U.S. today. Though traditional 3-dot illuminated sights are still the king of police and self-defense pistols, the rise of reflex optics is a very important move in the right direction, Red dot or reflex optics enhance the ability of shooters for fast target acquisition, and better 360 awareness (keeping both eyes open during shooting).
The Beretta APX RDO pistols will come with a cover plate that is easily installed at the rear of the slide to cover the pre-cut optic slot. If shooters wish to shoot traditional sights, the Beretta APX RDO pistols will ship with white 3-dot sights. APX magazine plates are flared and enlarged for excellent feeding and unloading dexterity.
Beretta APX RDO Specifications
Caliber: 9mm or .40 S&W
Slide Material:
Frame Material:
Action: Striker-fired semi-auto
Overall Length: 8.5 inches
Barrel Length: 4.9 inches
Height: 5.4 inches
Width: 1.5 inches
Weight: 33.3 ounces (unloaded)
Sights: 3-dot white
Optic Compatibility: Burris, Trijicon, Leupold, and C-More
Capacity: 10, 17 (9mm); 10, 15 (.40 S&W)
MSRP: $725.00.
Walther PPQ M2 Sub-Compact
Fans of Walther should be pleased with the announcement this year of the PPQ Sub-Compact. This is a perfect match for back-up or off-duty if your primary service pistol is the Walther PPQ.  Walther may not have the same brand recognition as some, but their recent pistol offerings have been outstanding. The full-size PPQ M2 has received very high praise for its smooth, crisp trigger, excellent intuitive grip, and smooth action. The new PPQ M2 Sub-Compact will deliver these features though in a much smaller package.
The Sub-Compact PPQ offers the same features as its bigger brothers. This includes a Tenifer™ coated slide for superior corrosion and scratch resistance. The sights are a low-profile, 3-dot profile with an adjustable rear sight. Serrations are provided on the front and rear of the slide for outstanding slide manipulation. The "Quick Defense" trigger provides a smooth 5.6 pound trigger pull with crisp break and very short reset.
There are ambidextrous slide stop and magazine release controls, while the grip offers interchangeable back straps for customized grip. The frame offers a Picatinny accessory rail for lights or lasers. The PPQ offers two drop-safeties and a firing pin block safety. From personal experience shooting Walther handguns I have to admit the Walther PPQ series has one of the best grips on the market.
Walther PPQ M2 Sub-Compact Specifications
Caliber: 9x19mm
Barrel Material: Steel
Frame Material: Polymer
Overall Length: 6.6 inches
Barrel Length: 3.5 inches
Height: 4.4 inches
Width: 1.3 inches
Weight: 21.2 ounces (empty)
Capacity: 10+1
Sights: Low-profile 3-dot, adjustable rear (self-illumination optional)
MSRP: $649.00.
Springfield Armory XD-S Mod.2
Springfield continues to expand their Mod.2 frame and grip with the new XD-S Mod.2. We were able to get our hands on the original XD-S when Springfield Armory released this nice compact .45 ACP at SHOT Show a few years ago. Our range experience was very positive with the original version, finding very good accuracy and recoil not nearly as bad as could be expected. The new Mod.2 will provide upgrades inside and out. The Mod. 2 grip is much more ergonomic and just a really nice feel in the hands from the softer front and back sections.
The Springfield XD-S is a slim single-stack .45 ACP sub-compact pistol that has quickly become one of the company's most popular handguns. With a frame less only 0.975 inches wide, and packing 6+1 rounds of .45 ACP, the Springfield XD-S Mod.2 presents a strong argument for a back-up, off-duty, or even every day handgun. The Mod. 2 grip provides a higher hand position, enhanced grip texturing, and an enhanced trigger offering consistent trigger pull and a short-reset critical for accuracy and control during follow-up shots.
An Ameriglo® Pro-Glo™ front sight is paired with a tactical-rack rear sight for outstanding point-and-shoot capability. There is a loaded chamber indicator on the top of the slide for easy visual or tactile confirmation. The grip safety quickly disengages for firing, but renders the pistol nearly incapable of firing if dropped. The Mod.2 XD-S features Pos-Wedge™ serrations for easier slide racking.
Springfield Armory XD-S Mod.2 Specifications
Caliber: .45 ACP
Slide Material: Forged steel, Melonite® finish
Frame Material: Black polymer with enhanced grip texture
Overall Length: 6.5 inches
Barrel Length: 3.3 inches, Melonite® finish
Height: 4.4 inches (with flush magazine)
Width: 0.975 inches
Weight: 21.5 ounces (flush magazine); 22.5 ounces (mid-mag)
Sights: Fiber optic front, tactical-rack rear dot; tritium 3-dot optional
Capacity: (1) 5-round magazine; (1) 6-round magazine
MSRP: $568.00.
Sig Sauer P365 Nitron Micro Compact
Sig Sauer is riding high after winning the U.S. Army's Modular Handgun System (MHS) competition with their P320. This year they have released the P365 Nitron Micro Compact pistol, which appears to be an outstanding off-duty, back-up, or civilian every day carry. This new striker-fired Sig Sauer pistol features an outstanding 10+1 full-size capacity, and is rated to handle +P 9mm ammunition. An optional 12-round magazine delivers even more firepower.
The striker-fired P365 offers a clean, crisp trigger pull expected of Sig Sauer pistols. The polymer frame with ergonomically engineered grip will provide Sig shooters that familiar home for their hand, while a forward extension on the 12-round magazine provides a more natural full-finger grip. This is housed in a stainless steel frame and slide with Nitron finish.
Sig places XRAY3 night sights on the P365 giving the shooter an excellent contrast from the enlarged green front sight with the two rear white dots. This type of contrast has been shown to be much quicker for shooters to acquire their sights on target. The Sig Sauer P365 Nitron Micro Compact is ready for self-defense, anytime, right out of the box.
Sig Sauer P365 Nitron Micro Compact Specifications
Caliber: 9mm (+P)
Slide Material: Stainless steel with Nitron finish
Frame Material: Stainless steel with Nitron finish
Action: Semi-auto, striker-fired
Overall Length: 5.8 inches
Barrel Length: 3.1 inches
Height: 4.3 inches
Width: 1.0 inch
Weight: 17.8 ounces (unloaded)
Sights: XRAY-3 night sights
MSRP: $599.99.
Smith & Wesson M&P Shield .380 EZ Pistol
* OK, this one surprisingly wasn't released at SHOT, but just after the Show, so I've included this unique pistol in our review. This is very interesting for .380 shooters.
Smith & Wesson has just introduced their new M&P 2.0 improvements, but starkly differs from other M&P pistols with the addition of a grip safety. Like other grip safeties the EZ will not fire until the grip safety is disengaged by the shooter's grip, providing a solid drop safety in addition to the optional manual safety lever at the rear of the frame. The M&P EZ has been designed to be easy to use, with "easy-to-rack" slide, "easy-to-load" magazine, and an "easy-to-clean" design.
This is not your ordinary concealed carry pistol. It appears this pistol is targeted for the .380 concealed carry shooter desiring a little more than the usual pocket pistol designs commonly associated with the "9mm short" round.
The S&W M&P .380 EZ offers a crisp, light trigger with tactile and audible reset. Smith & Wesson has really worked on improving the M&P triggers and they have come a long way in offering a nice trigger pull. There is a tactile loaded chamber indicator just behind the ejection port, which are ideal in high-stress self-defense or competition shooting. The steel slide is coated with Armornite® for impressive corrosion resistance, and offers the scaled 2.0 slide serrations front and rear. In addition, the furthest rear portion of the slide extends slightly outward for greater gripping ability (easier racking). The internal hammer is seated lower into the frame, allowing the slide more leverage in cocking (so an easier movement).
S&W provides an 18-degree grip angle which many have come to believe is the ideal point of aim for pistols. An optimized grip texture feels very comfortable while still providing significant resistance for control of recoil. Disassembly of the EZ will not require a trigger pull, but instead uses a disassembly lever located inside of the magazine well. The magazine release button is reversible for the lefties, and the manual safety lever is ambidextrous. A wind adjustable white rear dot sight allows for best precision for each shooter's particular needs. A Picatinny rail is available for the addition of pistol lights or lasers. The EZ ships with (2) 8-round M&P380 Shield magazines, each featuring a serrated bright orange follower allowing easier loading. Smith & Wesson offers a lifetime service warranty.
Smith & Wesson M&P .380 EZ Specifications
Caliber: .380 ACP
Slide Material: Stainless steel, Armornite finish
Frame Material: Polymer
Action: Semi-auto, internal hammer fired
Overall Length: 6.7 inches
Barrel Length: 3.675 inches, stainless steel with Armornite finish
Height: 4.98 inches
Width: 1.15 inches (1.43 inches with ambidextrous manual safety)
Weight: 18.5 ounces (unloaded)
Sights: Front white dot, rear adjustable white dot
Capacity: 8+1
MSRP: $399.00.
Springfield Armory TRP Operator 1911 10mm
Springfield Armory introduced their new TRP™ Operator Model 1911 in the powerful 10mm this year. The TRP version is Springfield's most elite production of the venerable Model 1911. This new TRP Operator 1911 features a forged steel frame and slide coated in Black-T® finish for high durability and corrosion resistance. A match-grade stainless steel barrel provides outstanding accuracy potential. The slide/barrel combination is heavier to optimize recoil management of the more powerful 10mm cartridge.
There is an Octo-Grip™ front strap and mainspring housing paired with the textured dirty olive VZ® Alien G10 grips for an outstanding hand hold.  The Springfield TRP Operator 10mm provides ambidextrous safety levers, a combat hammer, and skeletonized trigger producing 4.5 to 5.0 pounds of trigger pull.
The Springfield TRP Operator 10mm offers the SA Tactical Rack adjustable rear sight, in a tritium 3-dot configuration. In addition, the TRP Operator provides a 3-slot Picatinny-style accessory rail for pistol lights or lasers. There will be a standard 5-inch slide and optional long slide measuring 6-inches.
Springfield Armory TRP Operator 10mm Specifications
Caliber: 10mm
Slide Material: Forged steel, Black-T® finish
Frame Material: Forged steel,
Barrel Material: Match-grade stainless steel
Trigger: SA Gen 2 Speed Trigger, 4.5 to 5.0 pound pull
Grips: VZ® Alien, Dirty Olive G-10
Overall Length: 8.6 inches
Barrel Length: 5.0 inches, stainless steel match-grade (optional 6.0 inch)
Height: 5.5 inches
Weight: 40.0 ounces (with empty magazine)
Capacity: 8+1
Sights: SA Tactical Rack rear, 3-dot tritium
MSRP: $1,790.00.
Taurus Model 1911 Officer
Taurus now offers the Model 1911™ Officer, a compact .45 ACP pistol. The new 1911 Officer model provides a compact and easily concealable frame providing 6+1 capacity. Taurus uses a discreet black on black finish to give the Officer a sleek and attractive appearance with unspecified corrosion resistance. Taurus has gone through a major upper management change-over in an attempt to overcome several recent serious critiques of quality-control. We have not fired the new 1911 Officer, but competition breeds advancement so we're hoping Taurus is actually turning the corner on mediocre firearms. Fingers crossed?
The Taurus Officer 1911 provides the classic Model 1911 appearance in a compact frame ideally suited for off-duty, back-up, or concealed every day carry (EDC). The overall length is reduced to 7.2 inches, with a 3.5-inch barrel. The all-steel construction ensures significant support for the .45 ACP recoil. The grip safety and manual safety lever are familiar to 1911 shooters, and offer confident and safe concealed carry.
Taurus outfits the Officer 1911 with Novak® drift adjustable front and rear sights in a common 3-dot configuration. The checkered black grips compliment the black finish and feature the new Taurus bull logo in the middle of the grip. An extended beavertail is perfect for this smaller .45 ACP pistol, and the skeletonized trigger and combat style hammer are nice features. At $609.00 I'm just not sure Taurus will be successful in the American market. Starting around $450-$500 may have enticed the wary customer base. What do you think?
Taurus Model 1911 Officer Specifications
Caliber: .45 ACP
Slide Material: Steel, black finish
Frame Material: Steel, black finish
Overall Length: 7.2 inches
Barrel Length: 3.5 inches
Height: 5.1 inches
Width: 1.25 inches
Weight: 34.5 ounces (unloaded)
Sights: Novak® drift adjustable 3-dot
Capacity: 6+1
MSRP: $609.00.
Taurus Model 1911 Commander
The Taurus Model 1911 Commander is the big brother to their new Officer model, but this Taurus still provides the mid-size features of one of the world's most iconic handguns. The Commander delivers all steel construction, for both the slide and frame, with forward and rear slide serrations for enhanced slide manipulation.  Both the slide and frame are given a monochromatic matte black finish.
The Taurus Commander features a 4.2-inch barrel with an overall  length of 7.9 inches. This delivers a slightly shorter slide than full-size 1911 dimensions while keeping a full-size 1911 grip for better control. The grips are black checkered grips in a traditional profile, sporting the new Taurus bull logo in the middle. Standard grip safety and manual safety lever features are paired with an extended beavertail for superior support during firing.
 Like the Officer model, Taurus provides the Commander
Novak® drift adjustable
front and rear sights in a 3-dot configuration. A skeletonized trigger has a slight inward curve for a more natural finger fit and straight rearward pull. The hammer is a combat-style rounded hammer with drilled center hole and slight serrations.
Taurus Model 1911 Commander Specifications
Caliber: .45 ACP
Slide Material: Steel, matte black finish
Frame Material: Steel, matte black finish
Overall Length: 7.9 inches
Barrel Length: 4.2 inches
Height: 5.8 inches
Width: 1.25 inches
Weight: 38.0 ounces (unloaded)
Sights: Novak® drift adjustable 3-dot
Capacity: 6+1
MSRP: $609.00.
Remington RP45
Remington released their new striker-fired RP45 this year, though they advertised it along with their RP9 (9mm) at last year's SHOT Show. Remington has had a rough go reentering the pistol market, with the disasterous R51 and troubled RP9 releases. However, if they have a hope of gaining a foothold it will likely come from the RP line of striker-fired pistols. The new RP45 is chambered in .45 ACP with the companion RP9 chambered in 9mm, the two of the most popular American handgun cartridges. Though I'm perfectly fine with my duty-issued Glock, and several other striker-fired handguns, I do wish success for Remington.
The Remington RP45 is a polymer-framed striker-fired handgun. The current configuration is in a full-size format. The RP45 slide and barrel has a PVD finish for increased durability and corrosion resistance. The slide has serrations on the front and rear of the slide for increased manipulation ability. Remington provides the RP45 with 3-dot sights standard (tritium night sights optional), with a "fighting surface" rear sight for one-handed slide manipulation.
The ergonomic polymer frame is designed to fit up to 95% of shooters with the includsion of small, medium, and large replaceable backstraps. The optimized grip angle reportedly reduces felt recoil and increased shoot-ability. An undercut trigger guard allows the highest and most secure grip possible. The trigger is designed for a smooth, light and crisp single-action break, with a short tactile reset.
Remington RP45 Specifications
Caliber: .45 ACP
Slide Material: Steel PVD finished
Frame Material: Polymer
Action: Striker-fired
Overall Length: 7.91 inches
Barrel Length: 4.5 inches
Height: 5.56 inches
Width: 1.27 inches
Weight: 26.4 ounces (unloaded)
Trigger Pull: 5.5 to 8.0 pounds
Sights: 3-dot (tritium night sights optional)
Capacity: 15+1
MSRP: $418.09 ($504.00 with tritium night sights)
New Kimber K6S Revolver Models
Kimber is one of the most well-known and respected custom firearms makers in America. Most of their huge success has come from masterful recreations and improvements to the venerable Model 1911. It was a big stir when Kimber's new "handgun" for the 2016 SHOT Show was actually a revolver. We were able to get our hands on and shoot the K6S that year, and found it to be one of the smoothest revolver triggers on the market. Despite its compact frame, the Kimber K6S handled .357 Magnum cartridges very well.
This year Kimber expands their K6S offerings. From the original K6S with its lightweight stainless steel frame, 6-shot capacity, the new revolvers include the DCR, DC, and CDP. The Kimber K6S DCR is their Deluxe Carry Revolver. Featuring the satin-finished stainless steel frame, the DCR will have a fiber-optic front sight and checkered Rosewood grips. We knew the original blue/gray rubberized grips on the K6S would not remain the only option.
Kimber's K6S DC is called the Deep Cover model. This K6S revolver offers all of the superior ergonomics of the original while providing the shooter a sleek black, Diamond-Like Carbon (DLC) finish, black G10 grips, and 3-dot night sights. This Kimber is sleek and smooth, and really grabs the mystique of a "deep cover" back-up.
Finally, the Kimber K6S Custom Defense Package (CDP) revolver, is a unique combination of the other two new models. Featuring a black, DLC frame, with brush satin stainless steel barrel, cylinder, and small parts, the CDP offers a stark but attractive appearance. The CDP is finished off with checkered Rosewood grips and 3-dot tritium night sights. Al three new versions of the original Kimber K6S have their own appeal.
Kimber K6S specifications
Caliber: .357 Magnum
Action: DAO (but feels ball-bearing smooth)
Trigger: Match-grade, with 9.5 to 10.5 pound pull
Cylinder Rotation: Counter-clockwise
Frame Material: Stainless steel, satin or DLC finish
Overall Length: 6.62 inches
Barrel Length: 2.0 inches
Height: 4.46 inches
Overall Width: 1.39 inches
Weight: 23.0 ounces (empty)
Capacity: 6
MSRP: $899.00 (SS); $1,088.00 (DCR).
Colt Night Cobra .38 Revolver
Colt introduced the Night Cobra .38 Spl. revolver at SHOT Show this year, and they believe they just may have one of the best concealed carry revolvers on the market. This is the next model in the Cobra revolver series, and offers several unique features. The new Night Cobra will also offer 6-shot revolver, using an nDLC (nano Diamond-Like Carbon coating) instead of the original Cobra stainless steel, and a night front sight rather than a fiber optic sight.
Colt has not put the Night Cobra on their website yet, so I'm a little weary about when this new revolver will actually be available. However, it is encouraging to see it on the SHOT Show floor, and so eagerly advertised by the Colt staff.
The Night Cobra offers nice ergonomic VZ G10 grips, designed to move the shooter's hand higher to a position of stronger and more positive control.
Colt Night Cobra Revolver Specifications
Caliber: .38 Spl (+P)
Frame Material: Stainless steel, black nDLC coating
Trigger: DAO, 7-9 pounds of pul
Overall Length:  7.2 inches
Barrel Length: 2.0 inches
Height: 4.9 inches
Width: 1.4 inches
Weight: 25.0 ounces (unloaded)
Sights: Front night sight
Capacity: 6
MSRP: $899.00.
Taurus Model 856 Revolver
The the new Taurus Model Ultra-Lite 856 revolver is another firearm from the Brazilian manufacturer, seemingly solidifying the new management team is committed to revamping the often struggling company. If there is a bright spot for the struggling Taurus it has been there ability to produce quality revolvers. The Model 856 revolver is a 6-shot revolver chambered in .38 Special, a moderate but acceptable self-defense round.
The Model 856 will feature a 2-inch "snub nose" barrel to provide outstanding concealed off-duty, back-up, or civilian EDC. Taurus will offer a matte blue or matte stainless steel finish for shooter's to choose from. Personally, I really like the matte blue. Taurus gives the 856 a DA/SA action (double-action standard, but single-action capable with manual hammer cocking).
Called the Ultra-Lite, the new Model 856 will weigh 22.0 ounces unloaded. This is much heavier than many concealed carry pistols, so the weight could be a big turn-off to many shooters. There is a simple serrated ramp front sight for aiming, as this little revolver is best suited to close range encounters and point and shoot tactics. The soft rubber grips should more than tame any adverse recoil from the .38 Spl. rounds on a lightweight frame, and offer a ribbed back strap with checkered texture on the sides. The grips have two finger grooves for added support.
Taurus Model 856 Revolver Specifications
Caliber: .38 Special
Barrel Material: Steel, matte blue or matte stainless
Frame Material: Steel, matte blue or matte stainless
Grips: Soft rubber
Action: DA/SA
Overall Length: 6.55 inches
Barrel Length: 2.0 inches
Height: 4.8 inches
Width: 1.41 inches
Weight: 22.0 ounces
Sights: Serrated ramp front
Capacity: 6
MSRP: $329.00.
2018 New Rifles and Carbines
There are quite a few note-worthy rifle and carbine additions this year, including a non-NFA "SBR", carbon fiber sweetness in greater abundance, and a more rifles in the wild card .224 Valkyrie cartridge. Though not a comprehensive review of the newest of new from SHOT Show, this review presents some of the best new long-gun options with legitimate law enforcement application. both patrol and special operations.
Franklin Armory Reformation, Non-NFA SBR
One of the most anticipated teasers of the 2018 SHOT Show has been the Franklin Armory Reformation. Why, you ask? Well, Franklin Armory just produced a short-barreled rifle (SBR) that does not require the onerous BATFE Tax Stamp for an NFA firearm (National Firearms Act). Franklin Armory accomplished their goal by giving the Reformation barrel straight lands and grooves rather than spiral rifling that is specifically a part of the BATFE definition of "rifle." In effect, with BATFE approval, the Reformation is simply a "firearm" and thus can have the shorter barrel and overall length without violating the NFA rifle requirements.
Roughly speaking an SBR is a shoulder-fired rifled weapon, with a barrel length less than 16.0 inches or an overall length of less than 26.0 inches. The Reformation gets around the NFA requirements, because the barrel has straight grooves rather than rifled (spiraled) grooves. In that respect I guess the appropriate name of the Reformation is SBF (short-barreled firearm).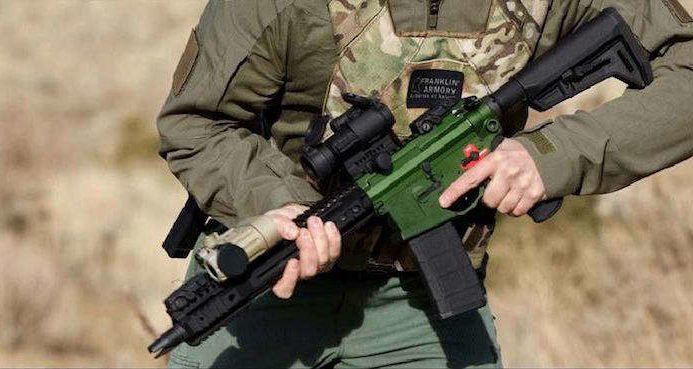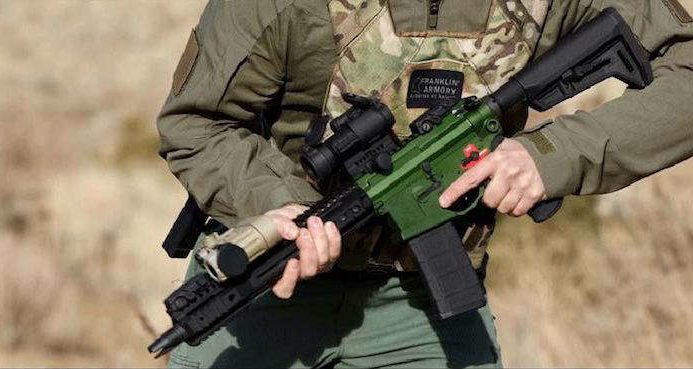 The Franklin Armory Reformation (Photo courtesy of GunsHolstersandGear.com)
The effect of this barrel design is shorter accuracy ranges – still reasonably accurate within 50 yards, but groups spreading to roughly 4-5″ at 100 yards. This fact could be a big sales killer. However, since SBR's are typically an entry weapon dealing with shorter ranges anyway, the new Reformation might be still be a legitimate option without all the messy paperwork and long waiting periods. Still a little wary? Well, Franklin Armory says it is looking into (2) experimental rounds to help bring the Reformation accuracy back down to around (1) MOA @ 100 yards. One involves a fin-stabilized bullet, while the other is along the lines of a saboted cone-style round. Hopefully they aren't sky high priced, if they can be found at all!
Franklin Armory is already famous for their binary triggers, allowing shooters a safe, semi-auto, or fire one-round upon trigger pull and another on trigger release option. The new Reformation can include that option with the Franklin Armory's BFCIII™ AR-C1 trigger.
IWI Tavor 7 .308 Bull-Pup
Isreal Weapons Industry (IWI) continues to impress with the introduction of their new Tavor 7 chambered in 7.62 x 51mm (.308 Win). The Tavor 7 is an extension of their highly popular Tavor SAR and Tavor X95 bull-pup rifles, providing shooters with a lightweight and compact rifle with weight centered near the shooter's body rather than outward. IWI is one of the most popular bull-pup rifle manufacturers on the market today, and the new Tavor 7 offers a very interesting upgrade in power as a patrol rifle.
The new IWI Tavor 7 has very similar characteristics to the Tavor X95, including being fully ambidextrous and fully interchangeable for right and left-handed shooters (bolt, bolt lever, ejection port, safety lever). However, the Tavor 7 will use a short-stroke piston system rather than the long-stroke pistons of previous Tavors. The gas system has 4-settings: Regular, Extreme, Suppressed, and Closed. Break-down can now be handled in the field with a standard .308 cartridge.
The Tavor 7 features a high-impact modified polymer frame, matched with a cold hammer-forged, chrome-lined, and free-floated 17.0″ or 20.0″ barrel. The action now comes with an HK-like upward groove, allowing one-handed locking by pulling the bolt lever back and upward. The Tavor 7 comes with an M-Lok fore-end offering 2-slot attachment points at 3 and 9 o'clock, and a MIL-STD 1913 Picatinny rail on the bottom. Tavor 7 will be available in Sniper Gray, Black, OD Green, and FDE.
Tavor 7 Specifications
Caliber: 7.62 x 51mm (.308 Win)
Rifling: 4 RH Grooves, 1:12? twist
Overall length: 28.74 inches
Barrel length: 17.0 inches
Weight: 9.0 pounds (without magazine)
Rate of fire: 600~900 rpm
MSRP: $1995.00.
As a fortunate IWI Tavor X95 owner, I'm really excited to get one of these on the range to evaluate the .308 accuracy and shot repeatability from this heavy caliber bull-pup.
Heckler & Koch 433
Heckler & Koch needs no introduction, and any firearm with the HK stamp immediately draws attention. The new HK 433 is no different, and offers an outstanding AR-platform package straight out of the box. This could be the new German Army rifle, and for good cause! The HK 433 takes on the appearance of an AR-15, G36 and SCAR combined.
Mr. Stoner may have invented the AR-15, but some believe Heckler & Koch has nearly perfected the rifle. No doubt these Germans know a little bit about making high quality firearms using state-of-the-art precision machinery!
The new Model 433 will be chambered in 5.56 x 45mm. There are (5) barrel length options from 11.0 to 20.0 inches, and barrels are changeable at the operator level. The HK 433 stands out among its brother HK AR-style rifles by combining some of the outstanding features of both the HK G36 and the HK 416 rifle lines. The lower receiver uses the double-side concept familiar to HK G36 and 416 users, and will seat NATO STANAG magazines.
The monolithic upper receiver is fitted with the HK Modular Slim Line hand guard with Hkey (key mod) attachment points on the sides, and full-length Picatinny rails on the top and bottom. An amazing and helpful feature is the maintenance-free round counter. All exterior metal surfaces of the HK 433 have special material properties and coatings providing excellent corrosion protection.
The folding stock is also retractable, and offers a height adjustable cheek weld. The HK 433 is purpose-built to easily transition from those who have used an AR-15, G36, or HK 416 rifle. Both right and left-handed shooters can fully appreciate the HK 433 ambidextrous controls, including a non-reciprocating charging handle able to be switched without tools. This makes the HK 433 a great option for a Patrol rifle changing hands every shift, or Specialized Units reissuing rifles as new team members get assigned. The one thing I'm disappointed with is HK did not use their highly popular Dioptic rear sight.
Heckler & Koch 433 Specifications
Caliber: 5.56 x 45mm
Action: Gas piston, semi and full-auto options
Rate of Fire: Approximately 700 rpm
Overall Length: 22.7 inches to 33.2 inches (for common 16.5 inch barrel)
Barrel Length: 11.0, 12.5, 14.5, 16.5, 18.9 or 20.0 inches
Height: 7.7 inches (without magazine)
Weight: 7.63 pounds (with empty magazine – 16.5 inch barrel)
Twist Rate: Folding flip up
Sights: HK flip-up
Capacity: 30+1
MSRP: Not listed.
FN SCAR SC Short-Barreled Rifle
The newest member of the FN SCAR family is the SC (Sub-compact Carbine). This select-fire SBR (short-barreled rifle) will be law enforcement/military specific due to the full auto option. Cyclic rate is between 550-650 rpm. A civilian semi-auto version has not been mentioned, but even if released would find somewhat limited distribution in the U.S. due to NFA requirements. The SCAR SC is chambered for the popular NATO 5.56 x 45mm cartridge, and was specifically adapted for the mobility and flexibility needs of special operations teams.
AR-style rifles have come to dominate American law enforcement for both patrol and special operations teams. The 5.56mm cartridge is close to an ideal cartridge for law enforcement rifles. A centerfire rifle cartridge provides the speed and energy to create primary and secondary wound channels for increased stopping power. The 5.56mm (or .223 cal.) allows for maximum capacity while remaining reasonably lightweight in 30-round magazines. In addition, the popularity of the round for militaries and law enforcement provides a plethora of upgrades, accessories, and ammunition options.
The FN SCAR SC will feature all the goodness of the SCAR family in a more compact frame, ensuring officers familiar with the SCAR will have minimal transitioning training needs. The short-stroke gas piston system delivers cleaner and cooler firing, potentially lengthening the life-span of each rifle. An adjustable gas regulator ensures suppressed firing can maintain cyclic rate and firing confidence.
The non-reciprocating charging handle alleviates unnecessary movement and distractions, and be set up for right or left-handed shooters. The rotating locking bolt ensures quality feeding, extractions and firing. The telescoping butt stock is a new and key feature, and one sure to catch the eye of SWAT entry operators. I personally prefer a collapsing stock over a folding stock. Ambidextrous safety lever and magazine release is incredibly versatile for left-handed shooters and support hand shooting as well. The trigger takes form of a composite polymer module, and is surrounded by an enlarged trigger guard for easier gloved access.
FN SCAR SC Specifications
Caliber: 5.56 x 45mm
Action: Short-stroke gas piston, 550-650 rpm
Barrel Material: Cold hammer-forged chrome-lined, free-floating
Receiver Material: Hard-anodized monolithic aluminum
Stock: Telescopic butt stock with polymer pistol grip
Overall Length: 21.1 inches to 25.7 inches
Barrel Length: 7.5 inches
Weight: 6.9 pounds
Muzzle Device: FN SCAR-SC flash hider
Sights: FN adjustable flippup
Capacity: 30-round steel magazine
MSRP: Not listed.
Sig Sauer 716 Gen2 DMR 6.5 Creemoor
Sig Sauer expanded their 716 Gen2 DMR rifle selection at SHOT Show this year, adding the rising super star 6.5 Creedmoor to the family. The 6.5 Creedmoor has gone from tempting shadows just a few years ago to a mainstream monster expanding to nearly every major manufacturer. And for good reason too! The 6.5 Creedmoor is poised to become the go-to caliber for everything from precision competition and sniper missions, to hunting and other options. The extremely flat trajectory allows amazing accuracy to incredibly long distances. In addition, the 6.5 Creedmoor has a fantastic ability to keep energy at those longer distances.
The Sig Sauer 716 Gen2 DMR 6.5 Creedmoor features the highly popular features of the SIG516, like the short-stroke piston system. The 2-position gas piston can provide much cooler and cleaner shooting that can extend the life of the rifle's barrel. The free-floating, 16″ cold hammer-forged heavy contour barrel allows the cleanest barrel harmonics and least potential of interference in the bullet's travel through the barrel. The 2-stage Match Duo trigger is also included offering incredibly smooth trigger pull.
The SIG 716 Gen2 DMR 6.5 Creedmoor offeres an aluminum M-Lok forend for easy addition of weapon lights, laser or bipods. The stock is the highly adjustable Magpul PRS-3 stock offering adjustments in length of pull (LOP), and comb height for an improved cheek weld.
The Sig Sauer 716 Gen2 DMR 6.5 Creedmoor provides a full-length 20 MOA top Picatinny rail allowing the user a wide range of optics, scopes, or simple flip-up sights. The new 6.5 Creedmoor 716 is lighter than than the other 716 predecessors weighing less than 10 pounds, and will come with a 3-chamber muzzle brake.
Sig Sauer 716 Gen2 DMR 6.5 Creedmoor Specifications
*Sig Sauer has not published the Gen2 DMR 6.5 Creedmoor, so the original specs are listed.
Caliber: 6.5 Creedmoor
Action: Short-stroke gas piston
Barrel Material: Cold hammer-forged carbon steel
Receiver Material: Hard coat anodized aluminum
Overall Length: 33.8 inches to 37.0 inches
Barrel Length: 16.0 inches
Height: 7.5 inches
Width: 2.9 inches
Weight: 8.5 pounds
Capacity: 20-round polymer SR25 type
MSRP: Not listed, but 7.62 is $3,108.00.
Christensen Arms Modern Precision Rifle
Christensen Arms of Utah has made a unique mark on the precision rifle industry, and they continue to do so with their Modern Precision Rifle. I have to admit this one really has my interests up for an excellent police sniper rifle. Christensen Arms became famous for their excellent carbon fiber barrels. These barrels greatly reduce overall weight, while producing incredible strength and durability overall. The barrels have a thin steel core with rifling, but are then surrounded by high-tech carbon fiber that is not only stronger and lighter than steel, but greatly reduces heat signature and stress as well.
The Modern Precision Rifle (MPR) comes with a 416R stainless steel bore that is button rifled, and wrapped in aerograde carbon fiber. The barrel is free-floated with a removable muzzle brake. The newest .308 model features a 16.0 inch barrel, with optional 20.0 or 24.0 inch barrels. The new 6.5 Creedmoor offers a 24.0 inch barrel to go with the already offered 22.0 inch and 26.0 inch barrel. There are also 6.5 PRC, .300 Win, .300 Norma, and .338 Lapua MPR options as well. The stainless steel Christensen action comes with pre-drilled Remington® 700 optics base compatibility for the rifle scope of choice.
Christensen Arms uses a 7075 billet aluminum chassis with V-block bedding to support the MPR. The hand guard is carbon fiber with M-Lok™ attachment slots, and the cheek riser is carbon fiber as well. There is a folding butt stock with locking hinge and Magnelock™ technology, for excellent compact or more concealed carry in a pack. This is a particularly important feature for police snipers – whether packing in dense brush, or concealing the rifle in a pack for urban settings.
There are (6) QD flushcup attachment points, monopod Picatinny mount compatible, and standard AR grip compatible. A skeletonized bolt handle with fluted oversized bolt knob deliver a smooth bolt action with enhanced dexterity. The match-grade "flat" trigger is perfect for precision shots, and the AICS compatible magazine well ensures proper magazine seating and feeding. There is a match grade chamber and enlarged ejection port as well to round out this sub-MOA guaranteed rifle.
Christensen Arms .308 MPR Specifications
Barrel Material: 416R Stainless steel, wrapped in Aerograde carbon fiber
Stock Material: 7075 billet aluminum chassis
Overall Length: Not listed
Barrel Length: 16.0, 20.0 or 24.0 inches
Twist Rate: 1:10 RH (.308); 1:8 RH (6.5 Creedmoor)
Weight: 6.9 pounds (.308)
Length of Pull (LOP): 12.5 to 14.5 inches
Thread Rate: 5/8 – 24 standard
Magazine: AICS compatible, 5+1 capacity
Guarantee: Sub-MOA
MSRP: $2,295.00 (short action), $2,395.00 (long action).
Springfield Armory M1A in 6.5 Creedmoor
Springfield Armory began with the introduction of the M1A™, a semi-auto civilian version of the M14 military rifle, all the way back in 1974. There have been many offerings of the M1A since then, and this year provides the enhanced M1A in the ever-increasingly popular 6.5 Creedmoor chambering. The new M1A 6.5 Creemoor offers an enhanced stock with built-in adjustments for length of pull (LOP), and cheek weld.
Though the original M1A was popular for its historical mirroring of the M14, the rifle never really took flight as a police sniper or patrol rifle. That could change with the new M1A rifle in the very accurate and flat-trajectory 6.5 Creedmoor that has really set the precision shooting market on fire. The 6.5 Creedmoor M1A™ comes with (3) configuration options:
Black Precision Adjustable Stock with 22.0″ Stainless Steel Barrel
FDE Precision Adjustable Stock with 22.0″ Stainless Steel Barrel
Black Composite (Traditional-Style) Stock with 22.0″ Stainless Steel Barrel.
This new M1A will still offer shooters the base National Match front blade sight and adjustable National Match aperture sight. One Parkerized steel 10-round magazine is included.
Springfield Armory M1A 6.5 Creedmoor Specifications
Stock Material: Black or FDE Precision, or Black Composite
Barrel Material: Stainless steel, medium weight
Overall Length: 45.0 to 46.25 inches
Barrel Length: 22.0 inches
Twist Rate: 1:8 RH, 4-groove
Weight: 11.4 pounds (with empty magazine)
Front Sight: National Match 0.062″ post
Rear Sight: National Match grade non-hooded aperture, 0.0520″ adjustable
MSRP: $2,045.00.
Mossberg MVP Precision in 6.5, .308
Mossberg joins the increasing number of 6.5 Creedmoor rifle options, with their new MVP® Precision rifle with both 6.5 Creedmoor and .308 Win. chambering options. Mossberg gives the MVP Precision their patented LBA® adjustable trigger (3-7 pounds), presenting a pre-trigger bar similar to the Savage Accu-Trigger. The new MVP Precision rifle will also come with a highly adjustable LUTH-AR MBA-3 stock, and an impressive take-down chassis. The LUTH-AR MBA-3 offers QD or traditional sling mounts.
The LUTH-AR MBA-3 stock will offer adjustments to length of pull (LOP), cheek weld (comb), and cast position from center. In addition, this new stock and chassis design offers a significant weight reduction from the original MVP series rifles. The MVP Precision rifle continues the patented (drop-push and dual push) design of a bolt-action rifle accepting standard AR-style magazines, and will ship with (1) Magpul 10-round PMAG.
The Mossberg MVP Precision features a free-floated 20 or 24-inch threaded medium-contour barrel, along with a slim profile hand guard offering M-LOK attachment points. The receiver offers a 20 MOA Picatinny rail for scope mounting, a Magpul MOE+ grip, and an easily manipulated scalloped bolt handle. Metal finishes are hard anodized and matte blue. This new Mossberg MVP Precision offers a nice rifle at affordable prices.
Mossberg MVP Precision 6.5 Creedmoor Specifications
Barrel Material: Matte blue steel
Stock Material: LUTH-AR MBA-3 stock; M-LOK hand guard
Overall Length: 43.25 inches
Barrel Length: 20.0 inch (.308), or 24.0-inch (6.5 Creedmoor)
Barrel Type: Medium bull, threaded
Weight: 10.0 pounds (unloaded)
Length of Pull (LOP): 12.5 to 16.5 inches
MSRP: $1,407.00.
RISE Armament 1121 XR
RISE Armament takes AR-platform rifles to the next level, and their scorpion logo is pretty bad ass as well. This year RISE Armament presents the 1121 XR rifle, an outstanding .308 gas rifle with guaranteed sub-MOA accuracy. This new RISE Armament "Extreme Range" rifle uses some of the highest quality materials and accessories to give the shooter confidence in precision shooting. Quality semi-auto sniper rifles are beginning to find acceptance in law enforcement sniper circles, as technology overcomes accuracy concerns, and the semi-auto action offers outstanding potential for follow-up shots and quick reloads.
The RISE Armament 1121 XR delivers a 20-inch 416R stainless steel barrel with a 1:11.25 twist rate. The barrel is free-floated to ensure the highest level of accuracy by avoiding interference with barrel harmonics during firing. The barrel is capped with a Stainless steel RISE Armament RA-701 Compensator to help alleviate recoil and blast in the scope. The upper and lower receivers are precision machined from 7075 billet aluminum, and house a premium bolt carrier group featuring a quick-cleaning black nitride finish.
All exterior metal parts are Cerakote finished for superior durability and corrosion resistance. There will be options for black, FDE, and foliage green coatings. The 1121 XR is fitted with the highly praised and fully adjustable Magpul PRS stock giving the shooter desired length of pull (LOP) and comb height (cheek weld). In addition, the PRS offers QD sling attachments and M-LOK monopod attachments.
Rise Armament has installed their RA-535 Advanced-Performance Trigger into the 1121 XR, giving the shooter a smooth, crisp single-stage 3.5 pound trigger pull with short travel and reset. These are critical features of a precision rifle, and the pull weight is the minimum acceptable from the American Sniper Association. Overall the Rise Armament 1121 RX presents a very tempting AR-style precision or sniper rifle.
Rise Armament 1121 XR Rifle Specifications
Barrel Material: 416R stainless steel
Receiver Material: 7075-T6 aluminum billet
Caliber: .308 Win (7.62 x 51mm)
Overall Length:
Barrel Length: 20.0 inches
Weight: 9.5 pounds
Length of Pull (LOP):
Included Accessories: (1) hard back case, (2) 10-round Pmags
Cerakote Colors: Black, FDE, foliage green
Limited Lifetime Warranty
MSRP: $2,449.00.
CMMG Mk4 DTR2 .224 Valkyrie
CMMG has had an impressive run for a relatively new firearm manufacturer, and their new Mk4 DTR2 chambered in .224 Valkyrie looks to be another winner. The .224 Valkyrie started on the edges of acceptability like every new cartridge until recently. The Valkyrie is based upon the .30 Remington/6.8 SPC cartridge necked down to .22 caliber.
The expansion came from an increased demand of shooters for beefed up performance from their AR-15 platform. We saw this with the meteoric rise of .300 Blackout, and on the bigger AR-10 platform we are seeing this with the 6.5 Creedmoor. So what is the big deal about this new .224 Valkyrie? How about super-sonic speeds beyond 1000 yards, flatter trajectory, and increased energy from an AR-15 sized bullet out to 1300 yards! Yeah, it's that kind of a big deal!
It is no surprise CMMG is one of the leaders in this new cartridge, having been very successful with a full line of .300 Blackout rifles. The new Mk4 DTMR2 is built upon outstanding aerospace-grade 7075-T6 aluminum forged receivers, anchoring the 24-inch 416 stainless steel barrel. The barrel is salt-bath Nitrided to provide superior longevity and corrosion resistance. The barrel is threaded with a 1/2 x 28 rate, and capped with a SV muzzle brake.
CMMG includes several other excellent features on the Mk4 DTMR2. An outstanding Giessele SSA trigger provides a smooth 2-stage action, with a short 4.5 pound pull travel, and tactile reset. Magpul furniture completes the Mk4 DTMR2 with an MOE pistol grip, PRS fully-adjustable stock, and ambidextrous safety selector and charging handle.
CMMG Mk4 DTMR2 .224 Valkyrie
Receiver Material: Forged 7075-T6 aluminum
Barrel Material: 416 stainless steel, salt bath nitrided
Overall Length: 44.5 inches
Barrel Length: 24.0 inches
Weight: 9.2 pounds (unloaded)
Twist Rate: 1:7 RH
Trigger: Giessele SSA
Stock: Magpul PRS
Muzzle Device: SV muzzle brake
MSRP: $1,699.95.
Seekins Precision HAVAK Pro HV1
Seekins Precision has made a highly reputable name for themselves manufacturing high-end precision rifle parts. Seekins Precision is starting their "Tactical Line" with the new HAVAK Pro HV1 bolt-action rifle. This complete Seekins Precision rifle will be initially offered with a .308 or 6.5 Creedmoor chamber.
The HAVAK Pro HV1 gets its name from their excellent Havak action, featuring a full-diameter bolt with four locking lugs and a 90-degree bolt throw. The bolt lugs are locked into position at the 3 and 9 o'clock positions, rather than traditional 12 and 6 o'clock positions. This ensures the bolt is secured with the strongest portions of the action.
There are several enhanced features on the HAVAK Pro HV1. The stock is the well-received Magpul 700 composite stock with detachable AICS compatible box magazines. The Magpul 700 stock comes with Type III hard-anodized, machine finished, A380 aluminum V-bedding block for superior receiver mating and free-floated barrel. There are 0.50 inch adjustment spacers providing 13.0 to 15.0 inches of LOP adjustment including the rubberized butt stock, and there is a built in comb riser (cheek weld). M-LOK spaces on the fore end are ideal for adding bipods or other accessories, with the option of traditional or QD sling mounts.
The HAVAK Pro HV1 uses an integrated recoil lug with a top lug for the full receiver-length 20 MOA Picatinny rail. There is a helical extraction cam matched with an M16-style extractor. The HAVAK will feature a Timney 510 trigger factory set at 3.0 pounds of trigger pull. This is just below the 3.5 pound lowest recommended setting by the American Sniper Association, but should provide a very crisp trigger pull and break without an undue "hair" trigger. Overall the HAVAK Pro HV1 is a rifle with a lot of potential.
Seekins Precision HAVAK Pro HV1 Specifications
Barrel Material: Match-grade stainless steel, 5R rifling
Stock Material: Magpul 700 propriety polymer
Overall Length: Not listed
Barrel Length: 24.0 inches
Weight: 10.05 pounds
Twist Rate: Not listed
MSRP: $1,995.00.
Howa HCR Chassis Rifles
Howa rifles are distributed by Legacy Sports International, and represent the quality and expertise of one of Japan's leading armament manufacturers. This year Howa has released their HCR – Howa Chassis Rifle. The Howa HCR combines an excellent free-floated barrel and action firmly seated in a chassis, with a highly adjustable and modular stock.
The Howa HCR chassis is CNC-machined from high-quality 6061-T6 aluminum billet made by Accurate-Mag and includes a low-profile free-floated M-LOK fore end. HCR barrels come in standard or heavy contour options with 20.0″, 24.0″, and 26.0″ lengths depending on selected caliber. Barrels come with a standard crown, but 5/8×24 threaded options are available for those desiring to shoot suppressed or with a muzzle device. An Accurate-Mage detachable 10-round box magazines is included with each HCR. The magazine is all-steel and Teflon coated for durability and ease of loading. Other AI-style magazines are compatible as well.
Howa is another manufacturer who has chosen the LUTH-AR MBA-3 adjustable buttstock mounted to a 6-position buffer tube. The buttstock is highly adjustable for length of pull (LOP) and comb height (cheek rest). Standard HCR rifles will be fitted with an ERGO grip, however Howa has designed the HCR to accommodate most AR-style furniture allowing the shooter to customize for preference. The HCR comes with a lifetime sub-MOA guarantee.
Howa HCR Chassis .308 Rifle Specifications
Barrel Material: High quality steel, standard or heavy contour
Stock Material: 6061-T6 aluminum
Overall Length: 39.0-43.25″ (20.0″),;43.0-47.25″ (24.0″); 45.0-49.25″ (26.0″)
Barrel Length: 20.0, 24.0 or 26.0 inches
Weight: 9.9 pounds (20.o"), 10.2 pounds (24.0″), 10.5 pounds (26.0″)
Twist Rate: 1:10 RH
Length of Pull (LOP): 12.5 to 16.75 inches
Calibers: .308, and .223, .243, 6.5 Creedmoor (more coming)
Capacity: 10+1 with provided Accurate-Mag detachable magazine
MSRP: $1,379.00 (black); $1,549.00 (camouflage)
Add $50.00 for 26.0″ barrel (black); $40.00 for 26.0″ barrel (camouflage).
Ashbury Precision Ordnance Supra .224 Valkyrie
Ashbury Precision Ordnance (APO) is a well respected precision rifle manufacturer, and delivered their new Supra .224 Valkyrie rifle at SHOT Show this year. The new Supra .224 Valkyrie is based upon the M700, a stainless steel Remington 700, and uses APO's lightweight SABER chassis system. This new rifle is outfitted with the APO 24-inch Pinnacle-series barrel featuring fluting and contouring in house. The barrel has outstanding 5R rifling, and is paired with a removable Triple-D muzzle brake for suppressors with a standard 5/8×24 threading.
The APO Supra .224 Valkyrie chassis is completely modular, with three different components. The first is the shoulder stock assembly featuring a double-locking alloy hinge providing reversible left and right-side folding options. To fold the stock simply push the enlarged release button at the connection of the stock to the receiver. The stock will lock folded in the furthest position. T release simply press the release button on the top of the hinge. The SABER Chassis accepts all AICS compatible magazines.
There is a 6-position buffer tube providing excellent adjustment for length of pull (LOP), or movement through tight spaces. Like several other rifle makers, the APO Supra .224 Valkyrie will come standard with the Luth MBA-3 fully adjustable butt stock, but APO includes a MBA-1 recoil pad for what they consider more comfortable fit and protection. The MBA-3 provides additional LOP adjustment, as well as comb height for cheek weld. APO feels some precision shooters prefer a higher weld, so they precision manufacture their own polymer clip on piece for added height.
The APO Supra .224 Valkyrie sports a modular Shadow-6 lightweight handguard, featuring plenty of M-Lok accessory mounting positions. The handguard attaches to the receiver, providing a free-floating barrel for superior accuracy. A full-length top Picatinny rail is ready for the high quality scope of the shooter's choosing.
APO Supra .224 Valkyrie Specifications
Caliber: .224 Valkyrie
Barrel Material: Pinnacle 5R rifling, heavy contour, fluted
Stock Material: SABER Aluminium chassis
Overall Length: Adjustable, not listed
Barrel Length: 24.o inches
Weight: Not listed
Capacity: Ships with 5 or 10-round magazine
MSRP: $2,700.00 (Custom SX short action $3,700.00).
Savage Model 110 Storm with Accu-Fit
Savage Armsis one of America's great firearms manufacturers, and they continue to to produce highly innovative design features while maintaining the affordable and durable nature of some of the best entry and mid-level rifles on the market. This year Savage Arms has introduced a new Model 110 Storm with their all new Accu-Fit system.
Prior to this year Savage revolutionized the rifle-market with the introduction of their highly successful adjustable Accu-Trigger. A few years later Savage brought us the Accu-Stock with its excellently designed full-length aluminum chassis. This year the overall Model 110 design system gets even better with the Accu-Fit design.
The Accu-Fit design involves a highly modular butt stock that still takes on the more traditional appearance. Don't let first looks fool you, underneath that exterior is a well-designed stock providing adjustments for length of pull (LOP) and comb height (cheek weld). To adjust the Accu-Fit system the user simply uses a Philipps-head screw driver to remove the (2) screws on the rear of the stock. This allows the black recoil pad and factory insert at the rear of the stock to detach, then allowing the comb riser on top to slide back and off.
The shooter then has the option of (5) comb heights (A-E), and (4) length of pull insert adjustments (1-4). Simply select the desired comb height, slide the insert down and forward on the stock grooves designed for the insert to eliminate any gap with the rest of the stock and the insert will lock into place. Then select the desired length of pull insert, attach it to the rubberized recoil pad, and screw the two pieces back onto the rear of the stock.
With the Accu-Trigger, Accu-Stock, and now Accu-Fit features the Savage Model 110 Storm could provide an excellent police sniper rifle selection for agencies with limited resources. Measurements vary for each chambering, with the highly popular .308 Win. police sniper rifle chambering listed below.
Savage Arms Model 110 Storm .308 Specifications
Stock Material: Gray synthetic
Barrel Material: Stainless steel
Twist Rate: 1:10 RH, button rifling
Overall Length: 41.25 to 42.2 inches
Barrel Length: 22.o inches
Weight: 7.15 pounds (unloaded)
Caliber Options: Multiple from .22-250 to .338 Win Mag
Capacity: 4+1 with detachable box magazine
Butt-Stock: Accu-Fit adjustable
Stock: Accu-Stock, rigid full-length aluminum bedded chassis
Trigger: Accu-Trigger adjustable
MSRP: $849.00.
Mauser M18 Bolt-Action, Rifle for the People
Mauser is one of the world's most famous rifle makers, and has produced outstanding rifles for over a century. However, in recent years their extremely high-quality and top-end feature-packed rifles have been well outside the normal budget for accessibility. With rifles well into the thousands or even tens of thousands of dollars price range, Mauser was realistically only available to the richest shooters. This year Mauser looks to fix this divide, with the Mauser M18 Bolt-Action "Rifle for the People."
Capturing most of the Mauser engineering excellence the M18 comes with a cold hammer-forged steel barrel for excellent accuracy and durability. The receiver and action are all steel as well, and surrounded by a light-weight polymer-2 stock with standard sling attachments. The stock has soft grip inlays on the pistol grip and fore end for comfort and enhanced gripping. The butt stock is removable by pressing inward on the Mauser emblems on each side. Once removed the butt stock is designed to hold cleaning supplies or other accessories.
Mauser uses a 3-position safety provided a full-lock position for trigger and bolt, safety-on with bolt-action accessibility for safe loading/unloading, and then a fire position well forward of the two safety positions. The double-stack detachable box magazine is steel with a polymer cap, and is an excellent and BSD recommended feature. There are no iron sights, but Mauser has pre-drilled holes for scope mounting.
Currently Mauser is only offering the M18 in .308 or .30-06, but will begin expanding caliber options in July, 2018. Those calibers include: .243, .270, 7mm-Rem, and .300 Win. Though designed for "the people," this rifle really has my attention for potential police use as well!
Mauser M18 Specifications
Stock Material: Polymer, soft grip inlays on pistol grip and fore end
Barrel Material: Cold hammer-forged steel
Overall Length: 41.73 inches (standard); 44.09 inches (magnum);
Barrel Length: 22 inches (standard); 24.4 inches (magnum)
Calibers: .308 or .30-06 (more in July 2018)
Capacity: 5+1 with detachable magazine
Weight: 6.4 pounds (standard); 6.6 pounds (magnum)
MSRP: $699.99.
Ruger PC Carbine
We've already posted on the new Ruger PC Carbine, but since it is one of the new carbines we'll give it a little more love here. Ruger has been on fire in recent years producing several hit new firearms like the Ruger Precision Rifle, Ruger AR-556 MPR, and Ruger American Pistols. The new 9mm PC Carbine looks to be another great firearm with several potential uses.
The Ruger PC Carbine has the same take-down feature as the 10/22® for an incredibly concealable option and easy maintenance. It also shares the 10/22 trigger components offering a light, crisp trigger pull and positive reset. The PC Carbine accepts Ruger SR-series, Ruger Security-9, and Glock magazines through included, inter-changeable magazine wells. An optional Ruger American Pistol magazine well is also available for that popular pistol.
PC Carbine barrels are cold-hammer forged chrome moly steel, with a fluted, heavy-contour design. The stock is synthetic, glass-filled nylon with a proprietary grip. The soft rubber buttsock is paired with adjustable LOP spacers for the perfect fit. An aerospace-grade 7075-T6 aluminum billet receiver is Type III hard-coat anodized for superior protection. A full length Picatinny rail begs for a nice red dot sight. There is a machined chrome-moly, heat treated bolt offering shortened travel to reduce felt recoil. This is coupled with a dead blow action with custom tungsten dead blow weight. The charging handle and magazine release lever are interchangeable for the lefties.
With Glock still maintaining a powerful hold on American law enforcement pistols this presents a lot of really interesting options for a patrol carbine that can feed from the same pistol magazines the officer is already carrying. The PC Carine comes with a ghost-ring rear sight for fast and intuitive target acquisition and a protected front blade sight.
Ruger PC Carbine Specifications
Caliber: 9x19mm
Overall Length: 34.37 inches
Barrel Length: 16.12 inches
Weight: 6.8 pounds
Length of Pull (LOP): 12.62 – 14.12 inches
Twist Rate: 1:10 RH, 6 grooves
Thread Pattern: 1/2 inch – 28 (for threaded option)
Sights: Protected front blade; Adjustable rear ghost ring
Magazines: Ruger SR/Security-9, Glock magazine wells included
Option: Ruger American Pistol (RAP) magazine well
Capacity: 10, 15, 17
MSRP: $649.00.
PTR 9C and 9CT 9mm MP-5 Clones
The Heckler & Koch MP-5 is one of the most iconic sub-machine guns ever made. Well PTR, the American HK blow-back firearms clone-makers, are now offering the PTR 9C and PTR 9CT MP-5 clones. Both options will be semi-auto, but no doubt they will still wet the appetites of many shooters on both the professional and civilian side. The PTR 9C and 9CT firearms are designed in a pistol format, without a stock or arm brace. However, otherwise these two new firearms capture the imagination of the MP-5 very well with some nice upgrades as well.
The PTR 9C comes with an M-LOK compatible aluminum hand guard surrounding the 8.86-inch 3-lug barrel. A 6-position top Picatinny rail offers enhanced optics mounting, while the classic HK-style adjustable aperture rear sight is included for standard iron-sight shooting. The PTR 9C ships with (2) 30-round metal magazines, and a bungee-cord sling. The PTR 9CT has all the features of the 9C, but includes a 1/2 x 28 threaded barrel.
Both models capture the essence of the classic MP-5 with the roller-delayed blowback action design HK made famous.
PTR 9C and 9CT Specifications
Caliber: 9mm
Action: Roller-delayed blowback
Overall Length: 17.6 inches
Barrel Length: 8.86 inches
Weight: 5.05 pounds (unloaded)
Twist Rate: 1/10
Trigger Pull: 9-10 pounds
MSRP: $1,899.00.
B&T GHM9 Compact 9mm Sub-Gun
B&T may not have the name recognition in America like the other manufacturers listed here, but this Swiss firearm manufacturer has a lot to offer. That includes the introduction this year of the GHM9 compact 9mm sub-machine gun. For decades the entry weapon of choice for many military and police special operations units was a sub-machine gun (often the HK MP-5). Though many agencies have moved to AR-15 SBR's as their entry weapon, there are still many who have a fondness and appreciation of a good pistol-caliber sub-gun – the GHM9 delivers!
One of the reasons B&T is less known, is the Swiss firearms maker only deals with military, law enforcement, and very select security services. The new GHM9 and GHM9 Compact sub-guns are fully ambidextrous; including dual safety selectors, magazine releases, and folding stock controls, with an interchangeable bolt handle.
The folding shoulder stock makes the GHM9 very concealable and compact for tight movement situations. B&T includes folding "iron" sights with the rear sight adjustable for elevation and windage. There is a full-length Picatinny rail on top of the receiver, with additional 8-slot Picatinny attachment points at the 3, 6, and 9 o'clock positions. This provides plenty of options for a fore grip, lights or lasers; as well as the option of a reflex optic.
Though semi-auto only (as opposed to the popular full-auto group on the MP-5), the G&T GHM9 still offers a wide-range of potential uses for SWAT, K-9, Motor officers, Specialized vehicle drivers, and even on Patrol. This potential is particularly true for agencies fielding 9mm handguns, where ammunition consistency can be very beneficial.
B&T GHM9 Specifications
Caliber: 9x19mm
Action: Semi-auto, closed bolt blow back
Stock Material: Composite
Overall Length: 17.1 to 26 inches (14.6 to 23.5 inches Compact)
Barrel Length: 6.9 inches (4.3 inches Compact)
Weight: 5.3 pounds (with empty 30-round magazine)
Height: 10.8 inches (including 30-round magazine)
Width: 2.7 inches
Sights: Foldable open sights, adjustable rear
Twist Rate: 1:10
Capacity: 30+1 (15, 20, and 25-round magazines available)
Included: (1) 30-round magazine, sling, case
MSRP: $1,274.00.
Beretta PMX SMG
Beretta doesn't appear to be reeling too badly after losing the U.S. Army's modular handgun competition, with their new PMX sub-machine gun. I know, it looks an awful lot like the B&T GMP9 sub-gun, but there are some noticeable differences as well. With incredible advances in ammunition manufacturing, including significant improvements in 9mm, there really is a serious discussion about the return of the sub-gun.
Beretta's new PMX offers a folding stock as well, making the compact sub-gun concealable and easy to manipulate in tight spaces. Beretta's folding stock is a bit more robust than the B&T GMP9, but at the expense of size and bulk as well. A simple push-button release makes folding the stock easy and intuitive, while the stock automatically locks into position when extended back out. The PMX has a more robust butt pad as well. All this extra metal may be appropriate considering the Beretta PMX gives the shooter the option of semi-auto or full-automatic fire.
To counter any extra weight from a slightly larger size, Beretta uses lightweight alloy metals and a polymer frame. The PMX barrel and bolt will be machined from high-strength steel for long durability. Like many sub-guns, the Beretta PMX will use a closed-bolt blow-back action. The 3-position fire selector, and magazine release are ambidextrous and easily manipulated. However, the bolt lever is not interchangeable. A full-length top Picatinny rail begs for a reflex red dot optic, while 8-position rails at the 3, 6, and 9 o'clock positions are perfect for lights/lasers.
Beretta PMX Sub-Machine Gun Specifications
Caliber: 9x19mm
Action: Closed-bolt, blow back – semi and full auto
Rate of Fire: 800-900 rpm
Barrel Material: high-grade steel
Stock Material: Polymer and light alloy materials
Overall Length: 16.5 inches (folded); 25.2 inches (extended)
Barrel Length: 6.9 inches
Twist Rate: 1:9
Weight: 5.3 pounds (unloaded)
Height: 9.8 inches (no sights); 10.6 inches (sights folded)
Sights: Rear – adjustable elevation and windage, front – post elevation adjustable
Capacity: 30+1 from detachable magazines
MSRP: Not listed.
Lithgow Arms Atrax AUG-Like Bullpup
Lithgow Arms is an Australian firearms manufacturer (apparently they still have a few), now producing thier new Atrax Steyr-AUG look-alike bullpup right here in the United States. Their previous F90 came in two versions – standard automatic family, and modular battle rifle (MBR) bullpup. Both models offer the excellent benefits of the bullpup design with the modularity to add weapon lights, lasers, and red dot optics of the shooter's choosing.
The Atrax will be the more civilian friendly semi-auto version still providing modular capabilities with top, sides, and bottom Picatinny-style rails.
The new Atrax bullpup will be a 5.56mm rifle with short-stroke gas piston operation. The Atrax will come in (2) versions. The DMR (designated marksman rifle) sports a 20-inch barrel with accuracy out to 600 yards on a 6-inch steel plate.  The 16-inch Carbon version maintains accuracy out to 500 yards on the 6-inch steel plate. This is the current rifle of the Australian armed forces.
There is an easy break-down process. Simply press in the release button in front of the magazine well, and the barrel and entire action assembly easily slides out of the lightweight, ergonomic and ambidextrous stock made from high-impact reinforced polymer. This allows interchangeability from 16-inch to 20-inch barrel actions in seconds.  There are not a lot of specifics on this new bullpup yet, but Lithgow Arms says they have BATFE approval for manufacturing (here in U.S.) and they plan on starting shipping in second quarter, 2018.
The previous and similar Lithgow Arms F90 bullpup used military-grade, cold hammer-forged steel with (6) external flutes and a threaded muzzle. The bore and chamber are chrome-lined providing easier cleaning and arguably better corrosion resistance. The exterior of the F90 barrel is phosphate-treated and then Cerokote™ finished. Rifling for the 5.56 x 45mm cartrdige is 1:7 giving excellent opportunities for accuracy with heavier bullet weights.
The F90 fielded a modular lightweight receiver also coated in Cerokote™, in a lightweight, ergonomic, ambidextrous stock made form high-impact reinforced polymer. The stock is rated for amphibious landings so its ready for salt, mud, and snow. The magazine release is ambidextrous, as is the bolt catch release behind the mag well. The safety lever offers an optional 2 or 3-position lever providing a trigger block safety. The F90 ships with a 30-round double-stack polymer magazine. I would imagine the Lithgow Arms Atrax will have similar quality and features.
Lithgow Arms F90 Bullpup Specifications (for comparison)
Caliber: 5.56 x 45mm
Barrel Material: Military-grade, cold hammer-forged steel with 5R rifling, 6 flutes
Stock Material: High-impact reinforced polymer
Finish: Major metal parts are phosphate treated, and Cerakote finished
Twist Rate: 1:7 with (6) grooves
Rate of Fire: 740 rpm
Overall Length: 27.59 inches, or 31,57 inches
Barrel Length: 16.0 inches, or 20.0 inches (Atrax)
Weight: 7.17 pounds (16.0″ barrel)
Length of Pull (LOP):  15.6 inches
Sights: None
Capacity: Ships with 30-round polymer magazine
MSRP: Not listed, expect in the $2000 area.
2018 Shotguns
This year was a little light on what we would consider police-worthy shotguns, but the ones that did arrive are actually pretty bad ass (minus one turkey). The definite trend was detachable box magazines or a bullpup design. Each new shotgun brings its own set of advantages and disadvantages, but the potential they bring for police and SWAT work is exciting.
The police shotgun has been a trusty game changer for years. However, in the post-911 anti-terror era the AR-15 has become the patrol rifle and sidekick of choice it seems. There are still a lot of very good reasons to keep a shotgun handy, and the new shotguns offer shorter profiles, quicker reloads, and some very cool designs.
IWI TS-12 Bull-Pup
This year Israel Weapon Industries (IWI) has delivered the IWI Tavor X-95 I have really come to appreciate the bullpup design and benefits. A compact, or even "sawed-off" shotgun is not a new idea, but the IWI Tavor TS-12 makes a compact shotgun a huge advantage from a proven platform. The Tavor TS-12 will offer a significant upgrade in capacity, easy shouldering, while providing a barrel long enough to take advantage of both buck shot, and slugs (as well as specialty rounds for breaching or less lethal for that matter).
This new semi-auto, gas-regulated 12-gauge shotgun is packed with features and primed to become an amazing law enforcement shotgun. In addition to its design making it perfect for entry work and patrol car racks, the Tavor TS-12 packs an amazing 15-round capacity for 2.75″ shells, and a still impressive 12-round capacity for 3″ shells.
A full-length top Picattiny rail offers outstanding options for red dot optic, while the sides have M-Lok compatible attachment points for weapon lights or other accessories
The IWI Tavor TS-12 shotgun will have an MSRP of $1,399.00, obviously more than traditional shotguns, but for the extra features it could absolutely be worth the added cost.
IWI Tavor TS-12 Shotgun Specifications
The TS-12 is not on the IWI site, so () indicates the Tavor X95 for general comparison.
Caliber: 12-gauge (2.75″ and 3.0″)
Action: Gas-regulated semi-auto
*Receiver Material: Reinforced polymer
*Overall Length: 26.125 inches
*Barrel Length: 16.5 inches
*Weight: 7.9 pounds (unloaded)
Capacity: 15 (2.75″); 12 (3.0″)
MSRP: $1,399.00.
Mossberg 590M Shotgun
Mossberg wasn't about to let Remington be the only manufacturer to develop a detachable magazine shotgun, so this year the Mossberg 590M™ enters the market. Though I own both a Remington 870 and a Mossberg 500, and really appreciate both, I must admit I really like this new Mossberg 590M over the Remington 870DM. The Mossberg 590M is the second most interesting shotgun from this year's SHOT Show, second only to the amazing IWI Tavor TS-12 bullpup.
The new Mossberg 590M™ is uniquely designed based upon proven Mossberg shotgun designs. The 590M magazines incorporate stabilizing ribs to engage the magazine directly to the receiver through milled slots on the receiver and lugs on the magazine. This is an excellent design, foreseeing the need for superior stabilization when rapid firing a 12-gauge with downward extending magazines. The magazines take on an AK-47 style loading method, with the shooter inserting the front end first and then locking the magazine in by raising the back end into the locking mechanism. Mossberg designed the 590M very well, ensuring the center of gravity for the shotgun is focused on full magazines in the middle of the shotgun.
The Mossberg 590M will feature the legendary dual extractors providing one of the most assured actions of any shotgun. The 590M features twin action bars, positive steel-to steel lockup, drilled and tapped receiver, ambidextrous thumb safety on the tang, and a heavy-walled cylinder bore barrel. The magazine release is an ambidextrous push-button lever located just in front of the trigger guard in a familiar AR-style location. The magazine release uses a helical action where the locking lug rotates ensuring easy release but a positive lock when the magazine is fully inserted.
Magazines are double-stacked and available in 5, 10, 15 and 20-round capacities marked on the magazine. The magzines offer hardened steel feed lips, over-molded steel shell ramps, easy-grip external molded design, proprietary self-lubricating polymer magazine body, heavy-duty ASTM-A-228 music wire magazine spring, a removable floor plate for easy cleaning, and a tough black oxide finish on steel components. Mossberg claims their magazines will fit in most double stack .308 pouches already on the market.
If there is one drawback to the Mossberg 590M it is the outward appearance of the magazines. Unfortunately, they look like Mossberg simply grabbed some left over TAPCO magazines and bolted some parts together. It's too bad, the magazines are expertly designed, so if you can get passed the odd appearance this is a great shotgun.
Mossberg 590M Shotgun Specifications
Caliber: 12-gauge, 2.75″ chamber
Barrel Type: Cylinder bore, matte blue
Action: Manual pump
Barrel Material: Heavy walled steel , or Heavy walled steel shielded
Stock Material: Synthetic, black
Overall Length: 39.5 inches
Barrel Length: 18.5 inches
Weight: 7.75 pounds
Length of Pull: 13.87 inches
Sights: Bead or Ghost Ring
Capacity: 5, 10, 15, and 20-round detachable double-stack box magazines
MSRP: $721.00 (standard); $801.00 (Tri-Railed).
Remington Model 870 DM
We recently published an article on the new Remington Model 870 DM detachable magazine shotgun. The latest rendition of one of America's most iconic shotguns provides some unique advantages to the traditional pump action shotgun. The DM stands for detachable magazine, and Remington has appears to have masterfully adapted their 870 to feed from the detachable magazine rather than the traditional tube. Detachable magazines offer a far superior method for carrying ammunition, and provide incredibly faster reloads as well.
Remington's 870 DM will offer a traditional wood stock and fore grip version, one with synthetic stock and fore grip (above), one with Magpul stock and fore grip, and one with a pistol grip stock. A hunting camo version will also be available.
The Remington 870 DM keeps all the traditional controls, including cross-bar safety, and the action release lever at front of trigger guard. There will be a cylinder bore barrel chambered for 3″ shells, and a SuperCell recoil pad on the buttstock (synthetic model). The Magpul and pistol grip version will come with a top Picatinny rail for mounting scopes or shotgun optics. The new 870 DM will currently feed from 3-round or 6-round detachable magazines.
Remington Model 870 DM Specifications
Action: Pump (action bar lock front of trigger guard)
Gauge: 12 (accepts 2.75? and 3.0? shells)
Stock Material: Synthetic (black)
Receiver Material: Billet steel
Overall Length: 38.5 inches
Barrel Length: 18.5 inches
Weight: Not listed
Length of Pull: 14.0 inches
Barrel Type: Cylinder bore
Sights: Single bead
Safety: Push bar (rear of trigger guard)
MSRP: $529.00 base.
UTAS UTS-15 Bullpup Shotgun
UTAS from Turkey has established operations in Des Plaines, Iowa. Relatively new and small, they have already produced two shotguns with very interesting potential (but not so impressive function), the UTS-15 and the XTR-12 shotguns. The UTAS UTS-15 is another bullpup shotgun design, featuring dual 7-round magazine tubes offering the ability to load mixed rounds for multiple mission requirements. Unfortunately, all bullpups are not alike as you will read.
The UTAS UTS-15 is a 12-gauge pump-action shotgun chambered for 2.5″ to 3.0″ magnum shells. The 7-round tubes can be set to alternate on each feed, or complete one side and then go to the other, by a switch on the top rear of the receiver. The loading ports are snap open and closed, with the magazines over barrel concept. The action pulls a shell from the selected magazine, into the buttstock, to drop into a feed ramp to the barrel.
The polymer receiver is integrated with a spring loaded shell feeding device and quick removable fire control housing – housing contains the hammer, sear, and a disconnector. The top mounted Picatinny rail is perfect for sights or optics. UTAS will include a wind adjustable flip up rear sight, with large aperture peep or big game V. The flip up front sight is adjustable.
The UTS-15 barrel, barrel extension, rotary bolt with (3) locking lugs, bolt body, are all precision machined and heat treated 4140 stainless steel. The barrel muzzle is threaded to accept Beretta style chokes, and comes standard with 4140 stainless steel flash suppressor with strike bezel and full-length knurling. One of the very impressive features of the UTS-15 are the internally mounted high intensity lens focused LED spotlight with fully adjustable laser sight that are push-button activated.
The fiber reinforced butt stock is mounted with a one-inch energy absorbing recoil pad. The action is accessed through a swivel rising cheek piece in the butt stock. QD sling swivel mounting points are located forward, rear and mid-point for a wide range of carry options. The UTS-15 will have a matte black finish on all polymer parts, with matte black chrome or black oxide on all steel parts. Field stripping can be accomplished without tools and in around 45 seconds. This shotgun that ejects the spent hulls downward and to the right from an ejection port slight above and behind the AR-style pistol grip.
Unfortunately, as the video shows, this bullpup shotgun needs some more design work!
UTAS UTS-15 Shotgun Specifications
Gauge: 12
Receiver Material: Steel, matte black
Stock Material: Polymer, matte black
Overall Length: 28.3 inches
Barrel Length: 18.5 inches (with standard choke)
Weight: 6.9 pounds (unloaded)
Capacity: 15
MSRP: $1,099.00; $1,199.00 for Colored options.
***EDITOR'S NOTE: BlueSheepdog obviously cannot endorse this shotgun in its current state! We have provide it here due to its introduction at SHOT Show, and the potential it offers should the feeding and extraction issues be fixed.
UTAS XTR-12 AR-Style Shotgun
Do we dare? Well, it is a new firearm highlighted at SHOT Show this year so here goes. UTAS also offers a semi-auto XTR-12 shotgun. The XTR-12 takes on the appearance of an AR-style rifle, and in fact uses a DPMS-based AR-10 lower receiver mated with an UTAS upper receiver. The benefits of this design is the extremely familiar controls, fit, and function from a platform so widely used by police department patrol rifle programs.
The UTAS XTR-12 does use a DPMS-based AR-10 lower receiver, but the UTAS upper receiver will not fit a standard DPMS or other AR-10 lower receiver. However, the UTAS DPMS-based lower receiver would fit an AR-10 upper receiver. The upper and lower receivers are matte black finished. There appears to be an HM Defense collapsible butt stock allowing various length of pull settings. The ergonomic contoured pistol grip appears designed for recoil management as well.
The full-length top Picatinny rail provides pleny of shotgun scope and red dot reflex sight options. A hand guard offers Picatinny attachments at the 3, 6, and 9 o'clock positions, and there is a breacher type muzzle device.  The safety selector is ambidextrous.
There is not a lot of technical information about the XTR-12 on the UTAS website, but it appears there will be several colors and an MSRP of $1,349.00. The video shows the XTR-12 is far more ready for use than the fancier UTS-15.
Final Thoughts
Well this concludes our Best Firearms of 2018 SHOT Show page. We hope you enjoyed our review of the firearms we feel have the most realistic impact on today's law enforcement officers. Obviously these same firearms would often make outstanding home, or self-defense options, and some of them present great ideas for concealed carry.
Please comment on what you think about the page and the firearms you think will make the biggest impact on the market. Look for our future pages on the Best Accessories and the Best Optics of SHOT Show 2018.
The following two tabs change content below.
Aaron is a sergeant with a midwestern police department, where he serves as a trainer, supervisor and SWAT sniper. In addition to his broad tactical knowledge, Aaron has experience in DUI, DRE and undercover narcotics investigations.