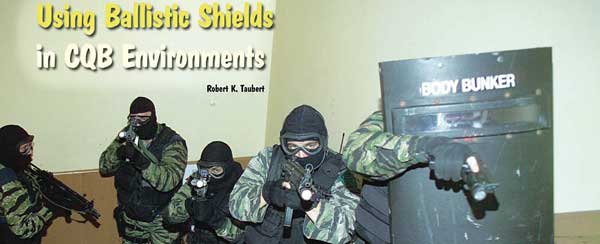 I am an advocate of ballistic shields. They are not only appropriate for law enforcement clearing (slow methodical mode) or safety clears, but, with current weight reductions, can be employed in the slow dynamic technique mode which is a bridge technique between dynamic entries and law enforcement clears.
Slow Dynamic Technique Explained
Today's Level IIIA shields are lighter and more maneuverable. Shield drivers can move rapidly with them and teams can engage in a bridge technique between the two opposite ends of the maneuver spectrum which I call the "Slow Dynamic" technique.
This method of offensive shield tactics was developed by a former member of the FBI's HRT and is based on the "heavy/light side" of dynamic room entries.
Movement is conducted in a "careful hurry" manner and usually does not exceed the speed of a fast walk. I like to get the shields into a room first.