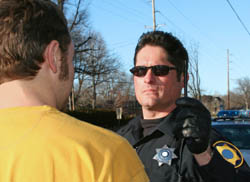 This is a list of DUI enforcement training articles.  These articles were written by one of our staff writers who has extensive drunk driving enforcement experience and training.  If you deal with intoxicated drivers, this is a "must read" series of articles.
If you work in any kind of patrol capacity, you encounter intoxicated people on a regular basis.  When they are driving, they pose a significant danger to the public.  It is important that you know how to properly investigate any suspected impaired driving.  These articles are a great refresher and can help clarify points of instruction.  They are not intended to replace formal classroom training given by NHTSA certified instructors.  Your state's laws and department procedures always trump anything included in these training articles.
Additional article sections:
The following two tabs change content below.
Richard was a police officer and trainer with experience as a patrol officer, field training officer, court officer, corporal, sergeant, lieutenant, watch commander and commander of a field training and evaluation program. Currently, Richard spends much of his time testing and writing about guns and shooting products.