Great strides have been made in recent years in flashlight technology. I take a look at one of the current generation of pistol lights in this Smith & Wesson Micro 90 review.
It wasn't all that long ago that a white light on a gun was something only SWAT officers or SF troops had. Now the lights are affordable enough that many street cops and armed citizens are using them.
The Smith & Wesson Micro 90
The Smith & Wesson Micro 90 is a compact LED pistol light. The Micro 90 is designed with a universal mounting system that allows it to mate to virtually any modern pistol with an accessory rail.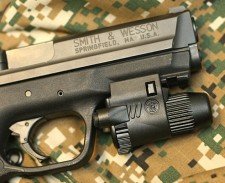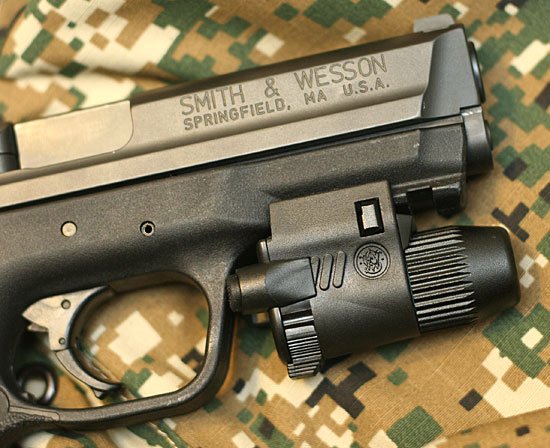 The housing is made of plastic, and the unit is very lightweight. With a CR2 battery installed, the Micro 90 weighs only 1.4 ounces.
The S&W Micro 90 throws 90 lumens of light. There are other pistol lights on the market that are brighter, but 90 lumens is still very bright. By way of comparison, the original SureFire 6P was only good for 60 lumens.
The Micro 90 uses an LED for light generation which has three distinct advantages over traditional incandescent bulbs:
1. Lower Power Consumption – LEDs use less energy to achieve the same brightness as an incandescent bulb. This means a longer run time on a single set of batteries.
2. More Reliable – LEDs have a very long lifespan. Frankly, most owners will die of old age before their LED gives out. The LED in the Micro 90 is rated for 50,000 hours of continuous running. That's almost six years of continuous running.
Additionally, LEDs tend to be more rugged. This means that the battering a light takes from being mounted to a gun is less likely to cause the light to break.
3. White Light – LEDs tend to have a "whiter" light than incandescent bulbs. Incandescent bulbs tend to throw a yellowish light, which may alter your perception of what you are seeing. Many users prefer the white color of a LED light.
The S&W pistol light has a constant on switch and ambidextrous momentary on switches. This allows you flexibility in how you operate.
The pistol light is weatherproof, not waterproof. This means you shouldn't freak if it gets wet in a rainstorm. However, don't submerge the light and expect it to keep running.
What's In A Name?
Like many major companies, Smith & Wesson licenses its name to third party manufacturers to produce products that they otherwise would not. The Smith & Wesson knives, for example, are made by a third party under license. Such is the case for the Micro 90 pistol light.
PowerTech is the company behind the Smith & Wesson line of flashlights. In addition to the Micro 90, PowerTech makes traditional and tactical lights under the S&W name.
PowerTech is based in Tennessee, though the Micro 90 is made in China.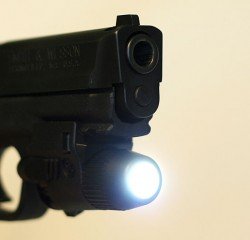 Attachment
I attached my S&W Micro 90 to my M&P 9mm pistol. I hoped the Smith & Wesson branded light would easily mount to the Smith & Wesson pistol. Fortunately it did, and without any difficulty.
Attaching the Micro 90 to a pistol is a straightforward process, requiring no handtools.
The Micro 90 has a bar running through the top of the light. All you do is push that out with your finger or pen, then slide the light onto the accessory rails of your pistol. Using the included diagram for proper alignment, you then push the bar back into position. Done.
It really was that simple, and I was concerned that the light would not be mounted securely. However, the light appeared firmly affixed. Subsequent range time would prove if the design worked or not.
General Impressions
The Micro 90 pistol light is a compact unit. It is entirely suitable for use on a concealed carry or other compact handgun.
The light thrown by the Micro 90 is bright, though it may not appear as bright or focused as some of the latest tactical flashlights. Five years ago, this light probably would have been one of the brightest options on the market. Today, it is merely respectable when compared to the top end SureFire and Streamlight options.
I found the light was plenty bright for clearing a darkened house. The beam does not have a tight focus, meaning the light is very good in small rooms, but falls off in larger rooms, hallways and outdoors.
The light is definitely bright enough to temporarily blind a subject at normal room lengths.
The Micro 90 is very light and I did not feel that it altered my aiming or movements.
The entire body of the pistil light is made of plastic, which I'm not sure would be as durable as metal. Of course, Glock proved plastic in gun design is quite durable and reliable. I found no problems with the durability of the S&W design.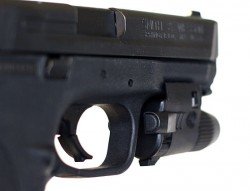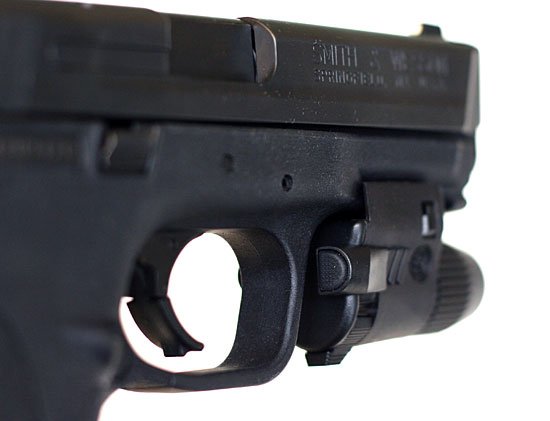 Range Time
I took the M&P with the attached Micro 90 to the range twice during the past month. I shot standard pressure, +P and +P+ ammunition through the gun.
During all of the shooting, the Micro 90 pistol light stayed securely mounted on the gun. The bar did not back out and the light never loosened up.
The gun did not appear to shoot any differently while the light was attached. At ranges from three to 15 yards, the bullet impacts did not appear to be altered from the points of impact without the light attached.
I experienced no failures with the Micro 90 attached to the pistol. This is more likely a result of the gun's design than the light's, but it is important to mention. I did not have a Gen 3 Glock 22 to test to see if it would induce malfunctions as other light/ammunition combinations have reportedly done.
I did not experience any failure or problems with the Micro 90 either. The light worked just the same before the shooting days as it did afterward.
Final Thoughts
The Smith & Wesson Micro 90 pistol light is a quality light at a relatively inexpensive price. It is not as bright or ruggedly constructed as a SureFire X300, but it is about 1/3 the price.
The Micro 90 is a great addition to a concealed carry or off-duty gun due to its size and price. While I would prefer an X300 or Streamlight TLR-1s on my duty gun, I have no hesitation with using the Micro 90 on my off duty guns.
(The S&W Micro90 contest ended on Oct 31, 2011.  Thanks to all who participated!)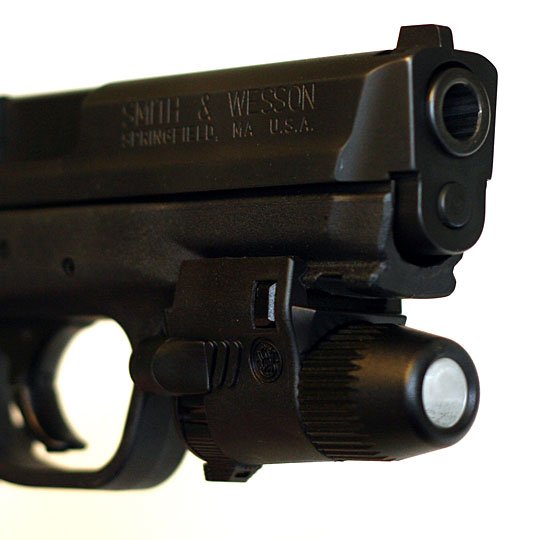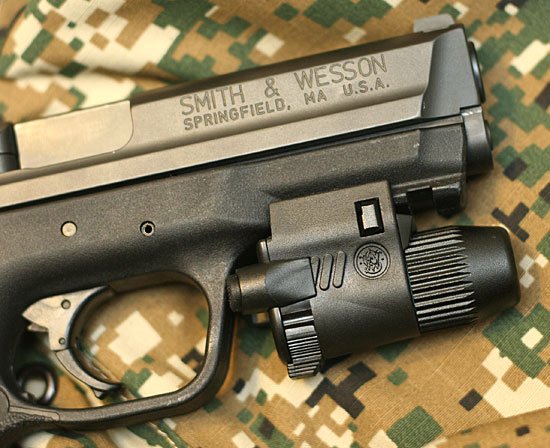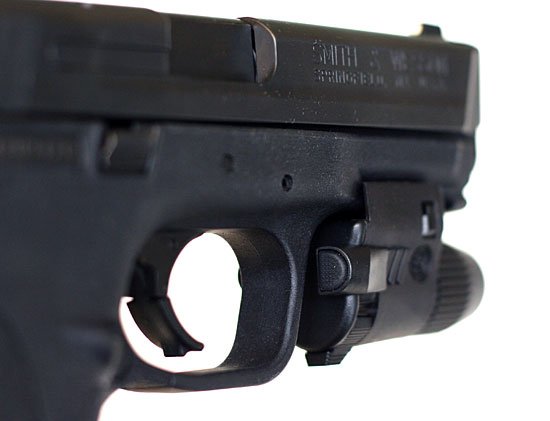 The following two tabs change content below.
Richard was a police officer and trainer with experience as a patrol officer, field training officer, court officer, corporal, sergeant, lieutenant, watch commander and commander of a field training and evaluation program. Currently, Richard spends much of his time testing and writing about guns and shooting products.