The H&K MP-5 sub-machinegun is a staple of many SWAT teams around the world. It offers an easy shooting platform with solid reliability. However, many teams have felt the MP-5, using a 9mm handgun cartridge, lacks sufficient stopping power. H&K and other companies have introduced a variety of different platforms shooting .40 S&W, 10mm, and the .45 ACP cartridges, but none have ever replaced the MP-5.
Transformational Defense Industries, Inc. (TDI) of Virginia Beach, VA will be introducing the newly improved Vector SMG in .45 ACP. The Vector SMG is an extremely compact design featuring the patented KRISS Super V system. The KRISS Super V system redirects the recoil gas by re-directing the gas's energy down and away from the traditional "straightline" design that creates so much felt-recoil and muzzle climb. TDI claims this reduces muzzle climb by as much as 90% and felt recoil is reduced by 60-90%. Very impressive claims.
The SMG features a 5.5″ barrel and a full-auto rate of fire that is adjustable between 800 and 1100 rpm. The firing mode is selectable: semi-auto, full-auto, and two round burst. The folding stock is detachable, making it a very potent weapon for undercover operations and protective details.
The Vector SMG uses Glock 21 magazines, giving it interoperability with departments already carrying the Glock 21. TDI also offers a 17 round extension kit for the G21 magazines, making them 30 rounders. Interestingly, after the conversion to 30-round magazines, the magazines will still work in your G21 duty gun.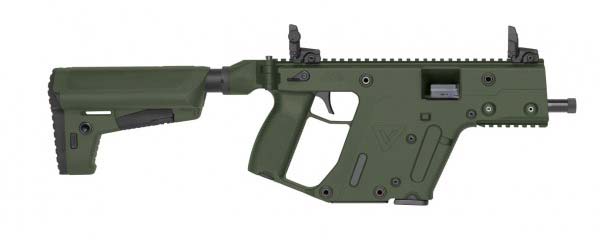 The Vector SMG is definitely gaining the attention of many people in the firearms industry. Time will tell if this firearm makes its mark in the law enforcement community. In the short term, though, you can see and test fire this weapon at the 2008 SHOT show in Las Vegas, NV.
Stay safe!
TDI's NEW KRISS® SUPER V VECTOR SMG .45 ACP
TRANSFORMS MILITARY AND LAW ENFORCEMENT SMALL ARMS

Must-See Advanced Weaponry To Launch
At 2008 SHOT Show in Las Vegas

VIRGINIA BEACH VA (January 7) – Transformational Defense Industries, Inc. (TDI) announced today that it will formally launch the new and improved KRISS Super V Vector SMG .45 ACP (sub machine gun) at the 2008 National Shooting Sports Foundation SHOT Show, February 1-5 in Las Vegas. Created for special operators in qualified military and law enforcement units, the SMG hits the marketplace with more than 50 improvements to its original design, clearly justifying its dual designation as the "Best SMG Ever" by Guns and Weapons Magazine and "The Close Quarter Battle Weapon of Choice" by the Discovery Channel's Future Weapons program.

By re-vectoring the forces of recoil and significantly reducing muzzle climb, the innovative KRISS Super V patented technology provides a more compact and lighter-weight operating system creating a weapon that can be handled more effectively, more accurately and for longer periods of time, allowing the operator to put more rounds on target more often.

Key benefits which make the SMG .45 ACP a superior weapon include:

Reduced muzzle climb: The KRISS Super V redirects the forces that cause traditional weapons to rotate vertically reducing muzzle climb by as much as 95 percent versus other SMGs.
Reduced Recoil: The KRISS Super V technology and unique design approach reduces felt recoil by as much as 50 percent when compared to traditional SMGs.
Increased Durability and Deployability: The robust design of the KRISS Super V operating mechanism results in a highly-reliable and rugged weapon that performs exceptionally well over time in any type of environment.

With a shift in military and law enforcement missions from traditional battlefields to increasingly mechanized and urban/close-quarter battle environments, the SMG .45 ACP is clearly the "weapon of choice," providing a light, highly maneuverable weapon that can clear a room quickly and safely (with no danger of collateral damage) while maintaining accuracy in stand-off encounters at up to 100 meters.

Not only can the operator gain greater effect from his shooting, but his ability to keep the weapon in-service has been addressed by a simple mechanism that is not only easy to learn, but markedly easier to field strip and clean than any other mechanism. This also means shorter training cycles, longer retention of the operator's efficiency along with higher operational availability of weapon and operator and lower operating costs.