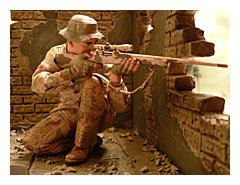 SureFire is hosting the 12th Annual International Tactical Rifleman's Competition (ITRC), August 21-23 at the SureFire training facility in Gillette, WY.
The ITRC is not only a tough, real-world shooting competition, but it's a proving ground for top military and law enforcement personnel as well as private citizens. Two-person teams will use long-range rifles, carbines, and handguns to complete the courses and compete for various titles and generous prizes.
Two-man teams will work together to solve course problems, while traveling with range officers that will record scores and enforce match rules. Each team will be equipped with one long-range rifle, one carbine, and two pistols. The competition ends with the Golden Egg Shoot giving competitors one shot to hit a chicken egg-sized target from 500 yards away.
Prior to the competition, a three-day rifle training course will be offered from August 17-19. It will be followed by an open range day on the 20th, to allow for final practice prior to the ITRC. The class includes intensive equipment review and testing, and rigorous distance, wind, and elevation data development for targets from zero up to the practical limits of the equipment. This extensive course can serve as an excellent tune up for the ITRC.
To register, or for more information, including lodging and a full list of rules and regulations, please visit www.surefire.com/ITRC. The cost for the ITRC is $600 per team. For inquiries please email itrc@surefire.com or call 714-545-9444 and ask for Technical Support.