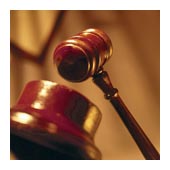 On March 24, 2011, the United States Court of Appeals, 6th Circuit, ruled on a First and Fourth Amendment case in Kentucky that illustrates how a verbal confrontation between a citizen and police officer can have great legal ramifications.
In Kennedy v. City of Villa Hills, KY, Kenneth O. Kennedy responded in May of 2005 to the local building department to complain about zoning for a strip mall expanding near his home. Kennedy attempted to meet with Building Inspector Joseph Schutzman, who was also a Villa Hills, KY police officer.
Schutzman declined to meet with Kennedy and Schutzman left the city building. Kennedy complained in a loud voice to three city workers inside that, "that son of a bitch (Schutzman) broke all the zoning laws!" Schutzman re-entered the building and asked Kennedy several times what he had said. Kennedy called Schutzman a "fat slob." Schutzman arrested Kennedy for disorderly conduct. The building was not at the time open for public business.
In 2007, after the disorderly conduct charge was dismissed, Kennedy sued the city and Schutzman. The city was dismissed from the suit by a federal court and Schutzman is the sole defendant.
The U.S. Court of Appeals ruled 3-0 that Kennedy could sue Schutzman for violation of Kennedy's Fourth Amendment right prohibiting wrongful arrest and violation of his First Amendment right for protection against retaliatory arrest.
Thus far, the district and appeals courts have denied Schutzman's request for qualified immunity in this case.
With regard to the Fourth Amendment violation, the court wrote, "Based on how the Kentucky statute defines disorderly conduct, we conclude that an officer could not reasonably believe he had probable cause to arrest Kennedy."
In it's ruling, the court reminded officers, "The First Amendment protects a significant amount of verbal criticism and challenge directed at police officers…"(Lewis v. City of New Orleans, 415 U.S.130, 135 (1974)).
In addressing the First Amendment violation, the court cited a federal judgment in Barrett v. Harrington, 130 F.3D 246, 264(6th Cir 1977), which said, "The First Amendment right to criticize public officials is well-established…Furthermore, it is well-established that a public official's retaliation against an individual exercising his or her First Amendment rights is a violation of §1983."
The appeals court has remanded the Kennedy case against Schutzman back to the district court for judgment.
In Florida, my state, under the disorderly conduct statute (FSS 877.03), the suspect must commit acts that "are of a nature to corrupt the public morals, or outrage the sense of public decency, or affect the peace and quiet of persons who may witness them, or engages in brawling or fighting, or engages in such conduct as to constitute a breach of the peace or disorderly conduct." An on-duty police officer cannot be the "victim" of disorderly conduct.
In the Kennedy case, a judge wrote, "Indeed, because the First Amendment requires that police officers tolerate coarse criticism, the Constitution prohibits states from criminalizing conduct that disturbs solely police officers."
As a profession, we have to tolerate some amount of verbal abuse in the course of our duties. This patience ends, however, when violence is imminent or there is public alarm over the incident. As always, in law enforcement, common sense and good judgment are required.
Randall is a twenty-three year veteran officer of a mid-size Florida police department.  He served as a SWAT team officer for 21 years, to include 12 years as a team leader.  His other duties included Police K9 handler, FTO, and Detective.  Currently serving as a Midnight Shift Sergeant, he is also his department's SWAT Coordinator.