Taser International, Inc. has introduced an improved electronic control device (ECD) based on its X3 model.  The new ECD uses innovation from the X3 in a scaled down package.  The Taser X2 is slightly smaller than the three shot X3, but larger than the single shot X26.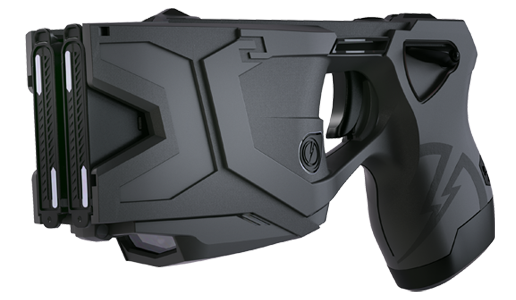 Among the advantages to the X2 are a second shot capability without reloading, dual laser sights, an increased battery life, and a more weather resistant housing (optional).  The X2 also allows for a "warning shot," which would previously have require removing a cartridge, ala the "spark discharge" which Taser had advocated in its training curriculum.
The dual lasers of the X2 remind me of the dual laser emitters integrated into the last Tasertron model in the late 1990's.  The two laser dots give the officer a better idea of where both probes will strike upon firing.  It is a move to improve operator accuracy, which is one of the main failures of ECD's.
In March of 2002, Taser International bought out Tasertron in a move to solidify their place in law enforcement circles.  Tasertron, in its dying gasps to retain market share, had tried to improve on their dated TE-86 by introducing the TE-93 and TE-95 models, making them more similar to the Taser International M26.  All these ECD's were more like a pistols, and therefore seen as easier to integrate into a police officers' training.
For the record, I have been a certified instructor for Tasertron and for Taser International.  Both of my instructorships have lapsed, so I have no latent allegiance.  On street duty, I have carried a Tasertron TE-86 and Taser's 34000, M26, and X26 models.
At the 2011 SHOT Show in Las Vegas, I was able to handle a Taser X3 in their booth.  Despite its improved function, I found it a bit large for my tastes, so the X2, which is a scaled down iteration, is welcome by size comparison.
The X2 is a Taser International's compromise between size and improved technology.  With price and space on an officer's duty belt at a premium, it will remain to be seen whether the X2's upgrades will outweigh the added bulk.
Randall is a twenty-three year sworn police officer in a mid-sized Florida police department.  He has been an FTO, K9 Handler, Detective and SWAT Team Leader.  He is currently the Midnight Shift K9 Sergeant and department SWAT Coordinator.