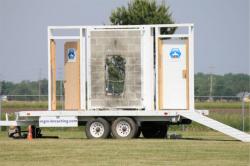 In a bid to ease SWAT training, Mike Gibson Manufacturing (MGM) introduced the mobile breaching platform.  The platform is completely customizable, and comes on a road-legal trailer for easy transportation to a range or other training facility.
The platform can also be broken down for air transport or dropped into place on the ground.  The platform can be built with stations for door, window, wall and roof breaching.
MGM is a manufacturer of steel targets including poppers, plate racks and IPSC targets.  The MBP was one of three SWAT training tools the company showed at the National Tactical Officers Association Breacher's Conference.