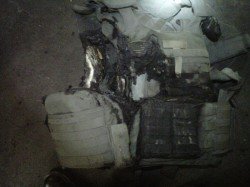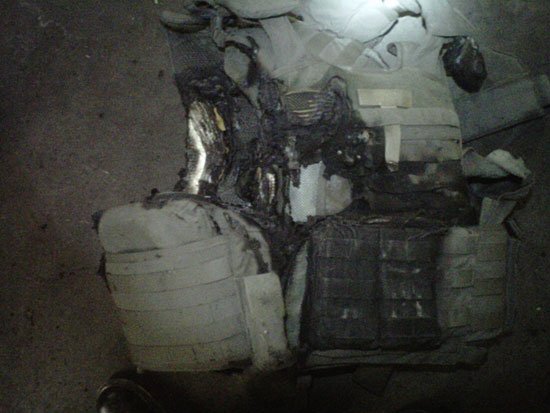 The high powered flashlights that most of us carry today are great.  They are bright and lightweight, and they are infinitely better than what cops were carrying 20-30 years ago.  When it comes to flashlights, we have never had it so good.
However…
Power is not without a price.  Sometimes that price can be fire.
This information comes to us from the Houston Police Department's SWAT team.  It seems that a team member left his SureFire G-series flashlight "on" in his tactical vest.  The flashlight left on built up enough heat to cause a fire.  Below are the photos that were passed on to me.
In all fairness, any high intensity flashlight can build up a lot of heat.  SureFire just happens to be the brand associated with this incident.  I'm sure if you left a similar Streamlight (or any other brand) in the same conditions, the same result would be obtained.
Here is the e-mail I received:
Information from Houston PD

Date: 11-27-2011 Place: Houston Texas

Just wanted to pass along a few pictures of a tactical vest/armor carrier that caught on fire last night in one of the HPD SID/SWAT vehicles.

Apparently, the fire started from a Surefire flashlight that was stored in a vest pouch. When the vest was placed into the vehicle, the end cap button became depressed and turned the flashlight on, eventually melting the head of the light and starting the fire. Luckily, the interior of the vehicle ran out of oxygen and snuffed the fire out before it spread outside of the vehicle, but the vest, adjacent equipment and interior of the vehicle were destroyed.

The flashlight was a Surefire G-series with a polymer grip and the old incandescent bulb. Please pass along to your people who use these flashlights or similar with the end cap switch so that they don't accidentally turn and leave them on.