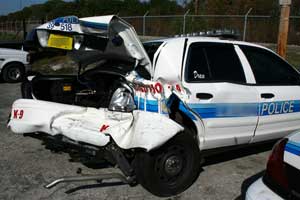 I recently ran across an old news story about an Illinois State Police officer who lost control of his cruiser and struck several other vehicles.  Two sisters were killed in one vehicle and members of another family in a second car suffered serious, permanent injury.
A tragic accident?
The news reports I read stated the officer was traveling at about 126 mph at the time of the crash.  According to witnesses, the officer was on his cell phone and operating his two-way radio just prior to losing control.  The call he was headed to?  A motor vehicle accident.
Ultimately, the officer plead guilty to reckless homicide (felony), several families were forever changed and Illinois faced multi-million dollar lawsuits.
A few thoughts…
The (former) officer had two prior accidents, including one in which the ISP had to pay out $1.7 million in a lawsuit.  I don't know where this guy's head was, but if you were involved on the wrong side of a nearly $2 million lawsuit against your agency and you managed to keep your job, you better turn into the model driver.
I've driven above 110 mph before, but very few times.  Each of those times was on an open road and responding to an officer needing help.  Sorry, but officers needing assistance are the only times I will drive at those kinds of speeds.  Few cars are really built for those speeds, and certainly a Crown Vic isn't.  Get above 100 mph and they start to "float."  They aren't Ferraris.
How many cops actually have any kind of training and experience on driving at 126 mph?  Darn few, I'd reckon.  I've been through pursuit training classes and though fun, they have never taken me anywhere near triple digits on the speedo.
Things happen waaay too fast for you to be able to react appropriately at those speeds.  If my math is right, you cover about 150 feet/second when driving at 100 mph.  That means in the time it takes for you to recognize a problem on the road, you have already covered half a football field.
And speaking of training…when's the last time your department carried you out to the track and provided any actual training?  Many agencies never provide their officers any training beyond a classroom review of the pursuit policy.
Here's the deal – too many cops are killed every year, and about half of them on average die in traffic accidents.  Too many citizens are injured and killed by officers involved in crashes.  Preventing all officer-caused accidents is not likely a realistic goal, but maybe we can reduce the numbers?
Get off the phone.  Drive at reasonable speeds.  Wear your seatbelt.