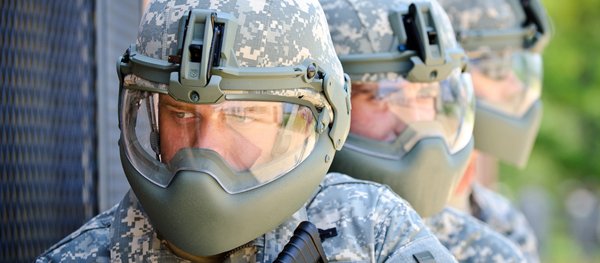 Revision Military Ltd manufactures the Batlskin head protection system, which includes mandible and visor pieces that help protect the wearer from ballistic and blunt trauma injuries.  Protecting the "brain box" is obviously important, especially in light of a 2008 report that showed up to 30% of all current wartime casualties were presenting with neck and head injuries.
Revision put out a series of videos showing how to integrate the Batlskin system with your current gear.  If you are not familiar with the system, these videos do an excellent job of showing you how the system works.
Attaching the Batlskin visor and mandible guard:
Using the three-position visor:
Using the Batlskin with a CBRN mask:
Sighting an M4 while wearing the Batlskin system:
It appears to me that the Batlskin is a good way to increase protection for someone working a machine gun from a turret position.  However, it looks like it loses some of its usefulness when working with an M4.  I would imagine some type of high-rise mount for the M4 optic could allow a more traditional sight alignment/sight picture, but at the increase weight, odds of banging/damaging the optic and parallax.
Yes, contrary to the belief of some, parallax still happens with red dot sights.  They are not magic boxes immune from the laws of physics.  However, with a little engineering, the effects of parallax can be minimized.
If you are on a SWAT entry team or serving in the armed forces overseas, is the Batlskin mandible guard and visor worth adding, knowing the workaround needed with a shoulder fired weapon?  Maybe.  I think these type of systems will become more popular, and other companies will step in to design optics and weapons with the additional armor in mind.
Stay safe!