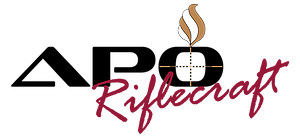 Recently, Ashbury Precision Ordnance has introduced their Riflecraft Field Shooting Clinics, Workshops and Courses to advance the art and science of precision rifle shooting. [easyazon_link identifier="0985305460″ locale="US" tag="bluesheecom-20″]Ashbury Precision Ordnance[/easyazon_link] (APO) is a very highly respected manufacturer of precision rifles and rifle chassis. The APO SABER®-FORSST® modular rifle chassis has been mentioned in the same conversations as premier manufacturers [easyazon_link identifier="B00US27KP8″ locale="US" tag="bluesheecom-20″]Accuracy International[/easyazon_link] and [easyazon_link identifier="B00785DKSE" locale="US" tag="bluesheecom-20″]McMillan[/easyazon_link].
The new Riflecraft Field Shooting Clinics cover a wide range of topics and shooting distances allowing the student to somewhat guide their own educational experience. The Ashbury Precision Ordnance training facility in Virginia is top of the line and gives shooters the opportunity to engage steel targets at distances out to one mile and beyond.
Ashbury Precision Ordnance Riflecraft
The APO Riflecraft courses are created to expand a shooter's knowledge, skills and abilities with rifle shooting and long-range target engagement. Designed for a wide range of shooters, Riflecraft offers enhanced training for purely recreational target shooting, organized practical/tactical competition, and long-range shooting and hunting. Riflecraft courses, are designed for skill improvement with calibers from .223 to .50BMG.
Training is conducted in a natural field shooting environment with targets sited from 100 yards to more than 2,200 yards in the mountains of Central Virginia, near Ruckersville. Riflecraft's progressive building block approach to rifle marksmanship training provides a solid training experience for novice to professional shooters.
In addition to a world-class training facility and highly skilled shooting instruction, Ashbury Precision Ordnance offers shooters a very unique opportunity to shoot a variety of APO rifles in common and more unique calibers. APO's Inclusive Tuition Package offers shooters a training experience with an Asymmetric Warrior®, Tactical Competition Rifle, SuperSport, or SABER Precision Rifle. Each rifle is hand-crafted by Ashbury's Ordnance Shop.
Ashbury Precision Ordnance's Riflecraft is staffed with veteran US Marine Corp's MOS 2112 Precision Rifle Technicians, MOS 2111 Armorer and a team of American craftsmen. APO precision rifles are equipped with premium optics from [easyazon_link identifier="B006PH6ESY" locale="US" tag="bluesheecom-20″]Leupold[/easyazon_link], [easyazon_link identifier="B00Q5CEQQG" locale="US" tag="bluesheecom-20″]Schmidt and Bender[/easyazon_link], [easyazon_link identifier="B00HGEPXGY" locale="US" tag="bluesheecom-20″]Nightforce[/easyazon_link] and [easyazon_link identifier="B00I11Z03W" locale="US" tag="bluesheecom-20″]US Optics[/easyazon_link]. Most of the APO rifles are also designed to use state-of-the-art silencers. Finally, the precision experience does not end with the rifle or the optic, but includes the best ammunition from Ruag Swiss-P, Hornady AMAX and Federal Premium.
EDITOR'S NOTE: My Department's SWAT Team snipers conducted an in-depth ammunition study recently to find a round superior in terminal ballistics over the Federal Gold Medal Match 168-grain BTHP. Though the Federal round is incredibly accurate, terminal ballistics for police use are poor. The 167-grain Ruag Swiss-P ammunition was found to be just as accurate and with far superior terminal ballistics. Hornady TAP ammunition was a very close second. 
Riflecraft courses are taught by Ashbury's instructor staff with solid backgrounds in the firearms industry including extreme long-range shooting, precision hand-loading, NRA small bore & high power and tactical competitive shooting. They also include professional hunters of dangerous game and combat experienced veteran U.S. military snipers.
Lunch and refreshments are provided each course day, and a Certificate of Completion is awarded at the conclusion of every Riflecraft program. Top students in each course are recognized with an award and those engaging targets at one mile or more are further recognized and inducted into APO's 1760 Club!
"All Riflecraft programs are designed to educate, build core marksmanship skills, energize new firearm owners, and challenge seasoned shooters alike," says Adam Wilson, Ashbury's Marksmanship Activities Coordinator. " Riflecraft's goal is to introduce and promote the many positive aspects of rifle shooting sports that inspire personal confidence, teach responsibility, enhance the enjoyment of shooting and encourage good sportsmanship."
Adam Wilson is an APO Shooting Team member and veteran [easyazon_link identifier="153680388X" locale="US" tag="bluesheecom-20″]U.S. Army Sniper[/easyazon_link] with multiple combat deployments, a marksmanship instructor in the Texas Army National Guard and firearms training blogger at 1 MOA Solutions. He is a passionate advocate for civilian marksmanship training with a proven instructor background helping shooters reach their true potential. Adam joined the Ashbury team to focus on growing Riflecraft programs by cultivating new recreational shooters, promoting long-range precision shooting, and improving the marksmanship skills of predator and big game hunters.
"Ashbury is pleased to be working with Adam Wilson as our new Marksmanship Activities Coordinator," said Matthew Peterson, Ashbury Product Development Coordinator and APO Shooting Team Captain. "Riflecraft programs will increase our outreach to new sport and recreational shooters at all levels and further strengthen the APO brand in the highly competitive custom rifle market space."
For more information on Riflecraft programs please visit APORiflecraft.com and if you have an interest in Ashbury's experiential Riflesports offerings, visit APOExperience.com. You can also view APO's complete line of modular rifle chassis systems, precision rifles, custom pistols and long-range shooting equipment at the Ashbury Web Portal AshburyIntlGroup.com.
Final Thoughts
The need for quality and professional training for police snipers is an ever-present concern. SWAT training has advanced steadily since 9/11, but sniper training has not moved as fast. The majority of special operations focusing on the guys who make entries, or jump out of armored vehicles.
Ashbury Precision Ordnance's Riflecraft appears to be an excellent program to advance many of the skills necessary for the modern police sniper. Though not every element is covered in APO training (like stalking, urban hides, etc.) the confidence obtained from a police sniper making consistent hits at various distances goes a long way in developing a competent police sniper. Quality and professional shooting courses are at a premium, and the APO Riflecraft series is a great addition.