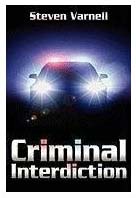 FedEx just delivered my latests Amazon purchase:  Criminal Interdiction by Steven Varnell.  Having been through a few criminal interdiction classes (commercial vehicle drug interdiction was one of the best), I am eager to read this book and see what tips I can pick up from the author.
According to the book cover, Varnell is a retired trooper from the Florida Highway Patrol and has been involved in criminal interdiction work for 26 years.  With that kind of experience, this book has the potential to being a great police training tool.
I'll post a review on the book once I have finished reading it.  In the meantime, you can check out the book at Amazon.