Adventure Medical Kits' Trauma Pak with QuikClot is a recent offering that is an important addition to the patrol car, bailout bag, or go-vest.
AMK markets a line of first aid products designed for outdoor adventurers and travelers.  Their first aid kits are combinations of items tailor-made for different users' needs from outdoor sport to professional.
The Trauma Pak with QuikClot is a 6" X 6" X .25" pouch that contains enough medical items for single-use emergency bleeding wound care, or for the treatment of a fracture, sprain, or a "sucking chest wound."
I like this kit because it is small enough in size to be stowed in a BDU cargo pocket, but contains basic gunshot wound necessities.  The thick plastic pouch is waterproof, re-sealable, and can be used as a biohazard bag after the incident.  The entire kit weighs 10 ounces.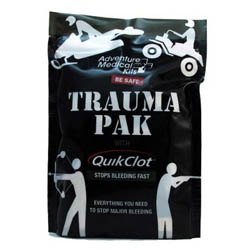 The Trauma Pak includes a 25-gram packet of QuikClot.  I'll discuss hemostatic agents for bleeding control in another article but having a product to coagulate blood may be a life-saving bonus in a trauma kit.
As with many things police officers carry daily, training is required for the use of a kit such as this.  Fortunately, we receive first responder medical training.  Additional instruction in the use of a blood-clotting agent is a must.
AMK Trauma Pak contains:
1 Bandage, Conforming Gauze, 3"
1 Bandage, Triangular
2 Dressings, Gauze, Sterile, 2" X 2"
2 Dressings, Gauze, Sterile, 4" X 4"
1 QuikClot Sport, 25 g.
1 Trauma Pad, 5" X 9"
1 pair Gloves, Nitrile
4 Anesthetic/Antiseptic Wipes
2" X 26" Duct Tape
I purchased an AMK Trauma Pak online for about thirty bucks.  This one rides in a nylon pouch on my go-vest along with an CAT tourniquet and other supplies.
Be it needed for wound self-care or the care of others in a critical incident, training and the proper medical supplies are all part of a thoughtful officer's standard emergency kit, just like bullets and batteries.
Randall is a twenty-three year sworn police officer in a mid-sized Florida police department.  He has been an FTO, K9 Handler, Detective, and SWAT Team Leader.  He is currently the Midnight Shift K9 Sergeant and department SWAT Coordinator.