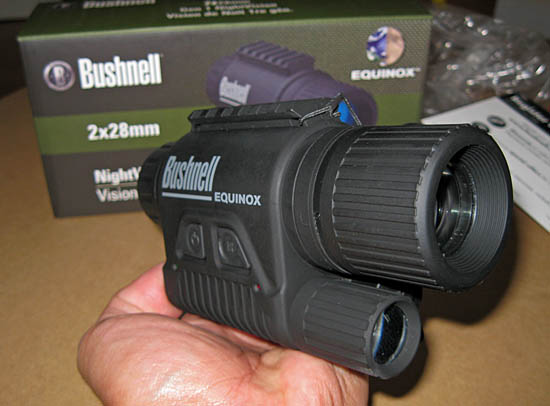 Night Vision (NV) can be a powerful tool for law enforcement during lightless conditions. Some officers are able to use department-issued night vision devices. The vast majority of officers do not have this luxury.  This review of the Bushnell Equinox night vision monocular looks at an inexpensive option for officers who want to purchase their own gear.
There are many patrol scenarios in which you would not want to use a flashlight to get a look around in the dark. A NV instrument can allow you to passively scan your area without giving away your presence.
I am testing an Equinox Gen 1 night vision monocular from Bushnell Outdoor Products that an average patrol officer or deputy can purchase, without spending thousands of dollars, and which provides the basic advantages of night-adapted sight.
From the approach to armed subject call, to surveillance, to large building and area searches, night vision's usefulness is dictated by the ingenuity of the operator. The Equinox unit I have can serve an officer well in all these situations.
Night vision enhances a person's visual capabilities through infrared (IR) technology. IR night vision instruments use an image intensifier tube to better amplify ambient light and light in the infrared spectrum for the human eye to process.
The more precise the image intensifier, the better the image clarity. Unfortunately, as the clarity increases, the price increases markedly.
There are different levels of night vision devices. The military and law enforcement SWAT typically use Generation 3 IR night vision. These are the state of the art NV goggles and monoculars you see mounted to ballistic helmets.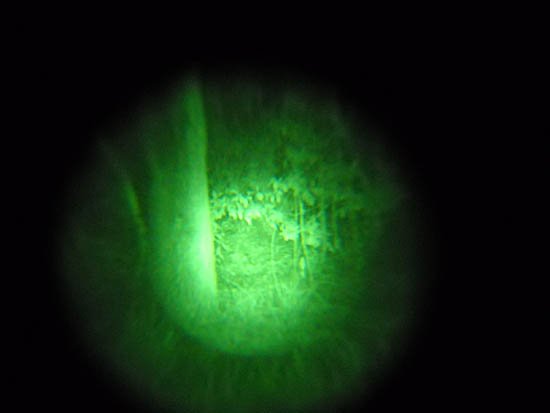 The basic version of night vision is Generation 1, which is of the type used in the Equinox. This is functional night vision that was cutting edge in the Vietnam-era Starlight scopes. It worked for them then, and it can work for you now.
For a comparison, the Gen 3 IR devices we have at my department cost in the $3500+ range. Gen 1 instruments can be bought at around $200-$400. The Bushnell Equinox Gen 1 can be purchased for under $200.00.
The Bushnell Equinox Gen 1 monocular I have was newly introduced to the market as of this summer. It is has a 2X optical magnification and a 28mm objective lens. It comes with a zippered nylon case.
The unit is rubber covered for impact resistance. In addition it conforms to IPX-4 requirements for water splash resistance: 5 minutes of 10 liters/min. water splashed in any direction on the device without harmful effect.
I confirmed this when I inadvertently left the Equinox outside and it got rained on. I had put it on the patio to let the lenses adjust to the Florida humidity then promptly forgot about it when I went to bed. It handled the thunderstorm, which much exceeded IPX-4, with no problem.
The Equinox has an IR illuminator mounted beside the objective lens. This illuminator is an IR "flashlight" that is not visible to the human eye, but is to the Equinox. It is adjustable for wide or narrow angle.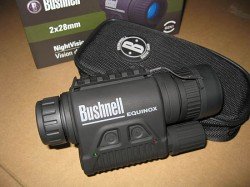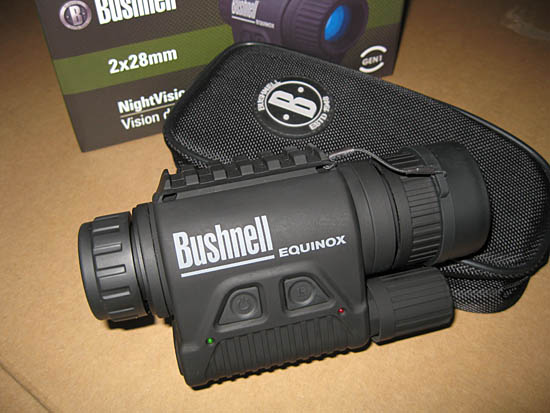 The Equinox's outer case has a tripod mount, tethered lens cap, and a 2 ½" section of Picatinny rail for accessories. It has an on-off button for the optic and an on-off button for the illuminator. The Equinox is powered by one CR123 lithium battery.
Bushnell touts the Equinox's Super Bright Gen 1 tube, which has a wide field of view and can operate in zero light conditions. The user sees traditional night vision green when there is ambient or IR light and a white night vision in absolute darkness.
I have used the Equinox Gen 1 for several months on Midnight Shift. At 9.2 oz's. and 5.8" X 3.2" X 2.1," it is easy to stow in a cargo pocket, load-bearing vest pouch, or bail-out bag. I even attached a break-away ball chain through a hole in its top rail so I could hang it around my neck.
I found that the Equinox is ruggedly built. The image quality is good, with some understanding of the technology. This is not a Gen 3 unit, so expecting that type of NV quality is not reasonable.
For its intended use, I felt the Equinox performed well. Because it has 2X magnification, my opinion is that it is best used when needing to scan around you from 5 yards to about 50 yards.
I used the Equinox in a few wooded areas. With the IR light on, it is very good at penetrating into the brush. In urban areas, I was able to see into the normally dark areas in the shadows of houses and under trees.
On some of our K9 calls, I used the Equinox so I could stay blacked out in my vehicle inside the perimeter and watch fence lines and footpaths. It is also handy for getting a look around the car to make sure the suspect is not hiding nearby.
I tried to take some photographs through the monocular, but, believe me, the photos are not as sharp as with the eye. Each image was taken in near total darkness, so I thought including a black reference picture was unnecessary.
I have added the Equinox as a tool in my bail-out vest. When used in the appropriate circumstances and with officer safety at the forefront, night vision aids like this can be incredibly useful.
And to answer your question…yes, they are super fun to play with.
Randall is a twenty-three year sworn police officer in a mid-sized Florida police department. He has been an FTO, K9 Handler, Detective, and SWAT Team Leader. He is currently the Midnight Shift K9 Sergeant and department SWAT Coordinator.