A little over a week ago I started the Quarterly Challenge on BlueSheepDog. The intent of the challenge was to keep officers sharp on some of the most critical skills necessary to survive the streets. I haven't receive very many responses or comments so I have no idea how well the Q1 Challenge was received. There were four challenges included in the first quarter (Q1) challenge:
2015 BSD Q1 Challenge
Perform (10) perfect handgun draws in a row before each shift (Safety Check!)
Review at least (1) officer involved shooting (OIS) video per week for lessons learned
Accept the 100% off-duty firearm carry challenge
Plan at least (1) special family event each week.
Roll Call Video below!
The initial challenge started at a fairly basic level. My intent is to improve upon each challenge goal as each new quarter is achieved. You can expect time challenges on #1, and more in-depth understanding of #2 and #3. Perhaps the hardest one will be #4 as I challenge you to dig deeper into the lives of your family so that your legacy is one of mutual memories and not one of an absent legend.
To provide additional support to the Challenge I am including an outstanding officer involved shooting (OIS) video here to highlight some of the lessons learned and tactical considerations gleaned from the officer's actions. My hope is that you will take the time to review the videos, consider my findings, and critically analyze each video for your own instruction.
Westerville, Ohio Police – November 11, 2013 @ 0115 hours
Officer Leighty observed a very minor traffic violation (no illumination on the rear license plate), and chose to make a traffic stop for the violation. The resulting shooting highlights the need for vigilance even in what seems to be the most mundane of duties. At my Department we call this violation the "felony no license plate light rule", because as minor as the violation is we have come across so many felony violations as a result of stopping these vehicles.
Positive Observations
Officer Leighty called out his stop on the radio prior to the vehicles stopping
Chose a well-lit area near public businesses
Used his spotlight well to illuminate the interior
Utilized a passenger side approach – something the BSD Crew highly recommends!
The driver appears completely off guard by this, hanging out his window looking for the officer.
Observes the firearm quickly after arriving at their car due to his position of advantage
Draws his firearm and maintains good eye, light, and muzzle alignment
Notifies other officers of the threat over the radio, maintains good firearm posture
When observed by driver, gives several clear commands to the driver (Tennessee v. Garner)
Recognizes the threat of the driver exiting and doesn't hesitate to open fire
Re-positions after the initial shots (Get off the X!) providing additional accurate shots
Movement disorientates the driver as to the officer's location
Continues accurate fire on the threat – preventing the driver from completing his aim
Recognizes driver'a fall out of view leaves him tactically vulnerable, safely retreating to cover
Observes passenger's exit near armed driver, orders her to the ground after she exits
Remains calm on the radio for clear communications
Notifies arriving officers of condition and location of the two occupants
Communicates with officers on scene to move to them to avoid crossfire
Requests EMS to respond to prepare emergency care of the wounded suspect
Actions are paramount under the 4th Amendment tests of reasonableness.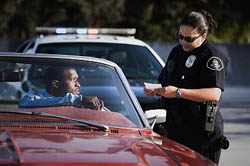 Overall Officer Leighty's actions are highly commendable, and this is a textbook example of how to do so many things right when confronted with a lethal threat. This video should become one of the mandatory training videos at his agency and throughout Ohio (or elsewhere).
There are a few observations of where a similar performance could be even better, and more importantly safer! The considerations below are in no way meant to disparage Officer Leighty or his valiant performance. Instead, they are simply a means to sharpen our response to an even greater edge, and keeping multiple options readily available in our mental tool box.
Tactical Considerations and Lessons
Officer Leighty wasn't completely finished calling in the stop when he activated his lights. In fact, he turned his emergency lights on immediately after indicating a stop to dispatch and before providing pertinent information as to location and vehicle. A sudden stop by the suspect could leave an officer at a disadvantage by catching the officer in their car as they exit theirs, and not allowing other officers to know your location or suspect vehicle description.
As Officer Leighty approached the suspect vehicle there was a barely perceivable pause at the rear of the suspect vehicle. Key furtive movements, comments by the passengers, or a general feel of the state of the occupants can be learned from this relative place of cover and concealment.
The driver was armed and presented a threat that the officer felt obliged to withdraw his sidearm. This appeared to be before the driver recognized that the officer was already at his passenger window. A tactical retreat to better cover may be appropriate at that point, especially with an unknown "innocent civilian" between the suspect and the officer should shots be fired (which later did happen).
Finding better cover allows other officer time, and critical component in good decision-making. From cover other officers can be en route to you before "it" hits the fan, and the "absence" of the officer may provide additional confusion to the suspect. Even if the suspect exits he is completely out of the OODA Loop, and exposed to the officer's commands and gunfire from a position of cover.
***NOTE***

The performance of Officer Leighty during the critical moments of the shooting are simply spectacular

. He recognized the threat, decided properly that the driver exiting could only mean bad intent (armed resistance to follow his previous orders), successfully engaged the suspect with fire, moved positions and re-engaged the suspect with accurate fire, and continued to change positions until retreating to more permanent cover.
At the conclusion of the video officers approach the female passenger in the roadway to take her into custody. This is despite the fact that the male suspect is unsecured and is still lying on his firearm. This needlessly exposed those officers to a sudden movement from the suspect who is still armed.
Don't let the "Noble Mindset" break good contact/cover officer safety rules. In essence, don't rush in to "do something" simply because waiting makes you feel uncomfortable or like you're not doing something right. Order the female to come to your position of cover. Secure her in handcuffs, search her, and secure her in a patrol car. When a reasonable amount of officers are on scene (maybe even K-9, other less lethal options, ballistic shields, long guns, etc.) make a concerted effort to move up and take the suspect into custody if the suspect is unwilling or unable to do so.
Final Thoughts
This is a great officer involved shooting to study. Officer Leighty did a great job in confronting a dangerous felon and threat to his life. His stealthy approach, confident command presence, and courageous willingness to engage the suspect were so overwhelming that though the suspect tried several times to aim and fire at Officer Leighty, he was unable to do so.
The reason that Officer Leighty was victorious was because he prepared himself for just that type of encounter. This is evident in the quick observations, reactions, and actions that he takes in such a short time during the emergence of a deadly threat encounter. His steady demeanor is the true evidence of a Sheepdog that went to work prepared. The BSD Crew salutes Officer Leighty and hope that each of us can learn valuable lessons from his successful encounter.