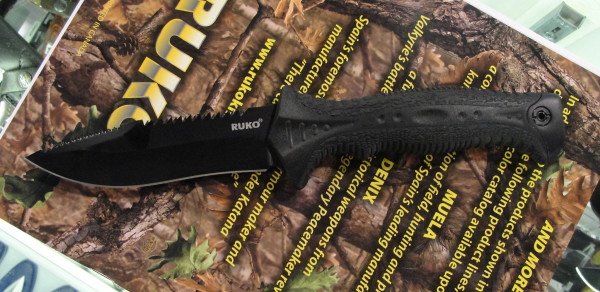 Manufacturing knives and tools for more than five decades, RUKO showed off its new Tactical Survival Knife (Model RUKO161B) at the SHOT Show. This knife really stood out to me. The lines are simplistic and portray very nice ergonomics and purpose. The rubberized grip is slip-resistant, with curves that are designed to fit the natural grip of the hand. The blade has a drop point with razor's edge and the added benefit of serrations on the top of the blade for more heavy cutting.
In Uniform Patrol, an officer tends to be a little more limited in what they can legitimately carry on their person or on their duty belt. However, I have still found carrying a large blade knife beneficial for certain situations where a pocket folder just won't cut it. Being the sniper on our Cover Team, I have a lot more leeway to select longer and larger knives. This RUKO Tactical Survival knife is a serious contender for the types of cutting work necessary for the particular needs on tactical teams.
RUKO Tactical Survival Knife Specifications
Overall Length – 10.5″
Blade Length – 4.75″
Width – 0.177″ (4.5 mm)
Blade Material – 7Cr17MoV with titanium nitride finish
Blade Type – Full tang blade, razor edge with top serrations
Handle – Molded GFR nylon/rubber and metal end cap
Sheath – Molded GFR nylon/rubber with an integrated diamond sharpening stone
Sheath Backer – 1680D Molle compatible boxed blade
MSRP – $79.00.
The RUKO Tactical knife has a very nice clam shell style carrying case. Made of nylon and the same molded GFR nylon/rubber material that the handle is made from, the RUKO Tactical knife is secured by tension and two snap straps over the handle.
All RUKO knives come with a lifetime guarantee for manufacturing or material finish and will be repaired or replaced if a defect is found.
I've been interested in knives ever since my scouting days, and I've carried a knife on-duty from the start of my police career. In the last few years, I've found myself more and more fascinated by the new designs and options becoming available by the various knife manufacturers. The RUKO Tactical Survival knife has a lot of nice features and should make any knife owner proud to own one.
If you are interested in another high quality fixed blade knife at a reasonable price, I'd recommend checking out my CRKT SIWI knife review. Also, I highly suggest reading Randall's article on the TDI kixed blade knife. Randall highlights some concerns about carrying a fixed blade knife on patrol.