About the Force Science Institute
The Force Science Institute (FSI) is a research organization founded by Dr. Bill Lewinski, PhD. in Mancato, Minnesota. Dr. Lewinski is a 30-year clinical psychologist in human behavior who has focused his career in the area of police psychology. He created the Force Science Institute and dedicated its research to the study of human perception and reactions during dynamically developing situations, emphasizing the response of police officers during use of force encounters.
Some of the research FSI has completed has exonerated officers involved in shootings where the suspect ended up being shot in the back, explain why an officer continues to briefly shoot after a suspect drops their weapon, and scientifically describe why an officer's preemptive use of force was absolutely justified.
Officers wishing to subscribe to the FSI FREE NEWSLETTER can go to the link below. We are confident you will be glad you did!
http://www.forcescience.org/fs-news.html
Front Sight Shooting?
Recently Force Science Institute addressed the question of officers using their front sights during a gunfight. Of all the firearms principles, this is definitely one of the most hotly debated. Below is the information provided by FSI in Newsletter #267 (BSD emphasis underlined, or in bold):
I. Can you really use your sights in a gunfight? Should you if you can?
A reader recently sent us this inquiry:
It is said that stress hampers eye focus, making it impossible to use your sights in a life-threatening encounter. Yet some people who have been involved in real firearms engagements state they used their sights. Can you aim and use sights under stress if you have the proper training?
Capt. Jorge Tierno Rey
Dir., Dept. of Security & Protection
Spanish Marine Corps School
Cartagena, Murcia State, Spain
Dr. Bill Lewinski, executive director of the Force Science Institute, responds:
In a panic situation, where an officer is caught in a threat by surprise and perhaps overwhelmed by emotion, he or she may not be able to respond with sufficient control to attain a sight picture in the fraction of time available. There are changes to the eye under stress that can make sighting more difficult, but with the right training these can be overcome. Our research with equipment that tracks eye movement shows that sighted fire can be accomplished even under intense stress.
The key is a combination of two critical elements:
1) your innate ability to acquire and implement the technical skills of effective weapon management, and
2) the type and quality of instruction that constitute the "right" training for gunfight mastery.
In the US, many departments train their officers only to the level of minimum state standards, which are inadequate for achieving high-level proficiency. The bulk of their training often is presented in concentrated blocks, after which learned psychomotor skills rapidly deteriorate, rather than through continual reinforcement at intervals, which tends to build and maintain skills over time. And, deplorably, many officers are never exposed to firearms training of any kind that allows them to practice perception, decision-making, and responses at the speed of an actual gunfight.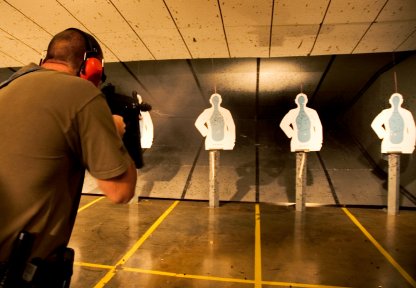 All this leaves them dangerously deficient in many aspects of quality performance in a crisis, sight-acquisition among them.
It's important to understand that using your sights in a gunfight is not always necessary or even desirable for effectively placing rounds. If you don't get a sight picture at 20 ft. and beyond, your ability to shoot accurately is likely to be seriously impaired. That's actually not very far, in real world settings–down a hallway or across some rooms.
Closer than that, at distances where most gunfights occur, trying to use your sights may take too long; by the time you're sighted in, your target may have moved. At less than 20 ft., you're probably best to fix your gaze on your target and quickly drive your gun up to align with that line of view, firing unsighted.
Obviously, to do this successfully requires a great deal of consistent practice, responding to force-on-force scenarios at various distances that develop realistically in terms of action, movement, and speed. This will help you learn to identify the telltale patterns of an evolving threat so you can get ahead of the reactionary curve.
Over time, you will learn how threats unfold and be able to anticipate what, where, when, and how the "play" will progress. This, in turn, will build in you the ability to react automatically–without conscious thought–either with or without the use of your sights, depending on the dynamic circumstances you face. You will, in effect, be better equipped to stay ahead of the reactionary curve.
To achieve that level of skill, be prepared to go, on your own, beyond the training offered by your agency. It is the rare department indeed that has the budget and the time to take officers as far as their native ability allows and elevate them to truly elite status.
Even at no cost, you can still strengthen your fundamental skills, including sight acquisition, through dry-fire drills. With modern weapons, you can dry fire literally thousands of times without damage to your equipment.
When your life is on the line, your personal commitment to be the best you can be will seem a small price to have paid.
Firearms Training in General
The BlueSheepDog Crew are passionate about training, particularly in those areas involving the highest risk for officer; including traffic stops, domestic violence, Constitutional law, and of course, the use of force to arrest or for self-defense. In the use of force umbrella is the officer's need to use deadly force to protect themselves or another, and to apprehend the offender.
Investigating a multitude of expert trainer opinions is a great way to hone in on the individual skills best for you or your agency. Being a constant student of the art should provide the officer a broader understanding of the many complex skills involved in proper shooting.
The BlueSheepDog Crew takes the opinion that our training is "A way" and not "THE way"! We advocate and support trainers who hold to this standard as well, while cautioning officers about trainers who insist that their method is the best and "only" way. So often a single technique cannot fit and be properly administered by all shapes, sizes, ages, and experiences of shooters.
However, there are some tried and true foundational principles that can then be built upon will individual skills. Those principles involve the concepts of proper shooting, allowing individual skills to match up with the conceptual principle.
Having that in mind we highly recommend the Force Science Institute (FSI). The training offered by FSI is some of the most pertinent and informative training you can receive in the field of police use of force. From articles on research finings, to addressing today's most prevalent police issues, to actual classroom instruction, FSI is world-renown for high quality instruction.