Safariland has recently released its new ear pro. In this In-Ear Impulse Hearing Protection plugs review, we test these reusable plugs and give you the straight deal on how they perform.
Introduced at the 2017 SHOT Show, the new Safariland In-Ear Impulse hearing protection plugs are now available to the public and are available from a large number of dealers. I purchased mine at Amazon (scroll down to the disclosure section). The good news is they are cheaper than what I paid for them.
Hearing protection is as integral to firearms training as the firearm and ammunition itself, and these new plugs offer significant protection from the loudest "crack" from the super-sonic propulsion of the bullet when fired.
Safariland In-Ear Impulse Hearing Protection
The use of earplugs in loud working conditions is nothing new. Safariland has advanced the simple foam earplug into a technologically advanced product offering more than just a foam plug.
In addition, Safariland provides a very nice aluminum canister allowing the user to carry high-quality hearing protection with them wherever they go. This is perfect for protecting the plugs and giving shooters an easy way to have hearing protection all the time. For the patrol officer enroute to a hot call, its perfect to be able to throw in these ear pro and be totally confident in being able to hear the radio with complete protection.
The Safariland In-Ear plugs are made from a proprietary rubberized material providing a very comfortable fit when inserted into your ears. The core of the In-Ear hearing protection is a tube providing the framework for the outer components. This tube offers a small opening through its entire length. On the insertion side, the hole is about 1 mm wide, providing plenty of space for air to escape during insertion and removal.
On the outward side, there is a red, hard plastic plug with the Safariland gazelle emblem cut into the plug. However, directly behind the gazelle cut-out is a piece of metal. There is just a tiny cut-out in the metal to allow air to flow through, but not large enough to allow significant noise to penetrate. Behind all of this is the patent-pending impulse filter technology Safariland has used to advance these plugs to serious hearing protection. This design allows the shooter to be confident with the snug-fitting plugs inside their ears, without the concern of suction pressure making removal difficult. This tiny hole allows ambient noise so the shooter is not without some conversational hearing, even during drills (between shots).
In addition, the exterior of the In-Ear rubberized material is layered into three cascading umbrella-like design layers in descending size. So the insertion "umbrella" is the smallest, then a slightly larger one, and finally the largest. This design provides the greatest potential for creating a proper seal within a wide variety of shooter's ears, but to make sure Safariland includes two sets of plugs – one medium, and one large.
The "umbrella" style layers are open underneath and act similar to the baffles in a suppressor. Any noise waves entering the ear and trying to go past the outer edges of the Inner-Ear plugs are captured by the open areas under the "umbrella" fold. If some noise happens to make it past the big layer, there are two more layers of protection where the noise is captured and redirected back out of the ear while the waves themselves lose strength and power. The rubberized seal mates up to the walls of the shooter's inner ear providing an excellent seal to prevent most noise from slipping past even the first umbrella fold.
Finally, Safariland has included a pull tab extending from the largest "umbrella" fold. The tab is easily grasped to pull the In-Ear plugs out when the shooter is finished. This simple feature is another outstanding example of Safariland covering all of the aspects of a quality product.
There have been plenty of times I've had to literally dig a set of foam earplugs out of my ear because they became so lodged in place during a long day of shooting. With no hole to release the counter-pressure of insertion, those plugs dug in and were difficult to remove.
Like the other hearing protection reviews I've done, I knew the real test for these would be on the range. I suspected they would work on an outdoor range. But, could they handle the excessive noise of an indoor facility?
Features
Patent-pending automatic impulse protection to protect hearing
Allows for ambient audio to continue conversations when not shooting
Proprietary material for long wear comfort
Includes key chain aluminum transport/storage case
No batteries required, no electronics to fail
(2) sets of ear inserts included – one large, one medium
NRR of 33dB for dangerous impulse noise
NRR of 13dB during conversation or no-shoot times
MSRP: $19.99.
Testing the Safariland Ear Pro
The great advantage of earplugs in comparison to over the ear muffs is they are so compact and out of the way. This is particularly beneficial if the shooter is using a rifle or shotgun.
Over the ear muffs often get in the way when shooting long guns, and can easily become dislodged during shooting causing painful and damaging effects to the shooter's ears. Shooting both my AR-15 and my GA Precision Rock .308 sniper rifle had no problems with cheek weld and fit.
Safariland's In-Ear Impulseplugs fit securely in the ear, and their design significantly reduces the harsh impulse noise that can cause serious and sometimes permanent hearing loss.
At the same time, the small cut in the metal plate behind the red Safariland center plug allows the shooter to hear nearby conversations. This is an advanced design over traditional foamies and allows shooters to clearly hear safety instructions, other officers' directions and more. Once a round is fired off, or some other dangerously high impulse noise, the Safariland In-Ear plugs do their wonders and block the damaging noise from penetrating into the shooter's ear.
As the photograph above shows, the Safariland In-Ear plugs are concealed inside the shooter's ear, and completely free from dislodgment concerns while shooting. The 33dB Noise Reduction Rating (NRR) impulse protection is among the very best ratings on the market for any type of hearing protection. In fact, many common foam ear plugs only offer a 29db NRR.
Shooting on the outdoor range was fantastic. During non-shooting times I felt I could hear conversations well enough to understand and participate. When shooting, the In-Ear plugs worked just as advertised. I could definitely notice a significant reduction in noise during shooting, and I did not experience any painful noise reaching my ears.
On the indoor range, I was just fine with the Safariland In-Ear Impulse plugs when shooting handguns. Even with multiple shooters, I felt the noise was significantly reduced and shooting was pleasurable. It was great to not have to worry about electronics failing over-ear muffs, or having to take my muffs off to hear conversations.
However, when more than 2 shooters were firing our 10.5″ short-barrel (SBR) AR-15's on the indoor range I began to notice the noise was getting closer to my uncomfortable level. This indoor range has 10 wide-open shooting lanes with the noise reduction paneled roof about nine feet above the concrete floor. Walls are covered with noise reduction material as well, but I was still in a giant concrete box.
I wouldn't go as far as saying the noise of the SBR's was painful with just the In-Ear plugs, but it was close enough I chose to double up with a set of Peltor Sport Tactical 500 electronic over-ear muffs.
If I had to guess, I believe the concussion from the SBR's shorter barrel, the noise of the discharge, and the amplified reverberations bouncing off the concrete, caused the In-Ear plugs to vibrate just enough to allow more noise to pass through. Again, it wasn't painful, but having already been diagnosed with 15-20% hearing loss from two dozen years of heavy range work I wasn't going to take the chance.
In another comparison, I fired my .308 sniper rifle on an open range with just the Safariland In-Ear Impulse plugs and was just fine.
Final Thoughts
Overall I have been very impressed with the Safariland In-Ear Impulse Hearing Protection. The patent-pending impulse filter technology worked just great and is something usually reserved for over ear muffs. The In-Ear plugs fit snuggly in my ear but were perfectly comfortable for long periods of time. Impulse noise was drastically reduced, while enough ambient conversational noise came through allowing me to easily follow range master instructions and talk to other officers during drills and while reloading.
The In-Ear plugs pull tab is a great design feature and worked well to assist in removing the plugs. I would recommend placing the tabs on the bottom of the ear opening, as that seemed to be the easiest method for grasping. The convenient aluminum key chain carrier has become a standard carry for me, on my back-up duty car key chain. BlueSheepdog has no problem recommending the Safariland In-Ear Impulse Hearing Protection plugs for law enforcement and other types of shooting situations.
Disclosure
I put my money where my mouth is and purchased a pair of these from Amazon: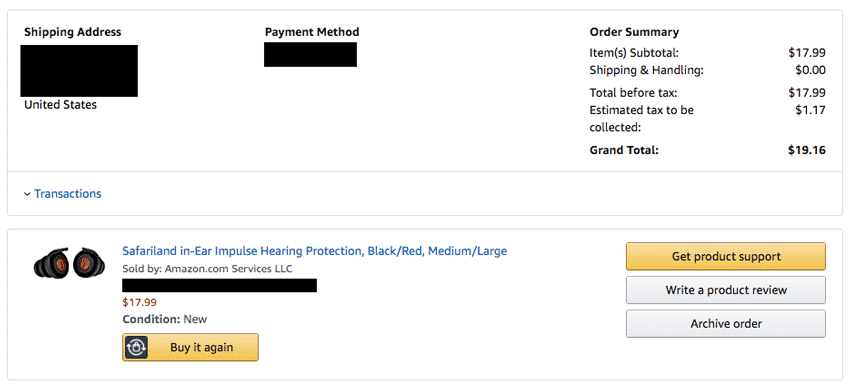 BlueSheepdog.com is a for-profit website. I do not charge readers a dime to access the information I provide.
Some of the links on this page and site are affiliate links to companies like Amazon and Palmetto State Armory. These links take you to the products mentioned in the article. Should you decide to purchase something from one of those companies, I make a small commission.
The links do not change your purchase price. I do not get to see what any individual purchases.