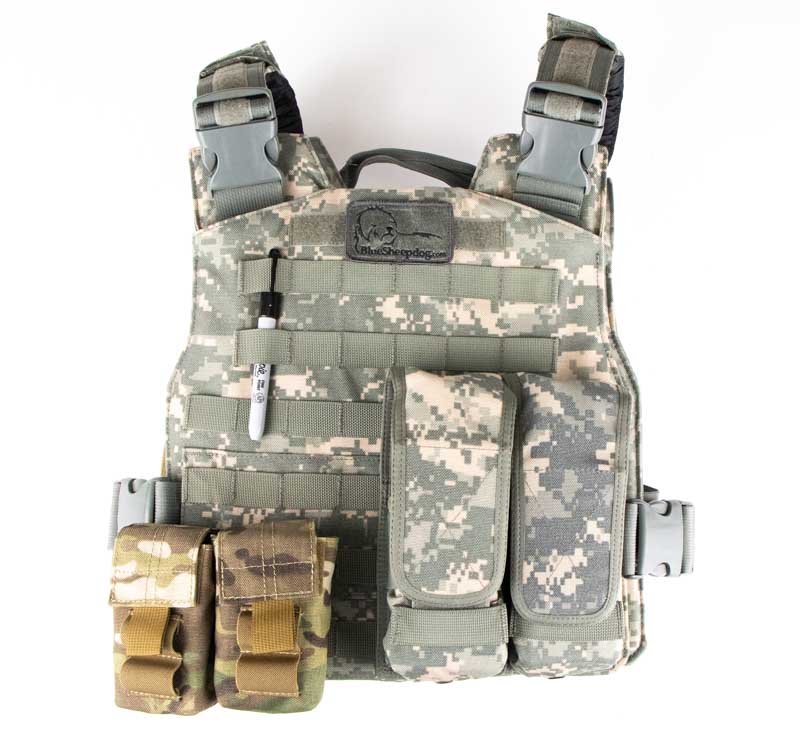 As the alert tone comes across the radio, you begin to get the idea that this shift might be the worst of your life.
Dispatch alerts you and your squadmates to an active shooter at a nearby school.
As you pull on scene, you wonder if you have the right gear in your active shooter bag to help you stop the killing.
If you've ever wondered about what to carry in an active shooter bag, you are in the right place. I've surveyed officers from a variety of jurisdictions and combined their recommendations with my own experiences to offer the best checklist of gear for your response kit. (scroll to the bottom for the downloadable active shooter bag checklist)
I'll not waste your time with a bunch of fluff. Let's get to it:
Armor
The first part of your active shooter kit should be a plate carrier with rifle-rated plates.
In fact, it is my strong recommendation that the plate carrier is your active shooter "bag."
A situation where a suspect is actively killing people requires an immediate response with as much force as you can bring to bear to stop the murders. Therefore, I believe the active shooter kit is different from the traditional bail out bag. Read my article Active Shooter Bag vs Bail Out Bag for additional information.
A plate carrier will allow you to carry everything you need for an immediate response while also giving you protection against rifle rounds.
I suggest NIJ-rated Level III+ plates that are NIJ compliant and tested to stop 5.56 NATO M855/SS109 rounds. Plates can be made of polyethylene, ceramic, steel, aluminum or a combination of the above.
My first pick for a MOLLE carrier is the 5.11 TacTec plate carrier. I would then fit it with the Spartan Armor Systems Level III+ Quad Curve plates. The plates are thin – only 0.5″ – and relatively light at 4.9 pounds each. Yet the plates are able to stop all NIJ Level III rounds and the 5.56 NATO M855A1 and 7.62×39 Armor Piercing Incendiary rounds.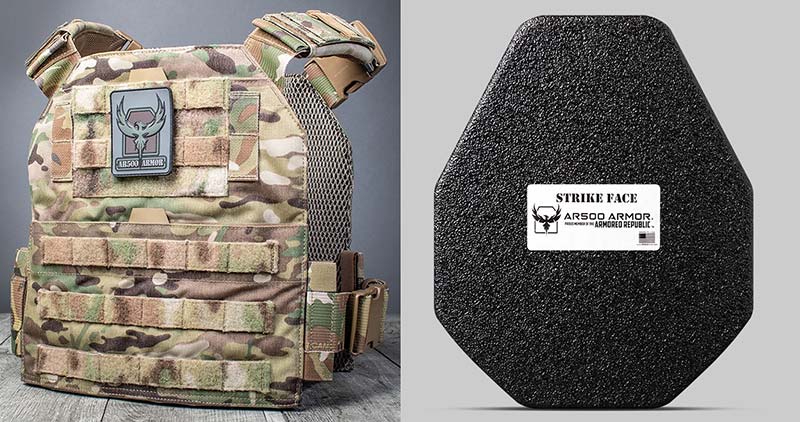 However, for something more budget-friendly, consider the Level III+ Lightweight 10″x12″ plate from AR500 armor. This plate will stop the NIJ Level III test rounds plus the 5.56 NATO M855/SS109 and 7.62×39 rounds. To keep it inexpensive, I'd select the company's Veritas carrier to go with the plates.
I have more details along with alternative recommendations in my Best Active Shooter Bag for Police article.

Weapons & Ammunition
If at all possible, qualify with and carry a rifle in your squad. They offer the best precision for stopping a killer at any reasonable distance.
Many departments issue rifles and others authorize them for officers who invest their own money. If you can – carry a rifle.
If you don't have a rifle, but can carry a shotgun – do it. A shotgun doesn't have the same reach or precision as an AR-15. However, it is a devastating weapon with either buckshot or slugs.
Rifled slug ammunition offers acceptable accuracy out to around 100 yards. Prior to issuing rifles, my department had us qualify with our 12 gauge pumps at that range.
On your plate carrier, you need to have additional ammunition pre-loaded in magazines.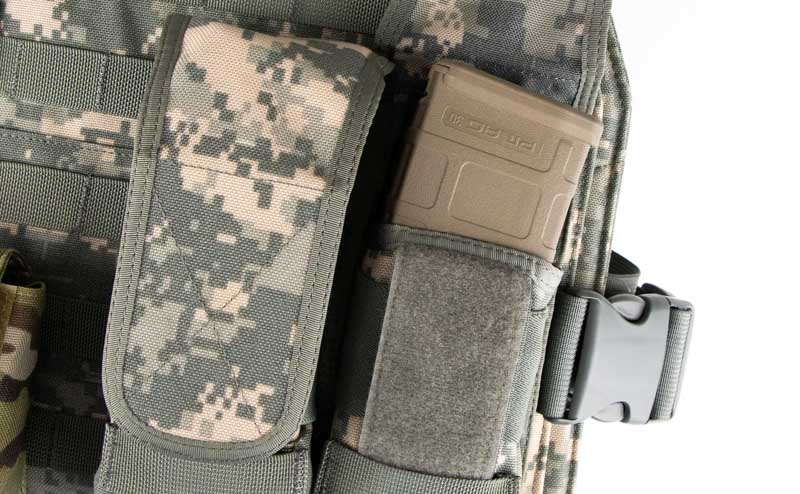 For an AR-15 rifle, I recommend four to six 30-round magazines. Through my own testing, I've found the Magpul PMAGs and Lancer L5 Warfighter magazines are both extremely reliable.
(I buy my AR mags at GunMagWarehouse. They offer good prices and fast shipping. Just as importantly, I know the people working there and they are solid people.)
For inexpensive AR mag pouches, I like the Blackhawk STRIKE M4 double mag pouch. These can often be had for less than $30 and hook to any MOLLE webbing.
If you prefer an open-top design, the High Speed Gear Taco double magazine pouches are highly regarded, though they will cost significantly more. The upside is they have a rigid insert to help protect the magazine.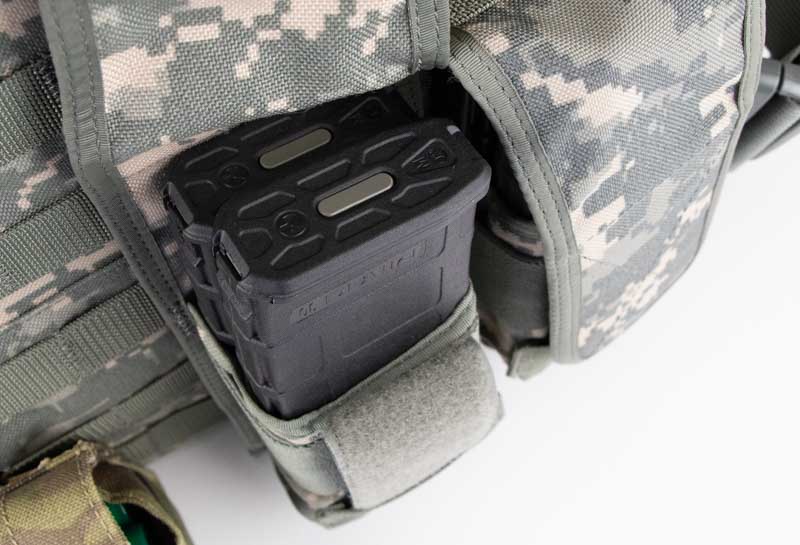 You should also carry pistol magazines for your duty pistol. Depending on the size of your carrier, you may be able to get two to four additional pistol mags on there.
One of the more space-efficient products for pistol magazine storage is the Tuff Products Original InLine Magazine Pouch. This stores five double stack pistol mags.
Some officers also carry extra ammo for their backup gun as part of the active shooter response kit. I rank that as a low priority and would rather carry an additional AR magazine.
For shotgun shooters, I recommend a dump pouch filled with your authorized ammunition.
If you are authorized to carry both 00-buck and slugs, keep them separated. You can use a dump pouch for each load. Personally, I like the idea of a dump pouch filled with loose buckshot shells and a second AR-15 magazine pouch with slugs on Tuff Products QuickStrips.
This shouldn't have to be said, but get a side saddle for your shotgun. That will put another 5-6 rounds immediately at hand.

First Aid Supplies
I'm not talking about a boo-boo kit.
When responding to an active shooter, expect that you will find multiple victims with gunshots and other serious wounds.
You can also expect that you and your partners may be shot at and (God forbid) hit.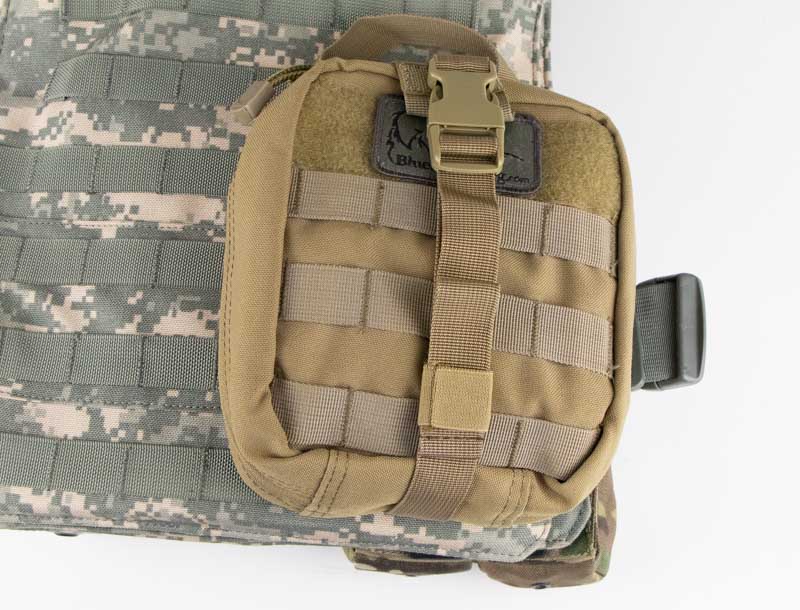 Bleeding out is one of the biggest risks for all gunshot wounds that are not immediately lethal. That means you need to stop the bleeding quickly for the best chance at survival.
In addition to the tourniquet you carry on your body (you do carry one, right?), you should carry at least two additional TQs. Know how to use them and practice using them on yourself and others.
My 12 year old knows how to quickly apply a tourniquet and practices applying them to himself and on me. Be at least as good as my child.
In addition to extra tourniquets, I recommend carrying QuikClot Combat Gauze.
Combat Gauze is a z-folded (so it doesn't roll away) gauze with a hemostatic agent. When you pack a wound, it helps to quickly clot the blood and stop the bleeding.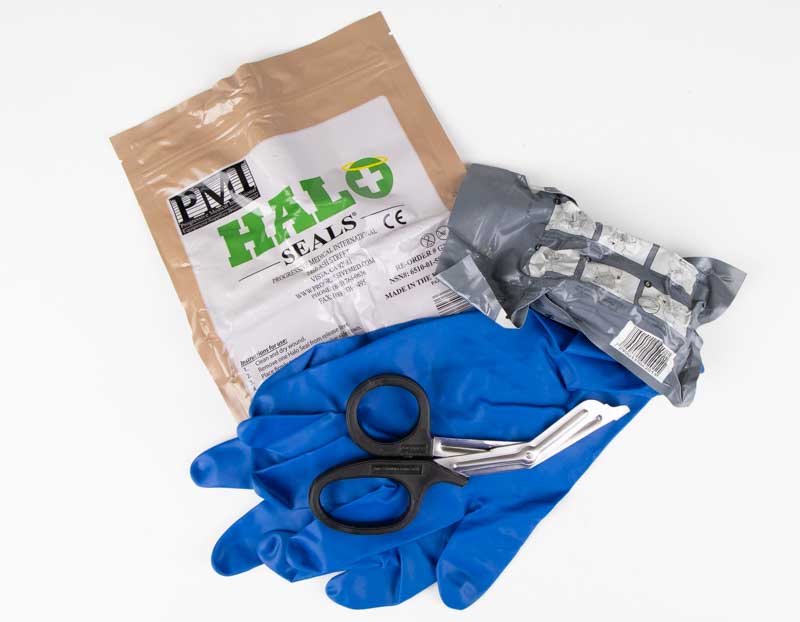 I also suggest carrying Israeli-style pressure bandages. They are great for addressing many kinds of wounds including those that a TQ either can't wouldn't be appropriate for application.
Along with these items, make sure you carry rubber gloves and EMT shears.
CAUTION: At this time I recommend against purchasing any medical gear from Amazon. There have been cases of counterfeit tourniquets reported. You should instead rely on a trusted source like Rescue Essentials. They offer genuine products and have always given me good service.
Environmental Tools
By now, things are getting pretty tight on that plate carrier. Be careful about how many more things you try to carry.
If you have the room, I suggest you think about adding a wide/bold marker or grease pencil, a hank of 550 paracord and a couple of door stops.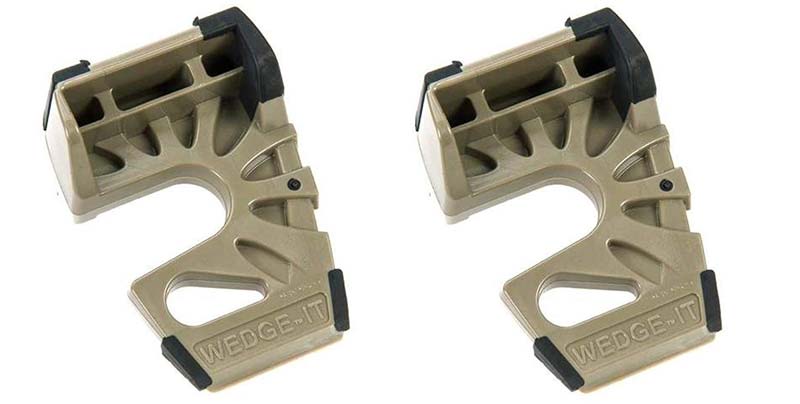 All three of these things can help you with searching for a suspect and with allowing back up officers to find & get to you.
For example, a large arrow with your marker could indicate which way you went while a door stop can hold open a security door that is locked on the outside.
Keep it light as you will already have a bunch of gear on this carrier.

Final Thoughts
Responding to a spree killer is a very specific call type. So, your active shooter bag equipment (or plate carrier as I suggest) should be streamlined and focused on what you need for that kind of incident.
I suggest using a plate carrier and loading it with ammunition, trauma supplies and just a few additional tools.
You can download the checklist here: Active Shooter Bag Checklist
Don't delay – take action today!