Want an incredible high power LED flashlight for less than $100? Take a close look at this Streamlight ProTac HL review.
The ProTac HL is a new offering from Streamlight that packs 600 lumens of blinding white light into a small package.  Seriously:  600 lumens.  That's a whole lot of punch from this LED flashlight.
Holy Crap! That's a high power LED flashlight!
I don't think I can overstate how impressive this high power LED flashlight is.  As I stated earlier in this article, the ProTec HL is rated at 600 lumens with a fresh set of batteries.  It also is rated for 16,000 candela for peak beam intensity.  The two measurements describe different aspects of brightness, with lumens referring to total light output, and candela describing how bright the center focus is.  So, given the same total output (lumens) a flashlight with a higher candela measurement will have a tighter focused beam.
In this Streamlight ProTac HL review, I found the light had a very high power LED module, and it can really light up a backyard or interior room.  It illuminates the inside of a motor vehicle extremely well.  Side-by-side with other flashlights from Streamlight and Surefire, the ProTac HL was clearly much brighter.  The first night I used it, two other officers and I cleared a very dark backyard at 1 am.  We were looking for a felon who had ran from officers earlier in the evening.  The light output from the ProTac HL easily doubled the total output given by the other two officers' lights combined.  The difference was incredible.
As with any flashlight, the Streamlight ProTac HL is a balance of competing interests.  In this case, the ProTac HL excels at flooding an area with super bright white light.  However, the light falls off more quickly than with some other, more focused, flashlights.  The 16,000 candela measurement is good, but not as high as the Streamlight PolyStinger DS LED (24,000 candela) or the SL-20L (60,000 candela).  These other flashlights can throw a useable beam of light for a longer distance.
The flip side to having a lower candela, higher lumen rating is that you can flood a room with a lot of light and get a better view of everything in the area.  This is better suited to room clearing and area searches, which is much easier to physically accomplish with the smaller size of the ProTac HL.  The SL-20L (another great flashlight I carry on duty, by the way) is much larger and less easy to use on a building clear.  But the longer distance of the SL-20L works great for searching for subjects across open areas, such as a field, golf course or parking lot.  I see the two as complimentary and not an either-or situation.
ProTac HL Basics
The ProTac HL uses a tail switch like many of the high power LED flashlights produced today.  Partially pressed, the switch acts as a momentary switch.  Fully pressing the switch will click it constantly on.  The light has a low power and a strobe mode in addition to the standard brightness setting.  More information on these modes farther down in the article.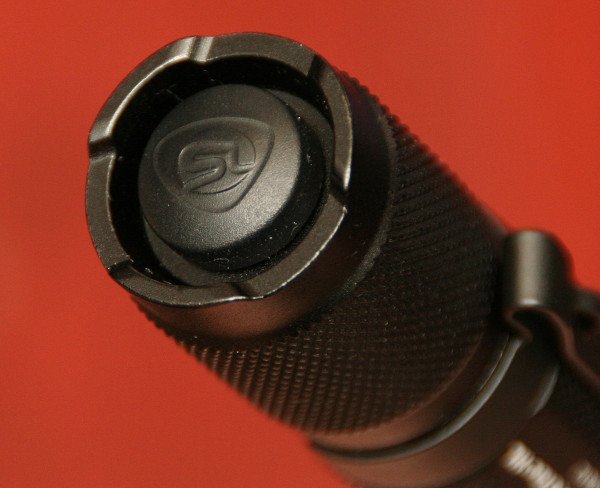 The ProTac HL uses two CR123A batteries (which are included).  CR123A batteries are more expensive than standard household batteries like the AA sized alkalines.  But they also give you a lot of juice and store for a long time.  The CR123A batteries are not as expensive as they used to be either.  Today, a six pack of Energizer brand CR123A batteries and 12 pack of Streamlight batteries are both very affordable.
The ProTac HL is a little more than 5″ long and is about 1″ in diameter.  This means it fits well into the hand, and is easy to add to your duty belt.  It is also small enough to tuck into a cargo pocket for off duty carry.  By way of comparison, the ProTac HL is a little shorter, and a little fatter, than the Streamlight Strion LED flashlight I normally carry on my duty belt.
The ProTac HL has a metal clip attached to the barrel of the light, which you can use to attach to a pocket like a folding knife.  It works, but this is not how I use it.  Here in Florida, I am typically wearing BLACKHAWK! cargo shorts if I am not in uniform.  I tuck the flashlight into the forward magazine loop found inside the cargo pockets, and the flashlight stays put.  If I am wearing something fancier, I generally will go with a thinner, less powerful light so as to avoid any bulk that might attract attention.
The clip can also be used to attach the light to MOLLE webbing on your plate carrier or active shooter vest.  I would still prefer a covered pouch, but in a pinch it would definitely work.
Streamlight also packs an inexpensive nylon holster with the ProTac HL.  While not fancy, the holster works and is a nice addition to the package.  By including the holster, I was immediately able to add the high power light to my duty belt without searching for a properly sized holster.  The loop that attaches the holster to the belt is adjustable, so it can be paired with a wide duty belt or a normal pants belt.
The flashlight fits into the holster without the need to remove the pocket clip.
Additional ProTac HL Features
The ProTac HL has a number of other features, beyond just being a high power LED flashlight.  The head has multiple flat spots ground into the exterior to limit how far it rolls away when you drop it in a fight (you will – trust me).
The head also has scallops cut into the end.  This allows light to leak out if the flashlight is place on a table, head down.  This helps prevent you from inadvertently leaving the light on when setting it down.
The flashlight is O-ring sealed and has been tested to be waterproof to 1 meter for 30 minutes.  So, if you drop it into a pool, you should not have any ill effects.  Likewise, getting caught in a rainstorm isn't likely to kill the light.  Both things are a consideration for Florida cops.
Streamlight offers a limited lifetime warranty on the ProTac HL.  The C4 LED used by Streamlight is said to be impervious to shock, and has a 50,000 hour run time.  That's a lot of batteries!
Ten-Tap Programmable Flashlights
On some of the newer flashlights, Streamlight offers a feature called Ten-Tap.  Ten-Tap allows the user to set up what modes the flashlight will have available during normal use.  From the factory, the ProTac HL is set up to allow the user to cycle through high power, strobe and low power modes.  These are selected by quickly double or tripple tapping the tailswitch.
Using a series of switch activations, the user can reprogram this LED flashlight to use only high power mode, or a low power/high power mode.  I have to say that this is a fairly arcane procedure that involves tapping the button so many times in a certain amount of time to cycle through the program choices.  Personally, I like the default settings, and I just run with those.
Price and Value
High power LED flashlights run the gamut in terms of price and reliability.  I've owned Streamlight flashlights for many years, buying my first more than 15 years ago.  I have always been pleased by their performance and durability.  I've also been pleased with the pricing on Streamlight products.  The company obviously tries to keep costs down, and is very competitive with alternatives on the market.
The ProTac HL has an MSRP of $130, but sells for much less on the internet.  Today, Amazon has the flashlight for only $69.50 plus free shipping.  At less than $70, this light is a great buy.
Reference Materials
Streamlight provides the following documents on the ProTac HL.  It is shown here for your reference only.
Streamlight ProTac HL Data Sheet by Richard Johnson
Streamlight ProTac HL Flashlight Instructions
Final Thoughts
Here's the bottom line:  I highly recommend the Streamlight ProTac HL.  It is one of the best high power LED flashlights on the market for law enforcement today.  Mine has found a permanent place on my duty belt, and I look forward to many year of continued service from it.  If you need a small, high powered light, give this Streamlight some serious consideration.