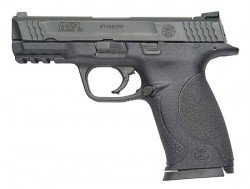 The Smith & Wesson M&P continues to expand its presence in the law enforcement world.  Three additional agencies have made the switch to the pistols: Miami Beach PD, Passaic Co. (NJ) Sheriff's Office and the Olympia (WA) PD.
It is my understanding that Miami Beach has been carrying SIG SAUER duty pistols until now.  MBPD will be carrying the M&P 40.
The Passaic County SO is replacing their Glock 23 pistols in .40 S&W with the M&P 45.  I don't know what the Olympia PD officers were carrying, but they are transitioning to the M&P 45 also.
Say what you want to about the "dark years" at Smith & Wesson, they are definitely back in the game and playing to win.  Also, Smith & Wesson isn't giving the guns away just to grab a larger portion of the market.
According to NorthJersey.com, the purchase of 650 new M&P 45 pistols is costing the Passaic County Sheriff's Office $280,500.  That is a cost of more than $430 each.  Of course, I don't know what else was worked into the deal such as a number of seats in armorer's schools.  But the price did not include new holsters, which were purchased separately for $63,000.
At $430 each, the pistols definitely seem like a bargain when put up against my own agency's SIG P226 pistols.  Last I heard, we were paying around $800/each for those.
The following two tabs change content below.
Richard was a police officer and trainer with experience as a patrol officer, field training officer, court officer, corporal, sergeant, lieutenant, watch commander and commander of a field training and evaluation program. Currently, Richard spends much of his time testing and writing about guns and shooting products.