Police work is dangerous and unpredictable.
You need gear that you can rely on to get you home safely.
Unfortunately, your department didn't give you all the tools you need.
Be it a hostage situation during a botched bank robbery or a small child who's lost in the woods, there are calls where you need more equipment than what you normally carry on your belt. In these cases, the police bail out bag is a portable kit to help you succeed in even the worst possible situations.
In this article, I'll show you which ones to consider and which ones to avoid at all costs!
Let's dive right in:
The Police Bail Out Bag
The law enforcement bail out bag is a small to medium-sized bag that an officer can stock with less commonly used items that will help you save lives when seconds count.
Don't confuse the bail out gear bag for an active shooter bag. While similar, the bail out bag serves a different mission and is stocked differently. You can read my full explanation on the Active Shooter Bag vs. the Bail Out Bag here.
There are a wide range of bags and packs that can be used as a tactical bail out bag.
But, there are only two types that I find will work: the shoulder (or sling) bag and the load bearing vest. Of the two, however, one stands out as a clear winner for most officers and circumstances: the shoulder bag.
Shoulder/Sling Bag
A shoulder bag offers a good combination of storage volume and convenience of access. The best bail out bags can be slung so the storage area is on the side of the body opposite of your pistol.
Looking at all of the available options in this category, one stands out as my favorite.
| | | Rating | Price | |
| --- | --- | --- | --- | --- |
| | 5.11 Bail Out Bag | | $$ | |
| | Propper Bail Out Bag | | $ | |
| | Condor Tactical Response Bag | | $ | |
The best bag in this category is the 5.11 Bail Out Bag.
It is specifically designed for this purpose and is very well made. It will stand up to the rigors of training and deliver when you're on patrol.
Things we really like about the 5.11 bag:
On the outside of the bag are three magazine compartments. Each will handle two standard (30-round) AR-style magazines for a total of six additional mags.
There are large, zippered compartments on both ends of the bag for storage of supplies or gear that you want to be separated from the main compartment. MOLLE webbing is on the outside of these compartments.
Internally, the bag has enough space for bulkier items and hook and loop material for the affixing of tear away pouches. For example, you might have a spare bleeding control kit that you could quickly rip out and toss to a partner while you stay focused on a threat.
There is also MOLLE webbing on the inside for additional attachment points.
The 5.11 Bail Out Bag is made of 1050D nylon. In simple terms, this means it is tough and will stand up to any kind of beating you throw at it.
A shoulder pad is standard on the quick release strap. However, the pad is removable (without cutting anything!) if you to prefer to run the bag without it.
Speaking of padding, the outside of the bag that rests against the body has a mesh-backed pad. It cushions the weight of the bag when worn and allows for airflow.
We've tested this bag on duty and found it really stands up to the daily grind. Like any other piece of gear, you've got to practice with it to get comfortable, but it works the best of the bags we've tried.
Note: We used to recommend the Maxpedition Active Shooter Bag (ASB) in addition to the 5.11. However, Maxpedition discontinued the bags and does not have an adequate replacement for it.
The two other bags we recommend are the Propper Bail Out Bag and the Condor Tactical Response Bag.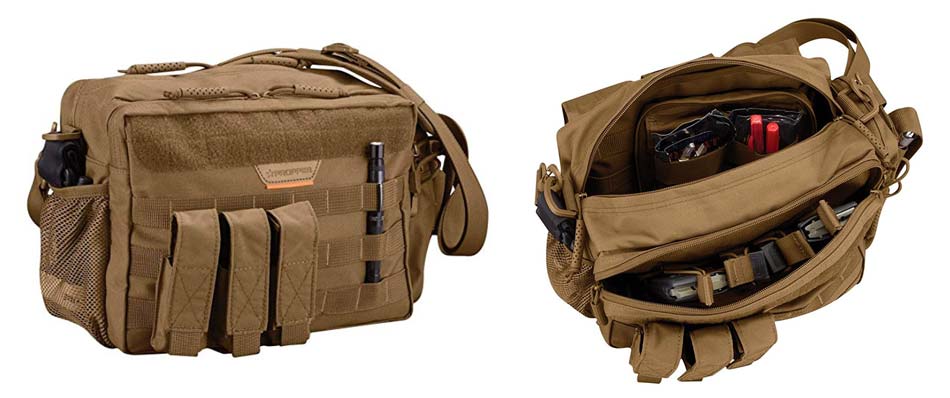 The Propper bag offers several features over the 5.11 bag that we like. These include:
double zipper on the end pocket
MOLLE webbing on the back side of the bag for the addition of pouches
double clips on the shoulder strap for complete removal
less expensive
However, the 5.11 still is the better bag in our opinion. The shoulder sling on the 5.11 is more comfortable for carrying across the body. The MOLLE on the outside of the Propper isn't as useful as the comfort padding on the 5.11 is. Also, while the mesh pocket on one end of the Propper is nice, it means you lose a zippered compartment.
Overall, the Propper bag is a very good second choice. If money is tight, it might be your best choice.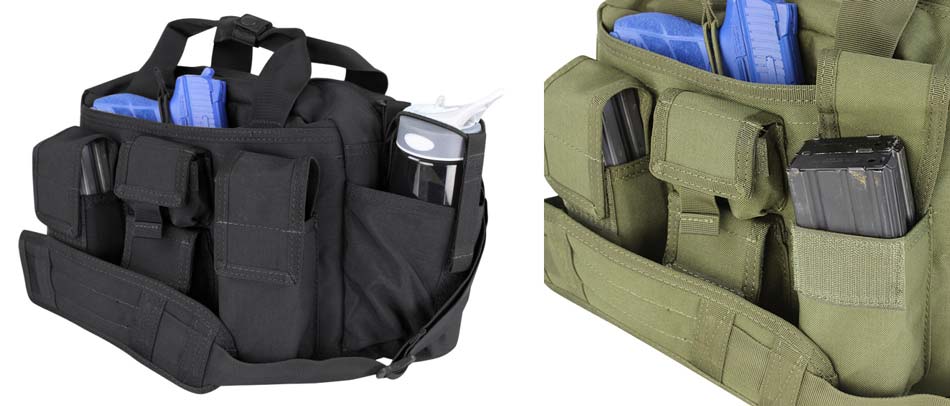 While it is a third-place selection, the Condor Tactical Response Bag is an acceptable bag if you get it for substantially less money than the others.
It does have significant drawbacks, however. These include:
less storage space
the material feels lighter weight and less durable
the sling/shoulder strap is less comfortable
the stitching doesn't seem strong enough for long term use
If you can afford one, we recommend the 5.11 and Propper bags first. But, at the right price, the Condor bag may serve your needs.
Wildcard: Load Bearing Vest
The load-bearing vest is a bit of a wildcard as a law enforcement bail out bag. I used to regularly recommend a vest like the 5.11 VTAC LBE. I don't as much anymore. But, there is a very good reason why.

The 5.11 vest is still an excellent option. However, with more officers wearing external soft body armor, these can be a little difficult for some officers to get on and carry comfortably. Make sure you get the adjustments dialed in before you ever need to use it!
Also, if you are donning a plate carrier – especially if you set it up as an active shooter response kit as we recommend – that can cause obvious issues.
Nevertheless, the 5.11 VTAC LBE is an exceptionally well made bail out vest. It was designed with Kyle Lamb and updated with the feedback of many police officers just like you. It's my top pick for a patrol officer wanting a load-bearing vest.
You can read more about this vest at Randal's 5.11 VTAC LBE review.
Alternative: The Plate Carrier
Generally, a plate carrier should be set up as an active shooter response kit. However, if you want to only have a single kit to try to address all situations, then go with a plate carrier. Just understand:
there will be several limitations to the plate carrier including a lack of space to carry everything you need.
A plate carrier can add spare magazines and an IFAK. But, there is little room for anything else. They simply do not make good replacements for bail out bags.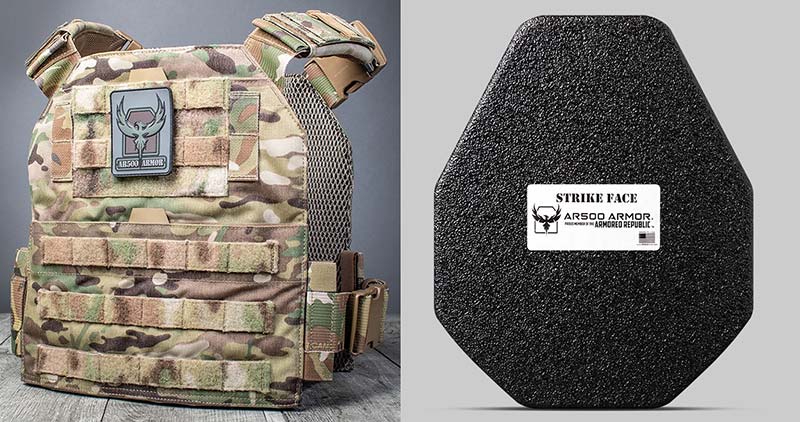 If money limits you to a plate carrier only, the best deal on NIJ-compliant rifle plates is the AR500 Armor Level III+ Lightweight 10″x12″ plate. This plate will stop all Level III rounds plus 5.56 NATO M855/SS109 and 7.62×39. With the multi-curve option (for comfort) and a build-up coat (to reduce spalling,) two plates are only $328 before shipping. The company's Veritas carrier is a good match for the plates.
Additional Considerations
There are a multitude of additional things to think about when buying and setting up a tactical bail out bag.
First, you need to consider what the realistic scenarios you might encounter are. Then determine how one of these bags could be equipped to enhance your ability to successfully handle the call.
For example, a rural deputy in Colorado is likely to have different needs than the urban police officer working in Miami. The Miami officer, for example, might need sunscreen more than he needs a hand warmer.
Secondly, consider what other gear you already have available. If you already have a plate carrier, that should be set up as an active shooter response kit. The best bail out bag will supplement that kit and enhance your ability to deal with other issues such as search and rescue, extended time on a perimeter or anything else where you will be away from your patrol car for an extended period of time.
Finally, what is your budget? You are having to dip into your personal checking account for these items. You have to determine what you can afford now and what will have to wait. Build your kit over time and don't stress the family budget.
Final Thoughts
To summarize, there are two basic bail out gear bag styles – the shoulder or sling bag and the load bearing vest – that might meet your needs. We also talked about using a plate carrier as your bail out bag.
Based on our training and experience with them, we've identified what we think are the best products. As a quick reminder, they are:
Shoulder Bag:  5.11 Bail Out Bag
Load Bearing Vest:  5.11 VTAC LBE
Plate Carrier:  Veritas Carrier with AR500 Armor III+ Lightweight Plates
However, there is an additional option that some readers may want to consider. That is the role of the SBR backpack. If you've been issued a short barreled rifle or subgun, a specialized backpack may be your best bet as it could carry the firearm plus the additional gear discussed above. It would not be ideal, but it does meet a specific need. Check out this low-profile SBR backpack review for some ideas on what is possible.
Whatever you decide – take action now! Tonight, tomorrow or next week might be the call that comes in and changes everything.