Boom – Boom – Boom
As shots ring out at a nearby warehouse, calls pour into the 911 center.
You're being dispatched to a "shots fired" call with multiple victims down.
Do you have the tools required to take out the threat, stop the killing and save lives?
In this article, I give you my opinion on what is the best active shooter bag for police. I'll also talk about how it should be equipped.
Let's not waste time and dive right in…
Police Active Shooter Bag
Sudden, mass violence will tax you and your department. But, you have the chance to prepare for such an event right now.
The method of attack – mass knife attack, active shooter or someone using a vehicle as a weapon in a crowd – isn't as important as your response to it.
You must get on scene and neutralize the killer as fast as possible.
The police active shooter bag is one of the tools you can use to improve your position in prevailing. But, do you have the right bag and is it properly outfitted?
Truthfully, the best bag isn't actually a bag at all. Rather the best active shooter response kit uses a plate carrier instead of a bag.
Why a Plate Carrier?
An active shooter situation is a very specific type of call. It requires only that equipment that can help you successfully handle it. Anything else will slow you down and should be left behind.
That's why the plate carrier is the best active shooter bag.
A plate carrier gives you additional protection while providing a platform to carry those essential tools you need.
If you still want a bag instead of a plate carrier, please read my Best Bail Out Bag for Police article.
Best Plate Carriers for Police
Which is the best plate carrier for police officers to carry on patrol?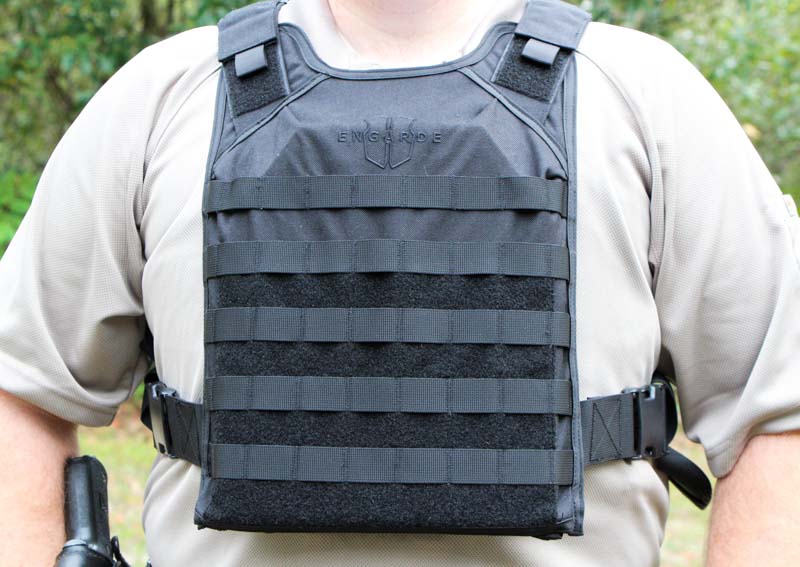 The simple answer is the one you can afford. For a decent quality plate carrier and plates, you can expect to spend at least $350. If you are willing to spend more, the amount of protection can go up while the weight of the plates can go down.
Here are the top three that I recommend. Below the table, I'll explain why each is on the list.
Before I get into the specifics of each recommendation, let me get you up to speed on what a plate carrier system is.
A plate carrier system uses two basic components – plates and the carrier.
The carrier is a rugged cloth shell made from 500D nylon or a similar material. It both holds the plates and serves as a mounting point for pouches to store your gear.
Plates are hard body armor designed to stop bullets. The plates can be made of different materials which I explain below. They can vary in thickness and weight and are heavier than concealable body armor.
Body Armor Direct Level III+ Plates
The Level III+ plates from Body Armor Direct (BAD) get my nod for the best active shooter body armor for the money.
These plates are made of UHMWPE – or Ultra High Molecular Weight Polyethylene – combined with ceramic.
UHMWPE plates typically do a very good job of stopping multiple rounds without fragmentation or spalling. These plates are NIJ 0101.06 compliant at the Level III standard. Additionally, they are rated to stop the 5.56 NATO M855 "Green Tip" and 7.62×39 Mild Steel Core (MSC) rounds.
Further, these plates are made in the USA. Many of the plates advertised online are not.
These 10″x12″ plates are 1″ thick, and they should fit into most common plate carriers. Each plate weighs 4.3 pounds with a shooter's cut. That makes them the lightest plates on this list.
Body Armor Direct offers a 30-day money-back guarantee. This is unparalleled in the body armor industry.
More information on the BAD Level III+ plates here.
Spartan Armor Systems Level III+ Plates
Spartan Armor Systems (SAS) makes a Level III+ plate that offers the best protection on this list.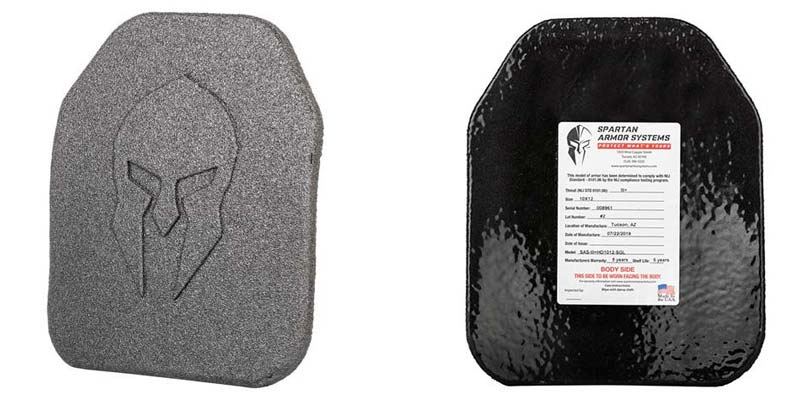 In addition to the standard Level III rounds, the plate is rated to stop both the newer 5.56 NATO M855A1 and the Chinese BZ API 7.62×39 round. Both of these rounds offer increased penetration as compared to the original M855/SS109 and Mild Steel Core 7.62×39 rounds.
SAS accomplishes the improved protection while keeping the plate to just 1/2″ thick and a weight of less than 5 pounds per plate.
Spartan Armor Systems manufactures these plates in the USA. The company also offers a 10-day return policy and a 10% discount for law enforcement, first responders and military.
The increased protection does come at a cost, however. These plates are the most expensive on the list (approximately $800 for a pair at the time of this writing).
More information on these plates is here.
AR500 Armor Level III+ Lightweight ALSC Plates
If you are on a very tight budget, then the AR500 Armor Level III+ Lightweight ALSC plates are a viable alternative to the better options above. With multi-curves for comfort and a build-up coating to contain fragmentation, the plates will cost about $330 for a pair.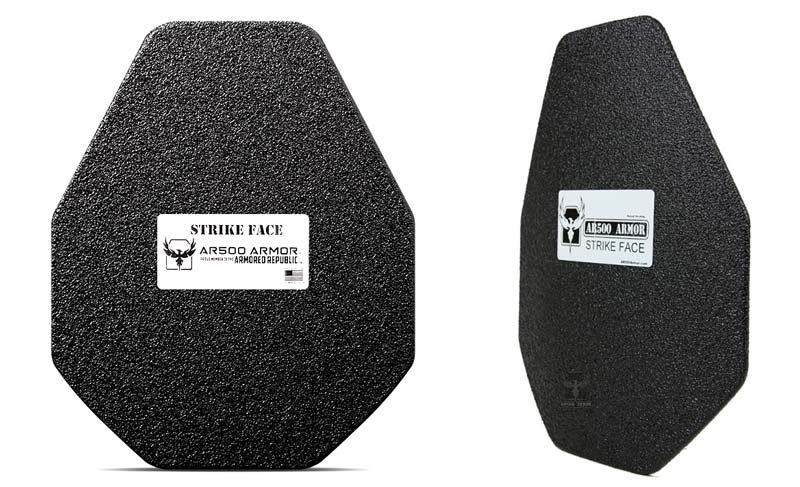 The downside to these plates is that they have slightly less coverage at the corners (they still are 10″x12″ at the widest parts) yet are the heaviest in the list at about 11 pounds for two.
In addition to being NIJ Level III compliant, the company tested the plates to stop 5.56 NATO M855/SS109. The company also states it will stop 7.62×39 rounds, but is not rated for armor-piercing rounds.
Bare metal plates are potentially dangerous as bullets can fragment and become secondary projectiles that may injure the wearer. That's why I recommend only metal plates with the "Build Up" option.
Based on the testing by AR500 Armor and informal testing I've observed, the thick coating option does appear to capture the vast majority of fragments.
I've also spoken with an engineer who works in the ballistic protection industry. He advised that he would have no problems wearing NIJ compliant metal plates with a coating like the one AR500 Armor provides in its build-up option.
Even with the drawbacks, this rig is worth considering simply because of its price. If you are strapped for cash, the AR500 Armor Level III+ plates and Veritas carrier is worth considering.
More information on the AR500 Armor plates is here.
Carrier Options
For each of the above plates, I added a suggested carrier to go with them. Those are not set in stone – you can mix and match without difficulty.
I'll give you my thoughts on each of the carriers here.
5.11 TacTec – This is a higher-end plate carrier for patrol officers. It runs around $200 making it the most expensive on this list.
However, it is also the best.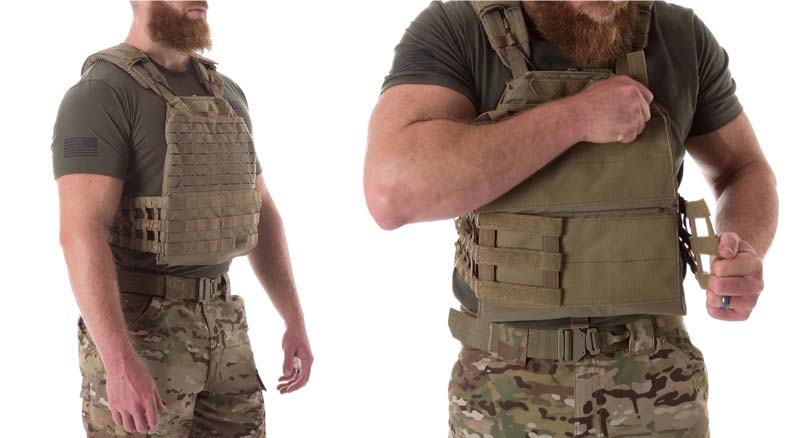 The carrier offers a range of benefits including ample webbing for the attachment of mag pouches and a very comfortable shoulder pad and yoke system.
If you work around water, the quick release system alone is reason enough to buy this one. A single pull cord is secured out of the way but is quickly accessible to immediately shed the entire system.
More information on the 5.11 TacTec here.
Condor Defender – This is a reasonably priced carrier system with a full cumberbund. It can be slower to don than a carrier like the Veritas (below), but it is much more secure and comfortable than a minimalist system.
The Defender has ample webbing on the front, sides and back for all of your pouches.
Included with the Condor Defender are side plate pouches. Adding side plates increases your weight, but they also provide additional protection.
The photos above are of my personally owned Condor Defender with plates and soft armor panels installed. I've since upgraded my carrier to the 5.11 model, but I would not hesitate to use the Condor again.
More information on the Condor Defender here.
AR500 Veritas – Offered through AR500 Armor, the Veritas is a modular plate carrier that is the least expensive and the quickest to put on of this list.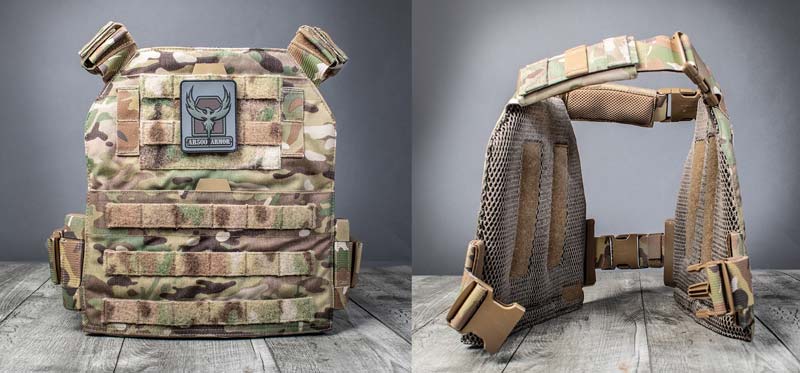 It does have a few downsides though. First, it doesn't have as much space for attaching pouches as the 5.11 and Condor options.
Another downside is that the drag handle on the back is too small for my hand when wearing a glove. Without a glove, it is still a tight fit.
More information on the Veritas here.
NIJ Ratings
Any plate you select should be NIJ-rated. This is a standardized testing and rating protocol published by the National Institute of Justice. It establishes the levels of stopping power for each piece of body armor.
The most recent version of the standard is 0101.06. A draft version of 0101.07 has been circulating and is expected to be finalized in 2020.
CRITICAL INFORMATION: Compliance with NIJ 0101.06 is voluntary. Anyone can create a body armor product and claim a specific level of stopping power. That doesn't mean it has been independently tested and shown to be effective.
I only recommend armor from companies that submit to NIJ compliance.
A company that does not submit its armor for compliance testing may manufacture quality body armor. But without independent testing, you are relying on the company's assurance that its product will stop a bullet.
No thanks.
The NIJ maintains a list of armor that is deemed to be compliant.
All of the armor I selected for this list is considered Level III+. This means it is rated to stop Level III threats plus the additional threats of 5.56 NATO M855/SS109 "Green Tip" and 7.62×39 MSC rounds. These are relatively common cartridges that can be fired from many AR- and AK-pattern firearms.
As a refresher, NIJ body armor ratings of I, II-A, II and III-A are designed to stop handgun rounds. NIJ ratings of III and IV are designed to stop rifle rounds.
Standard Level III armor is designed to stop a M80 7.62 NATO round, while Level IV armor ups the protection to stop a .30 caliber M2 Armor Piercing (AP) round.
Plate Types & Potential Danger
Plates can be made from a variety of materials including metal, ceramic and polyethylene (UHMWPE). Some are made of a single material while others are a "sandwich" of different materials.
Metal plates can be effective – and are cheap – but are much heavier than the other materials. There is also a legitimate concern that metal plates could deflect shrapnel from the bullet into your face, arms or other body parts.
Starting at about 3:45 in the video below, you can see all of the fragmentation that can occur when a bullet strikes an uncoated steel plate.
Later in the video, you can see that the coated plates showed substantially less spalling.
Ceramic plates have little to no fragmentation that can harm the wearer. The down side is that the plates can be brittle and may not be effective against multiple hits.
In many ways, the newest polyethylene plates may be the best choice. They do an excellent job at stopping multiple hits, tend to be lightweight and often float. If you work around the water, positively buoyant plates may be a huge benefit.
I recognize steel plates are the most affordable option. However, I strongly recommend upgrading any steel plates to include a thick coating to reduce fragmentation concerns.
How to Equip Your Response Kit
I have an in-depth article on this called Active Shooter Bag Equipment & Checklist. It includes a downloadable list that you can print off and use to keep track of purchases for your kit. Click the link above for the article and checklist.
Conclusion
The best active shooter bag for police is actually a plate carrier system.
Properly equipped, the plate carrier system will get you through what may be the worst day of your life.
As a quick reminder, the plates I recommend are:
I strongly recommend ensuring that whatever you buy is really NIJ compliant. Some of the body armor companies use deceptive marketing to make it appear their products are compliant when they are not.
Don't delay in setting up a plate carrier system. Every day you delay is another day that you may need it but not have it.