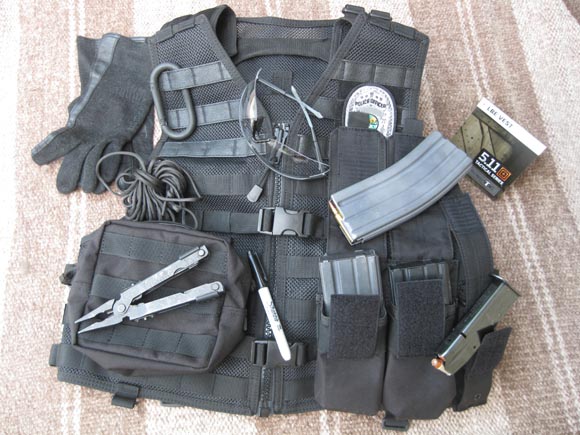 I am not a fan of the bail-out bag.  Neither am I fond of showing up for the party without the proper favors.  As a crossover from SWAT, I really like the idea of a load-bearing vest for emergency patrol operations.
While the concept of the bail-out bag is great, my experience is that carrying the bag and accessing its contents are problematic.  Since the go-bag is worn over one shoulder, it dangles off to one side, normally your non-dominant side.
This can bring it into interference with your duty belt gear opposite your sidearm.  It also makes for a second strap tangling you up and applying opposing pressure to your neck when you have a rifle or shotgun slung to the other side.
A go-bag will ride at your seven or eight o'clock position, especially on the run, so getting things out of it requires added attention.  A load-bearing equipment MOLLE vest I tried from 5.11 Tactical solved these all problems.
I saw some of the 5.11 nylon gear at a local retailer and thought it looked well constructed and reasonably priced.  There were many choices for accessory pouches and carriers to customize a vest.
I ordered a black 5.11 VTAC LBE Vest and then selected the pouches I wanted specifically for a bail-out vest.  This vest will be grabbed out of the trunk and zipped on when the SHTF and more ammo and supplies are needed.
5.11 Tactical partnered with Viking Tactics and retired Special Forces Operator SGM Kyle Lamb in designing their VTAC line of gear, so there is much practical experience going into the products.
The VTAC LBE Vest is made with 1050 denier nylon and is extremely durable.  Quality YKK zippers are used and there is plenty of extra stitching to hold all seams securely.  The vest is hydration pack compatible and has a drag handle.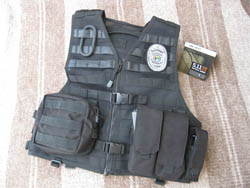 The MOLLE stitching is robust.  Multiple adjustment points, via buckles and Velcro, assist in a proper vest fit.  There are also Velcro loop areas on the left breast and back for Police or Sheriff identification patches.
The intent for this vest is to be ready to go during the shift.  I'll be wearing a duty belt with my uniform, so I don't want to duplicate items I already have on me.
The most important thing to me is more rifle ammunition.  A handgun is fine as personal protection, but a long gun lets you take the fight to the enemy.  I chose a stacked double magazine carrier with covers for holding four AR-15 mags.
All the 5.11 pouches attach securely to MOLLE webbing with 5.11's Slickstick attachment system.  The Slickstick is stiff and weaves through the MOLLE on the vest easily.  To release, just unsnap and pull the fastener out.
I added just a single pistol magazine carrier, since I still have two mags on my belt.  For general items, I selected a 5.11 6.6 Pouch which measures 6" X 6" X 3 ½."  That will hold safety glasses, gloves, paracord, a multi-tool, flashlight, combat shears, chalk, a black marker, revolver ammo, pen, and notepad.
For medical gear, I ordered their 6.6 Med Pouch, which is of the same dimensions as the 6.6 Pouch, but ½" thicker.  It has a subdued cross on it to signify medical gear.  Inside, I have a TraumaPak, a Tactical Medical Solutions SOF Tourniquet, and an energy bar.  I mounted this pouch on the left rear of the vest.
I recently reviewed the TraumaPak, which contains QuikClot, nitrile gloves, bandages, dressings, and duct tape.  It is packaged in a thick waterproof pack that doubles as a biohazard bag.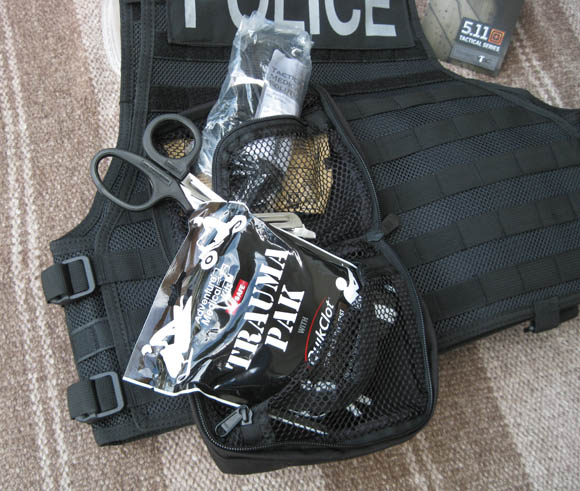 In setting up the vest, I placed the AR and pistol mags on the left front.  For a righty, this is the proper place for expeditious reloads.  At a dead run, I can perform a quick mag change for my rifle from this vest.  This ain't happening with a bail-out bag swinging around.
An LBE vest spreads the weight of the load evenly across the shoulders.  Placement of the gear is static, so things are always exactly where you know to find them.  Negotiating obstacles is easier because the vest is low profile to the torso.
I could certainly load the VTAC LBE Vest up with more gear, but I think that defeats the purpose of having a vest such as this ready to roll.  I think it has the necessary items to win the fight and take care of business afterward until other assets arrive.
MSRP for the 5.11 vest and pouches I ordered would be around $160.  A little shopping at Amazon can whittle that down. Most of the items I put in the vest were ones I had from a previous iteration of a bail-out bag.
Without a doubt, the 5.11 Tactical gear is rugged enough to survive real duty.  The contents of the vest are important, but they won't be with you in the field if you don't have a quality carrier.
Randall is a twenty-three year veteran officer of a mid-size Florida police department.  He served as a SWAT team officer for over 21 years, to include 12 years as a Team Leader. He is currently the Midnight Shift K9 Sergeant and department SWAT Coordinator.