Ed. note: Thanks to Walt Rauch and Police & Security News for bringing us this roundup of new guns for 2013.
The annual Shooting, Hunting and Outdoor Trade (SHOT) Show provides a major venue for manufacturers and dealers to showcase their products and introduce new models. It gets larger each year. The 2013 show, held in Las Vegas in January, boasted 1600 plus vendors, 62,000 plus attendees and some 2000 media types.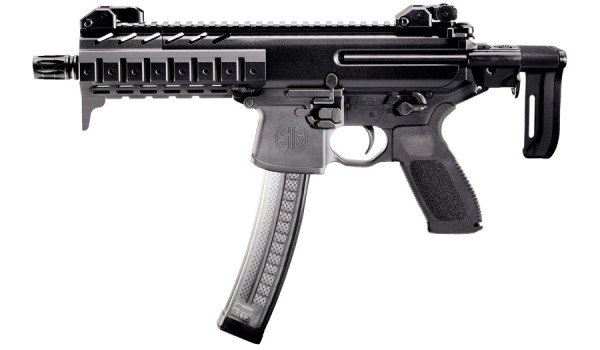 As usual, the show's size makes it extremely difficult, if not impossible, to take notice of all the products related to firearms. Last year, the show's unusually high demand for small, concealable handguns, coupled with a noticeable increase in AR-based rifles, was dismissed by some as an outlier – a onetime reaction to the Presidential election. If so, the "reaction" has gotten even stronger for those rifle and handgun types, driven by the possible government intervention in the sale and possession of such rifles and standard magazines for both rifles and handguns.
The increase in demand for ammunition for these firearms has added to the ammunition back orders. One anecdotal example has a bulk buyer for 5.56 NATO and 9x19mm training ammo being quoted a delivery date of "sometime in 2014."
Despite these demands creating huge back orders, new models of both rifles and handguns were introduced and orders placed in the face of vague estimated delivery dates. (Indeed, one handgun manufacturer continues to have a composite six digit number back order for its products.)
In the AR rifle arena, several new entries stand out. SIG SAUER introduced its MPX submachine gun, available in four law enforcement/military variations and one semiauto carbine variation which is civilian legal (where permitted). Smith & Wesson offers the AR-based M&P rifle chambered in 7.62 x 51mm (.308 Winchester) and Israel Military Industries (IWI), a newcomer to the U.S., offers the AR configured TAVOR bullpup rifle chambered in 5.56 NATO (.223 Winchester).
To follow are the latest innovations from the best known manufacturers. As always, we strive to concentrate on those new firearms which have more law enforcement "appeal" – either to agencies or individual sworn personnel.
SIG SAUER, Inc.
SIG SAUER's new MPX submachine gun (government and law enforcement sales) has semi- and full-auto capability and is chambered in 9x19mm, .357SIG and .40S&W, fed from a ten, 20 or 30 round proprietary steel magazine. An integrated sound suppressor is also an option.
The MPX uses a gas operated, short stroke piston system and has a fully closed and locked rotating bolt, changeable barrel lengths, and an aluminum or carbon fiber fore end, as well as fixed, folding, collapsible or pistol grip only stocks. All these options are changeable "in the field."
The MPX will be offered in four law enforcement only configurations. The standard SIG MPX is a 6.5″ barreled, select fire SMG (weighing 4.6pounds, without magazine). The SIG MPX-SD is integrally suppressed with a new SIG silencer technology designed specifically for the weapon. A compact variant, the SIG MPX-K, is available with a 4.5″ barrel. Also available is a select fire pistol variant with a 6.5″ barrel. A modular handguard (available in aluminum or carbon fiber) features a 12 o'clock M1913 rail and the ability to add rails at the three, six and nine o'clock positions. The consumer version, the SIG MPX-C is a semiautomatic with a 16″ carbine barrel. The MSRP is $1,800 – $2,100, however, no availability estimate was given.
SIG also introduced the SIG SAUER P227 which, in short, is chambered in .45ACP, with a double column, ten round magazine (14 round mag optional), steel slide on an alloy frame having a one-piece grip and an accessory rail. Also, the SIG short reset trigger is used. The M227 is the single column P220 on steroids, weighing in at 30.5 ounces (without magazine) and with a length of 7.1 inches. It has an MSRP of $993 with contrast sights.
Smith & Wesson, Inc.
Smith & Wesson further expanded its M&P line of rifles by introducing the S&W M&P10 chambered in 7.62 x 51mm (.308 Winchester). The M&P10 is a semiauto, has an 18″ barrel with a one in ten inch twist, Magpul MOE rifle stock, ambidextrous safety and bolt release and forearm with Picatinny rail. The trigger pull is listed at 6.15 pounds, weighs slightly over eight pounds, and ships with one 20 round PM magazine. MSRP is $1,729+. I did not get any hard delivery data. (That's not surprising, given the government's move to "control" such semiauto long guns.)
Israel Weapon Industries (IWI), Ltd.
IWI is a member of the SK Group. The TAVOR bullpup rifle will be in a civilian legal semiauto version and is tentatively scheduled to be available in March of this year. The TAVOR is chambered in 5.56 NATO with a 30 round magazine (AR mags work) and either a 16.5″ or 18″ barrel. The handguard with Picatinny rail is on its top side.
Caliber changes can be made with conversion kits which are also available to change to 9x19mm or 5.45x39mm. Also, the TAVOR can be changed by the user to fully left-handed operation, including charging handle. It has a cold hammer forged, six groove, one in seven inch rifling barrel and is currently finished in flat dark earth and black. The MSRP starts at $1999.
FNH USA LLC
FNH USA, a subsidiary of FN Herstal S.A., has not neglected the needs of the dedicated marksman with the FN SPR A5 XP which replaces its existing A5M bolt-action rifle. The new model has a one in twelve inch rifled barrel, threaded to accept a suppressor. The bolt handle is oversized and the stock now has a McMillan cheek rest. The MSRP is $2899.

O.F. Mossberg & Sons
Another one of the new guns for 2013, the MVP Patrol Rifle has been added to Mossberg's Flex line of modular construction products. The MVP has a 16 1/4″ medium bull barrel with a flash hider attachment. Twist rate is one in nine inches for the 5.56 NATO, and one in seven inches for the 300 AAC Blackout. Currently, the gun only comes in .223/5.56 NATO and .300 AAC Blackout, but, later this year, it will be chambered in .308 Winchester (7.62 NATO) with a one in ten twist rate. The guns range in weight from six and three quarter pounds to eight pounds, depending on caliber and whether or not a three to nine power illuminated scope is included.
Supplied sights (except for the 300AAC) are a raised platform, rear adjustable rifle sight on the barrel and a fiber-optic front blade. A Picatinny- style scope base is standard. A ten round magazine is supplied, but AR magazines can be used. The stock is polymer with sling mounting studs; the patented LBR Adjustable Trigger is present. This rifle is also available in non-Flex mode. The MSRP should be under $500.
Colt Defense, LLC
Based on the successful Colt Rail Gun, Colt is fulfilling its bid to build 12,000 1911 pistols for the United States Marine Corps, formally identified as the Colt Marine Close Quarter Battle Pistol. The Rail Gun has been customized with a Cerakote finished stainless steel frame and slide rendered in Desert Tan, and it has been fitted with Novak Night Sights. A flat mainspring housing with lanyard loop, ambidextrous safety and National Match barrel fill out the package. As to being available for civilian sales, I think it will be, eventually, but only after Colt completes the USMC contract which might be a while.
GLOCK, Inc.
GLOCK introduced the Model 30S in .45ACP which is the Model 30SF (Short Frame), using the single column 36 slide on the 30SF frame (which makes it easier to conceal). The 30S holds ten rounds, as do the Models 30 and 30SF. I understand the new Model 30S will now fit in a holster made for the GLOCK Model 19 – a standard-sized pistol in 9x19mm.
Also, the 10mm chambered Model 20 has had the Gen 4 treatment and now has a smaller grip, along with two additional backstraps.
Kahr Arms
Last year, the Model P380 was well received, but was still priced a bit higher than some other competitors' offerings. Kahr's new Model CW380 has the same cosmetic modifications done to it as were applied to other Kahr pistols (such as a conventional rifled barrel instead of the match grade polygonal barrel), resulting in an MSRP of $419, but now a spare magazine must be an additional purchase. The CW380 pistol has a 2.58″ barrel, an overall length of 4.96″ and a height of just 3.9″. It weighs 10.2 ounces (without a magazine) with a black polymer frame and has 4140 steel inserts molded into the front and back of the frame for added rigidity.
Kimber Mfg., Inc.
Kimber has a new "Master Carry" line of .45ACP pistols, featuring concealed carry features. This three pistol series has Tactical Wedge TruDot night sights, Round Heel Frames, serrated mainspring housings and Crimson Trace Master Series' Lasergrips, match-grade stainless steel barrels and steel slides with the self-lubricating KimPro II finish.
The three .45ACP pistols include the full-size Master Carry Custom with stainless steel barrel, slide and frame, recessed slide stop pin and rounded edges; the Master Carry Pro with four inch stainless steel bull barrel and aluminum frame; and the Master Carry Ultra with a three inch stainless steel bull barrel and an aluminum short grip frame. Master Carry pistols have a suggested retail price of $1,531.
Kimber's Micro .380 ACP pistol first debuted at the 2012 SHOT Show, but, apparently, it never made it into 2012 sales. This year should be the charm. The 1911-style pocket pistol has a stainless steel slide, steel sights in dovetail cuts and ample ejection port. The 2.75″ barrel is also stainless steel and the frame is alloy with a beveled magazine well. The thumb safety, slide release and magazine catch are left side frame mounted and it has an exposed hammer. It weighs less than 14 ounces with the supplied six round steel magazine. An extended seven round magazine is an additional purchase. The MSRP begins at $652.
North American Arms (NAA)
The NAA Sidewinder revolver is simplicity itself, and one of several new guns for 2013. It is single-action with a spur trigger and chambered in .22MRF (Magnum Rimfire) with an optional conversion kit to use .22LR.
The stainless steel Sidewinder has a swing out cylinder on a frame mounted crane. To open this cylinder, pull forward on the cylinder pin. The cylinder should be able to be moved to the right. Now, pushing rearward on the cylinder pin moves an ejection "star" which extracts all rounds. A bead front sight and Rosewood grips complete the package.
Remington Arms Co., Inc.
Remington has expanded its 1911 line with the R1 Carry. The slide is now shortened to 4.25″ on its steel frame and chambered in .45ACP. The Carry has a satin black oxide finish and the slide is dehorned with a Trijicon tritium front sight and a Novak rear sight. The beavertail grip safety has a 25 LPI checkered memory bump and the front strap and mainspring housing are also checkered 25 LPI. There's an ambidextrous thumb safety, beveled magazine well and an aluminum match trigger.
The Carry ships with one eight round and one seven round magazine. The barrel is match-grade stainless with target muzzle crown, wears partially checkered cocobolo grips and has an MSRP of $1,299.
Sturm, Ruger & Co., Inc.
Ruger has a few new handguns. There's a Commander-sized Ruger SR1911 in .45ACP with an MSRP of $829 and the (new last year) LC9 pocket semiauto in 9x19mm is now also chambered in .380ACP. Per Ruger, the thought is that with the slightly larger size and weight of the LC platform, felt recoil of the .380ACP is lessened. It has an MSRP of $440.
Ruger has also taken its SR9, chambered in 9x19mm, and altered it to accommodate the .45ACP round for those who want this DA/SA pistol in the larger caliber. The SR45 is available with alloy steel slide and black nitride finish, or a stainless steel slide with brushed stainless finish. It has an overall length of eight inches, carries 10+1 rounds, and offers customizable options such as an ambidextrous thumb safety and magazine release button. Its reversible backstrap also allows it to better fit your hand. The MSRP is $529.
Ruger continues with its LCR revolvers, now offering the chambering of the .22MRF cartridge. The .22MRF LCR is offered with or without a Crimson Trace Lasergrip, with an MSRP of $799 and $529, respectively.
Springfield Armory USA
Springfield is changing calibers on one of its popular pistols. The XD-S, introduced last year chambered in .45ACP, is now offered in 9x19mm.   (Ed. note:  Click here for a review of the Springfield XD-S in 9mm.)
The changes to the XD-S are that its magazine capacity increases to seven over five and its weight is 23 ounces to the 21.5 ounces of the .45ACP (although both pistols share the same dimensions). The XD-S continues shipping with a pair of magazines, polymer holster and magazine carrier, along with a magazine loading tool. The new XD-S should be at dealers before midyear. The MSRP is not firm, but is reported to be in the neighborhood of $599.
Walther Arms, Inc.
Walther (no longer a subsidiary of Smith & Wesson) introduced the PPX, an affordable hammer fired, semiautomatic pistol ($449) which comes in 9mm and .40S&W, in a choice of either black or stainless. According to Walther, it has a constant trigger pull of just 6.6 lbs, with a reversible magazine release. This double stacked pistol has a magazine capacity of 16 rounds for the 9mm version and 14 for the .40S&W.
Walther has also chambered its centerfire Model PPK/S pistol in .22LR, thus providing an excellent training pistol for users of the PPK/S or just plain shooting fun. The .22LR PPK/S is six inches in length and weighs 23 ounces. The magazine capacity is ten rounds and the MSRP is $329 in black and $419 in nickel.
Final Thoughts
Long or short gun, there's no lack of new guns for 2013 for most any law enforcement or civilian need. Reality, though, is that some new products never get past being "vaporware" due to lack of interest by potential buyers at the SHOT Show. If interest is favorable, the next hurdle is availability. I suggest that, right now, this is somewhat guesswork for even those who have been most reliable in their estimates, as anecdotal reports indicate any defensive handgun – and most any military, or quasi-military, style long gun – is being bought as soon as they are in stores. However, this could change at any time depending on what happens with government regulations.
I read more than one report from otherwise reliable sources that the Russian Mosin-Nagant bolt action rifle, an arm of the former USSR and its satellite countries which was first used at the beginning of the 20th century, is selling briskly, as are simple semi-auto .22LR rifles. And, ammo companies simply cannot meet demands for the most popular calibers, let alone those less often sought.
All of this would indicate current products are going to be made in advance of new products. My suggestion is, if you find what you want, buy it right then. Don't dither. By the time you leave, decide (and get your better half's okay), and go back to get the gun or the ammo, either or both will most likely be gone.
The new buying frenzy is claimed to exceed any such since the Gun Control Act of 1968 and with no signs of receding. (Despite rumors to the contrary, I was not around for the 1934 National Firearms Act, but I didn't miss it by much!)
About the Walt Rauch: Upon receiving his BS degree from Carnegie Tech and completing service as a Special Agent in U.S. Army Intelligence, Walt Rauch was a Special Agent with the U.S. Secret Service and an Investigator with the Warrant Unit, First Judicial District, PA.
Rauch is also a writer and lecturer in the firearms field. He is published regularly in national and international publications.
The following two tabs change content below.
Latest posts by Police and Security News (see all)