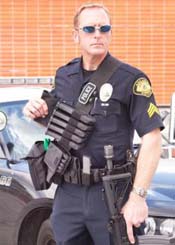 Tuff Products is making an alternative to the bail out bag called the Bail Out Bandolier.  The nylon bandolier goes on quick and is covered with MOLLE webbing for attaching various pouches and gear.
The bail out bandolier is an interesting take on the "grab and go" equipment solutions for patrol cops.  Many officers carry a bailout bag in their cars for "hot" calls like an active shooter.  Other officers use a load bearing vest to carry extra equipment.  Some officers outfit a plate carrier with their gear, getting the benefits of added protection in addition to the extra tools.
Both the bag and the vest are viable solutions, but are not ideal for all officers.  The bandolier concept may be a better option for some patrol cops.