Seriously, this has to be the worst fake ID I have ever seen.  I don't know who found it, and under what circumstances, but I'm guessing there is a funny story to be told over a cup of coffee.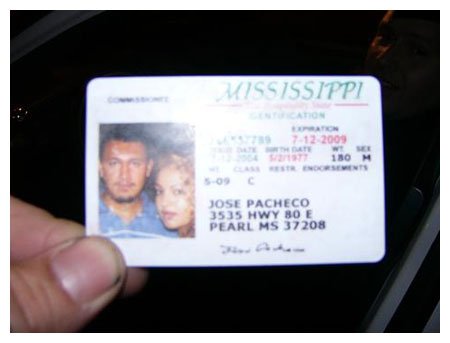 NOTE: When making a fake ID, leave your girl out of the photo.
Curiously, this fake ID (FAIL) is actually pretty good if you leave out the photo of the cute couple.  Having worked all of my law enforcement career in the south, I have seen more than a few driver's licenses from Mississippi.  If I recall correctly, this is an older license style by one generation.
It would be interesting to fins out what the story is behind this one.  Did the fake ID have any tell-tale mistakes other than his girlfriend in the photo?  For example, did it have a hologram or UV reactive ink?
Too bad, Jose.  This one is a fail.
In other news, the state of Georgia announced a new, more fraud resistant, driver's license.
The state of Georgia produced a new driver's license that they will begin to issue in September 2009.  The old style has been in use for 12 years, so this one may catch you off guard the first time you see it.  The current style will remain valid until they expire.
The new licenses are supposedly harder to counterfeit.  They feature "ghost" photos in the background of the license, a laser engraved signature, a barcode with the license information encoded, and a tamper resistant coding.
I don't know if the new license will deter counterfeiting, but they do look different from the old style, so don't be surprised when they make their way into the system. I don't think Georgia was concerned about "Jose Pacheco" getting another fake license, but it might help.