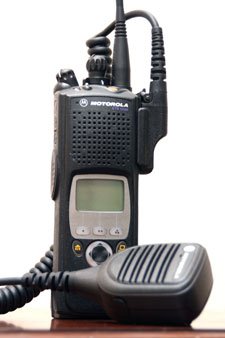 Key breaks are a momentary open mic typically caused by an officer bumping the transmit button on the radio getting into a car or reaching for gear.  To the rest of the officers on the channel, it frequently sounds like just a burst of static.
The vast majority of the time, key breaks are accidents.  Before departments had the fancy radio systems that identified which unit was keying up, some officers would intentionally key break to express an old-school "LOL" when someone made a gaffe.  Now that dispatchers (and supervisors) can see who is key breaking, such things have disappeared.
However, key breaks can be much more serious.  There have been numerous incidents when a police officer has been attacked and the only "communication" they had was a key break.  Some incidents have been officers who keyed the mic, but were injured and unable to speak.  Plenty of other incidents have occurred when officers were fighting with a suspect and the mic got bumped – intentionally or accidentally.
When a key break happens, dispatch should immediately check the welfare of the officer in question.  A failure of that officer to respond should result in an immediate response by back up units.  With the ability of dispatch to tell which unit key broke, combined with the use of GPS, departments should be able to respond to officers in need much quicker than in years past.
A case of where this went wrong was on December 28, 2010 in Arlington, VA.  Arlington PD Officer Jillian Smith responded to an apartment complex on a domestic violence report.  The suspect was not on scene, and Officer Smith responded alone.
While on scene, the suspect returned and shot Officer Smith in the head, killing her.  At some point, Officer Smith had a key break.  If the key break was Officer Smith trying to radio for help, or if it was a result of her falling to the floor, I don't know.
According to news reports, dispatch tried raising Officer Smith on the radio to check her welfare after the key break.  Even though dispatchers could not raise Officer Smith on the radio, dispatch delayed sending back up officers for more than 15 minutes.
In this particular case, the head wound was not likely survivable and an immediate response of back up officers would not have saved Officer Smith.  However, if the situation was slightly different, and Smith had been wounded and in a fight, 15 minutes would certainly make a difference.
Stay safe!