FLIR Systems, Inc. has released a new line of thermal imagers that are affordable (by thermal imaging standards). The Scout series is initially aimed toward the civilian hunting market, but will branch into the law enforcement and maritime markets this year.
I stopped at the FLIR booth here at 2012 SHOT Show and checked out one of their Scout PS24 imagers. This model is an entry level device, but it has terrific tactical potential.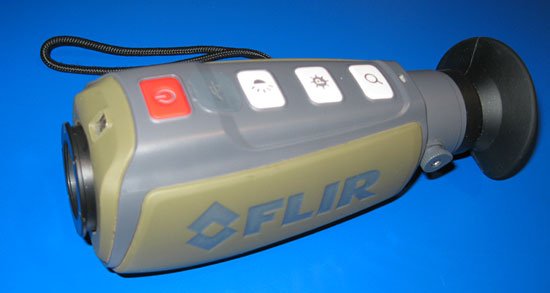 The PS24 has a color LCD viewfinder display that can be toggled through White Hot, Black Hot, and multiple Red/White Hot palettes. Okay, I'll come right out and say it: I think thermal imagers are ridiculously cool. Yeah, I had a stupid grin while I pointed the thing around at passersby.
The unit makes a very effective general search tool. There is no magnification enhancement on this model, which is just right for area checking because it has a wide field of view of 24′ x 18′. FLIR touts the thermal detection range for the PS24 at 320 meters for a man-sized target of 1.8m x 0.5m.
I took a few photos through the PS24 around the show floor. The images were much clearer to the naked eye. It is interesting to note that had they been taken in pitch darkness, the imagery would be exactly the same. Wow.
Ruggedized and weather-tight, the FLIR Scout housing has a grippy exterior feel. The unit runs on a rechargeable lithium-ion battery. FLIR Rep Marco Goes told me the battery has a 5+ hour life under continuous use on a single charge. A PS24 weighs 12 ounces. It has a USB port to connect the unit for software upgrades.
The hunting model, which is OD and black, has a small white LED utility light on the front. The law enforcement version will likely have a small red laser for aiming purposes. Goes said the L.E. unit will have an all-black housing and the Maritime version will be yellow.
The MSRP for the PS24 is $1999.00. According to Goes, this will probably be the same price for the entry level law enforcement model, which is scheduled for release in several months.
Ed. note:  The imagery provided by the FLIR unit is much sharper than what is depicted in these photos.  Due to the way the camera captures the light, a degree of "ghosting" and blurriness affected the quality of the photos.  The FLIR images are very sharp and clear.
Randall is a twenty-four year sworn police officer in Florida. He is his department's K9 Sergeant and SWAT Team Coordinator.