Let's say you have a hostage rescue action, and you suspect the local tweaker won't answer the door when you knock. Well, Gerber has the door chime you might need: the Ding Dong.
The humorously named Gerber Ding Dong is a compact breaching tool that combines three standard SWAT tools into one package: the tactical sledgehammer, battering ram and Halligan tool (also known as a pry tool). To complete the package, it comes with a MOLLE compatible carrying system so the new guy on the entry team can tote it wherever he goes.
While I am unable to give you a full Gerber Ding Dong review with pictures of doors being broken down, hostages being rescued and bad guys being carted off to jail, I can still give you a solid overview of the tool. This will be a starting point on understanding what the Ding Dong is, what it isn't and how it might fit into your callout gear.
Ding Dong Overview
I like the fact that the Gerber Ding-Dong comes in a compact package. The traditional H-tools often come in a larger size of around 54″, based upon their roots and needs as a firefighting tool. Police officers in close proximity, like a SWAT Team stack, or in the close confines of an interior hallway, cannot easily utilize bulky and large breaching tools. The Gerber Ding Dong could be a great option for situations such as those. My department has two of those all-metal H-tools, but due to their awkward size, they are relegated to exterior door breaching only.
The Ding Dong handle has pre-set stopping points for sure grip during the various roles. The forged and machined head has crisscrossed grooves for better gripping of the strike point and less slippage. The pry teeth are designed to be slimmer than traditional H-tools. Since the Ding-Dong does not have the adze pry feature, the main pry teeth are slim enough to hammer into door jams for prying open. To release the Ding-Dong from its carrier the operator simply twists the handle to release the Ding-Dong from the snap-in groove and pull hard outward, releasing the quick-detach rubberized strap.
Specifications
Overall Length – 27.0″
Weight – 12.25 lbs.
Tools – breaching hammer; prybar; battering ram
Tool material – forged and machined steel
Handle material – Molded fiberglass reinforced plastic (FRP) core, polypropylene overmold
Carrying options – MOLLE compatible carrying system with a snap-in groove and quick-release strap
Lifetime warranty
MSRP – $361
Gerber recognized that breaching tools are often needed throughout a mission, and not simply used at the front door to then be discarded. Considering this probability, the Gerber Team also recognized that officers already weighted down by 50-80 lbs. of heavy tactical ballistic vests, weapons, and gear, become exponentially more burdened with every additional pound. To combat that problem, Gerber designed the Ding-Dong with a forged metal head and pry bar teeth, but with a molded fiberglass handle.
Gerber offers a lifetime warranty on its breaching equipment. If you are a door breacher, make sure you get plenty of reps with this battering tool in training. You want to make sure you are confident with its operation and that it will perform the way you need it to. Beat the snot out of it and get a replacement if it fails to perform.
I've carried the company's tools in the past, and I have reviewed many Gerber knives. Without exception, all of the Gerber gear I have owned and tested have been well made and stood up to whatever beating I gave it. While I always encourage people to do their own testing before fielding a new piece of gear, I also feel that the new Gerber breaching tool will provide excellent service.
Video or it didn't happen!
Here's a Gerber video on the key features:
Final Thoughts
This Gerber breaching tool is a combination unit worth considering. While the obvious application is for SWAT, I also think it has a place with uniformed patrol officers. All too often, it is the uniformed police officer on patrol that responds to rapidly changing calls that might require immediate access to a location. From a medical emergency to an in-progress crime, cops frequently need to force entry to secure areas to save lives.
While the Gerber Ding Dong, or a similar tactical breaching hammer or multi-tool, should be supplied to officers, it might come down to you making the decision to purchase one for yourself. If that is the case, Amazon might be your best source for picking one up. Gerber has an MSRP of $361 on these, but Amazon is offering them for less than $180 with free Prime shipping. Obviously, I don't know how long that deal will last.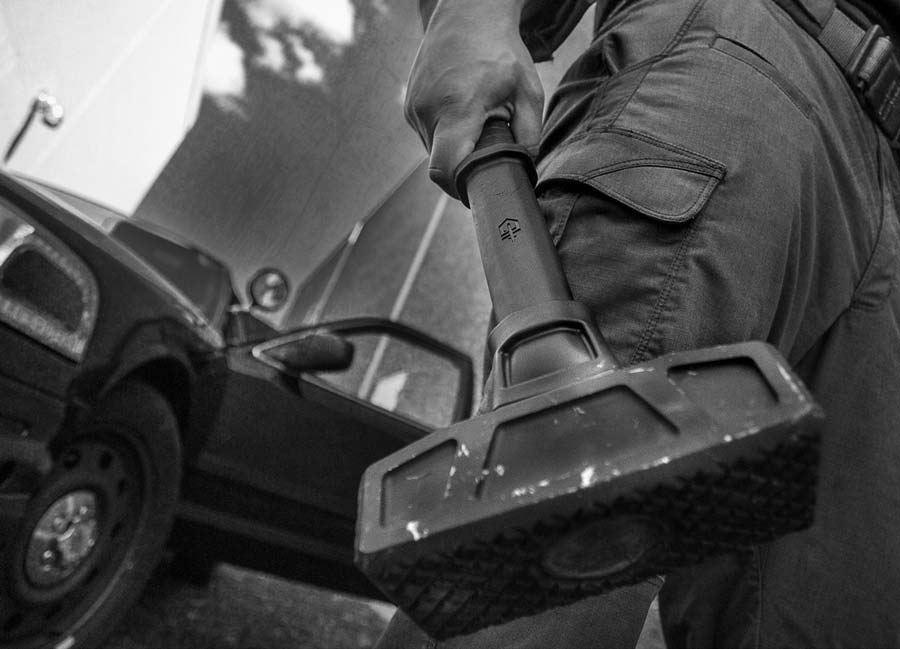 Disclosure
At the time of this writing, Gerber is not a sponsor of or advertiser on this site. Neither BlueSheepdog nor the author have any financial interest in Gerber or other law enforcement tool maker.
BlueSheepdog is a 'for profit' website. We actually feed our families with the money we earn here. We do so through the use of affiliate links to trusted sources like Brownells and Amazon. If you elect to use one of these links to make a purchase, we earn a small commission (typically 1-4%) for sending them a sale. We don't get to see what any one person buys, nor does that link affect your price. But, it does help us to provide free information to you.