FrogLube has become one of the most popular firearm cleaner, lubricant, and protectant (CLP) on the market. Their non-toxic bio-based design is proven to be incredibly effective. My police department switched to FrogLube over a year ago after using outstanding MILTEC-1 CLP. This change came about after testing and evaluating several products. MILTEC-1 was very good at its intended purpose, but the FrogLube performed better. The non-toxic design is a huge benefit over traditional chemical products, and we have found cleaning our AR-15's much easier – sometimes simply wiping carbon off with a rag.
Now FrogLube has partnered with famed knife-maker Emerson to offer the Emerson Commander "FrogLube Edition" Tactical Knife. Available exclusively from the FrogShop Online Store this is a knife worth consideration by any officer. Whether on patrol, in investigations, or on a tactical team, the Emerson Commander has many of the features required by those who use knives in their profession.
Emerson Commander Knives
Several years ago the Emerson Commander series was the winner of the "Best Overall Knife of the Year" at the Blade Show in Atlanta, GA. The firearms industry's premier trade and exhibition event is the SHOT Show. In the knife industry that honor goes to the annual Blade Show, spotlighting the industry's best craftsmanship and new offerings. To be named "Best Overall Knife of the Year" is a very high honor.
The Emerson Commander series combines the best of 21st-century design, materials, performance, and razor sharpness. Emerson knives are well-known in the knife industry, and their awards speak to the quality of their products. Emerson focuses on making high-end knives that will stand the test of time due to their superior materials and craftsmanship, instead of simply mass-producing gimmick knives.
The Emerson Commander has already been selected and battle-tested by special units of U.S. Navy SEAL teams, and European and NATO special forces units. The Commander knife is designed to incorporate some of the most advanced ergonomics ever featured on a folding knife. The Commander's ruggedness has made the knife popular with hunters, outdoorsmen, and adventurers the world over. It features the patented "wave shaped opening feature".
The Commander comes with a razor edge meeting 57-59 on the Rockwell hardness scale. The knife is manually opened with the help of a circular thumb stud on top of the blade near the hilt. In addition, there is a forward angled blade catch on top of the spine near the hilt, allowing the operator to fast deploy the knife during retrieval from a pocket. There is a fore-finger groove in the handle to provide additional grip to the G10 handles.
FrogLube Commander Knife Specifications
Overall Length – 9.5 inches
Blade Length – 4.0″
Blade Thickness – 0.125″
Blade: 154 CM Stainless Steel – combining carbon, chromium, and molybdenum
Hardness: 57-59 RC
Handles: Black G-10 epoxy/glass laminate
Lock: Aerospace grade Titanium, liner lock
Weight – 7.0 ounces

Finish: Black

Grind: Conventional V Grind
Opening: Wave-shaped feature
Serialized: Limited Edition
FrogLube Frog Skeleton design
Pocket Clip – Right hand, tip-up
MSRP – $265.00.
FrogLube
FrogLube weapons cleaners and lubricants were the industry's first completely bio-based care and performance system for firearms in the world. Created in 2009 by some of the most elite members of the U.S. maritime special operations force (namely SEALs), FrogLube was designed to protect firearms and knives during harsh saltwater operations. Since then, degreasing solvents, high potency stripper concentrates and field kits have been added to the "food-grade" safe product line. When you consider the history of both companies, it really isn't surprising that FrogLube would want to offer a very special, namesake knife.
Both FrogLube and Emerson Knives share their American manufacturing heritage, industry-leading performance and direct connections to U.S. forces elite members for product design and performance. Each FrogLube Commander Edition knife is sequentially numbered and limited in supply, and will come with a package of FrogLube cleaner, lubricant, preservative (CLP) to ensure life long performance.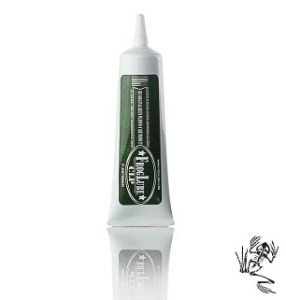 FrogLube advises this is a one-of-a-kind opportunity. The supplies of the FrogLube Commander knife are going to be kept extremely limited, and once they're gone, there will be no more. Fortunately, we should be able to get the FrogLube CLP, solvents and pastes well into the future.
If you are seeking an alternative to this Emerson folding knife, you may want to check out the other knives we have reviewed here.