The latest offering of Patrol Incident Gear (PIG) are the upcoming FDT Bravo FR Glove, which add fire-retardant capabilities to the already popular [easyazon_link identifier="B013P4CDQQ" locale="US" tag="bluesheecom-20″]PIG FDT Alpha gloves[/easyazon_link]. The Bravo gloves are set to launch late November, 2015, but will be available for pre-order from various retailers including www.SKDTAC.com on October 12, 2015.
Patrol Incident Gear (PIG) is a tactical shooting gear company with an in-your-face name to match their overt pride in those whose service keep the streets of America safe, and the enemies of America in check. A relatively new company, Patrol Incident Gear has very quickly established a strong following from serious shooters in the professional and competitive markets. PIG recognizes that gear for professionals must be functionally proficient first, and each product is tailor-made to achieve specific operational goals. PIG prides themselves in using high quality materials, and producing items that look, feel, and work very well.
Patrol Incident Gear FDT Bravo FR Gloves
The PIG FDT Bravo FR gloves are designed to improve upon all of the industry-leading features introduced by the [easyazon_link identifier="B013P4CYPG" locale="US" tag="bluesheecom-20″]PIG FDT Alpha Glove[/easyazon_link]. Patrol Incident Gear is making a bold statement that the Bravo gloves will be "the most dextrous fire-retardant gloves available for tactical applications." In a market that is full of high quality offerings from big-name companies much more well-known, this type of expression is exactly the business philosophy of this bold company.
The PIG Bravo gloves are designed and built around full Nomex® and premium leather construction, that came together after hundreds of hours of development and testing. The Bravo gloves were made available to various U.S. Special Operations forces before public release, and are already being worn by those troops across the globe.
PIG Bravo Gloves Features:
Multi-material Nomex and leather construction
Ultra thin 100% sheep leather trigger finger
Incredibly sensitive single layer 100% goat leather palm
Wider touchscreen compatible thread stitching on index finger and thumb
Flame resistant logo stamping
Lower profile velcro minimizing abrasion on gear
Finger, palm and cuff fit modifications for heightened dexterity.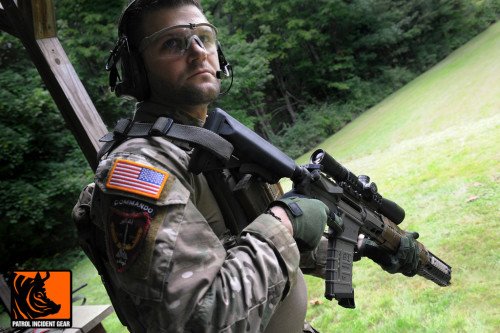 PIG Bravo Gloves Specifications:
Available Colors – Coyote, Ranger Green, and Black
Available Sizes – Small, Medium, Large, X-Large and XX-Large
MSRP – $67.95.
Patrol Incident Gear Warranty
PIG Gloves are a specialized consumable item using materials that are optimized for tactile dexterity over abrasion resistance, and are therefore not covered under any specific warranty. Please inspect your PIG Gloves for any manufacturing defects before removing the hang tags or using. If you discover any manufacturing defects before using the gloves, please contact the retailer from which your item was purchased with pictures of the specific issues to initiate the repair or replacement process.