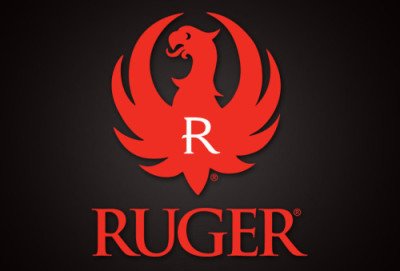 Sturm, Ruger & Company just announced the production of the Ruger American Pistol. A companion to the bolt-action rifle with the Ruger American name, the Ruger American Pistol is a striker-fired pistol specifically designed to meet the U.S. Military's design requirements for a new issue pistol.
In addition, the Ruger American Pistol was designed with "voice of the customer" input. This involved reaching out to key figures in law enforcement, military trainers, firearms experts, distributors and retailers who all provided key information for new Ruger American Pistol.

Ruger has probably been the most innovative firearms company in the last decade. Everything from new bolt-action rifles, quality AR-15's, new revolvers, and now a brand new striker fired pistol. Ruger has been a force to be reckoned with for sure. Though Ruger had already released the SR9 and 9E striker-fired pistols, neither had gained the level of popularity enjoyed by their competitor striker-fired firearms.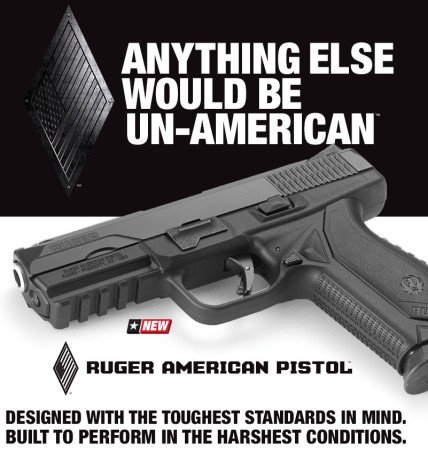 Ruger American Pistol
The Ruger American Pistol is a very serious competitor in the striker-fired market dominated by Glock, and Smith & Wesson M&P. There are other striker-fired pistols, including the very impressive HK VP series, but Glock and S&W have been the dominate entries in the market. The new Ruger American Pistol may just upset the balance even further.
The Ruger American Pistol includes personalized grip modules for greater fit to the shooter's individual hand size. Ergonomically designed to maximize comfort and secured grip, the grip modules have more aggressive grip studs on the front and back straps. The Ruger American Pistol does not have an external safety, and increases the [easyazon_link identifier="B003F6EMQO" locale="US" tag="bluesheecom-20″]Picatinny rail section[/easyazon_link] for greater personalization options and modularity with accessories. There is also a protective guard around the slide slop lever to prevent accidental slide lock-back through intense gripping during rapid-firing.
The Ruger American Pistol (RAP) has a high-endurance glass-filled nylon frame with an integrated Picatinny rail. The RAP comes with Novak LoMount 3-dot sights, which are much lower profile than other Ruger options. The RAP comes with a trigger with a trigger safety lever similar to the Glock trigger.
Having a trigger safety lever in front of the actual trigger allows the shooter to achieve positive contact without the immediate fear of a discharge. The trigger safety bar also allows the shooter to begin a constant trigger pull that should help with accuracy. The Ruger trigger has a positive reset with both tactile and audible indicators when the trigger is ready to fire again. This is an outstanding feature that can make rapid follow-up shots even quicker and more accurate if the trigger reset is mastered. Like other Ruger striker-fired pistols there is a loaded chamber indicator dot at the back of the slide.
The Ruger American Pistol is also designed to be ambidextrous for left-hand shooters are when transitioning to the shooter's off-hand to better use angles or barricades when shooting. The slide stop lever and magazine release lever are located on both sides of the frame making the RAP very versatile.
As an interesting note the Ruger American Pistol will initially be available in only [easyazon_link identifier="B0002IKANW" locale="US" tag="bluesheecom-20″]9mm[/easyazon_link] and [easyazon_link identifier="B000U430Y4″ locale="US" tag="bluesheecom-20″].45 ACP[/easyazon_link]. The 9mm is perhaps the most popular semi-auto caliber, and recent improvements in cartridge design and manufacturing have brought the 9mm into serious competition with any self-defense round. The .45 ACP is another popular round and proven winner, with the larger caliber bullet not typically creating an abusive recoil due to reduced muzzle speed.
Ruger American Pistol Features
Trigger features a short takeup with positive reset
Recoil-reducing barrel cam, low mass slide, low center of gravity and low bore axis
Performance tested for sustained +P ammunition use
Genuine Novak® LoMount Carry 3-dot sights
Modular wrap-around grip system for adjusting palm swell and trigger reach
Safe, easy takedown with no tools or trigger pull required
Ambidextrous slide stop and magazine release allow actuation with either hand
Internal, automatic sear block safety system
Integrated trigger safety (no trigger pull required for takedown)
(2) nickel-teflon® plated steel magazines
Small, medium and large grip modules
Includes hard plastic case.
Ruger American 9mm Pistol Specifications
Caliber: 9mm Luger
Capacity: 17+1
Receiver Material: One piece, high-performance, glass-filled nylon
Slide Material: Stainless steel with black Nitride finish
Overall Length: 7.5″
Barrel Length: 4.2″
Overall Width: 1.4″
Overall Height: 5.6″
Overall Weight: 30 oz. (unloaded)
Trigger Pull Weight: Just over 6.0 lbs.
Trigger Pull Distance: Just over 0.225″
Grips: Ergonomic wrap-around modules (small, medium, large)
Sights: Novak® LoMount Carry 3-Dot
Twist Rate: 1:10 RH
Grooves: 6
MSRP: $579.00.
Ruger American .45 ACP Pistol Specifications (Differences Only)
Caliber: .45 ACP
Capacity: 10+1
Overall Length: 8.0″
Barrel Length: 4.5″
Overall Height: 5.7″
Overall Weight: 31.5 oz. (unloaded)
Twist Rate: 1:16 RH
MSRP: $579.00.
Ruger's Try-Free Offer for the RAP
Ruger is so proud of the Ruger American Pistol they are offering a free trial at participating dealers/ranges this weekend. Go to www.ruger.com to find a participating dealer/range, and not only is using the pistol free, Ruger will pay for the first (5) rounds down range. I'm sure you'll want to shoot more, but hey free bullets are free bullets, and this is another very unique offer from a very unique firearm manufacturer.
Final Thoughts
The Ruger American Pistol is a very interesting pistol and one we hope to be able to fire at the SHOT Show range. The price is right in the mix of popular striker-fired pistols, and the features are also very competitive.  In some ways Ruger spends the extra effort in making their firearms different. I like this approach, and their offerings have kept the market highly charged and competitive.
However, in some ways I wonder if it slows their productivity. The Ruger SR-556 and AR-556 came late in the AR-15 craze and explosive market growth. Though a very good option, many would have loved to see it arrive earlier. The same can be said for the Ruger American Pistol. Had Ruger come out with this 10 years ago when Smith & Wesson was introducing the M&P line I think Ruger would have a much larger market share. As said the SP9 and 9E striker-fired pistols just did not gain the traction of the M&P line or the juggernaut of Glock.
Finally, a couple of features of the Ruger American Pistol may not be real fan pleasers. First, the take-down lever looks like a piece of scrap metal they picked up off the floor and slapped on as an after-thought. It is too large, clunky, and unfinished in appearance and distracts from the otherwise nice lines of the RAP. It is unclear if the sights are night sights, but there should at least be an option if desired.