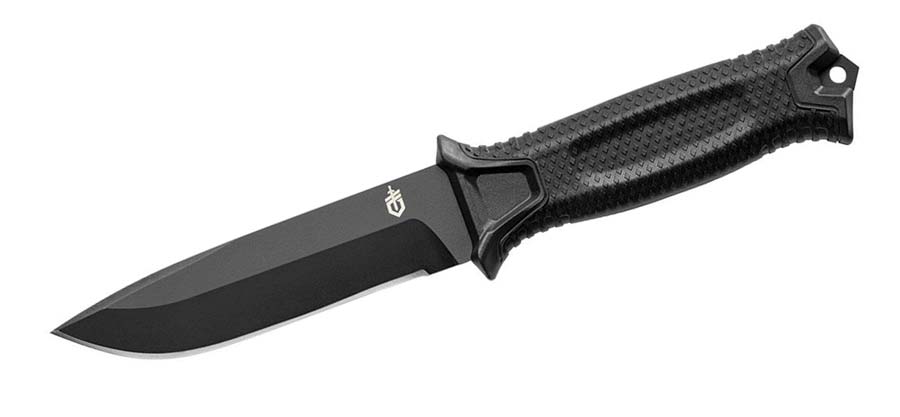 Gerber Gear was ready for the SHOT Show with several new knives and tools this year, and the first to catch my eye was the StrongArm fixed blade knife. I have come to appreciate the quality craftsmanship and functionality of Gerber knives and tools over the years and this year was no different. For that reason, they are one of our standard stops.
Gerber has been making survival knives for the US Military since 1968. The StrongArm fixed blade carries on our legacy of tough-as-hell fixed blade knives for combat and survival applications. With a sheath that can be mounted in a variety of ways, this knife offers reliable use whether on-duty or off.
StrongArm Fixed Blade Knife
The Gerber StrongArm features a full tang 420HC blade with black ceramic coating. The blade comes in fine edge, or partially serrated options, and was designed around the fundamentals of military survival training. The StrongArm provides a solid grip in all conditions with its diamond-texture rubberized handle. This handle was easy to hold, and the rubberized texture seemingly stuck to my hand.
The pommel at the base of the StrongArm handle is designed for striking and can function to break through hard surfaces or glass for effective rescue operations. The ceramic coating on the blade offers corrosion prevention for the long life of the blade.
The StrongArm's modular sheath system is an important feature as well. With the sheath's snap-together components, the operator can mount the knife vertically on MOLLE, horizontally on a standard 1.75" tactical belt, or in a traditional drop-leg belt mount fashion. This is one of the things I always check for in a knife review. The StrongArm fixed blade is designed and built in Portland, Oregon, and is priced nearly $40 less than the cost of the Gerber IMF II with similar features.
Specifications
Blade material: 420HC
Handle material: glass-filled nylon with rubber overmold
Handle color: Black or FDE
Blade length: 4.8" (12.2 cm)
Overall length: 9.8" (24.8 cm)
Knife weight: 7.2 oz (204 g)
Overall weight: 10.9 oz (309 g)
MSRP: $89.00.
Features
Fine edge, or partially serrated
Full tang 420HC steel blade
Ceramic blade coating
Rubberized diamond-texture grip
Striking pommel
Nylon webbing for drop-leg carry and secondary retention
Detachable belt hoops for horizontal belt carry
Snap-in MOLLE strap
Made in the USA
Final Thoughts
As I mentioned, the Gerber StrongArm stood out among many fine Gerber knives and tools that I want to review. When I picked it up for closer examination I was not disappointed. The coated steel is strong and will likely hold its edge well in a variety of uses. The handle has a sure grip that is comfortable to hold. Having a striking pommel is an important feature for any law enforcement or a survival knife, and the sturdy nylon sheath provides several carry options.
Overall I like the StrongArm very much and feel it could be an outstanding choice for a work knife. I have no misperceptions about wearing this in the open on my uniform, but this could easily come to use in my go-bag or on my tactical gear. At the StrongArm's price of only $86.00, it's hard to find a reason not to own one – especially since Amazon has them on sale for a lot less right now.